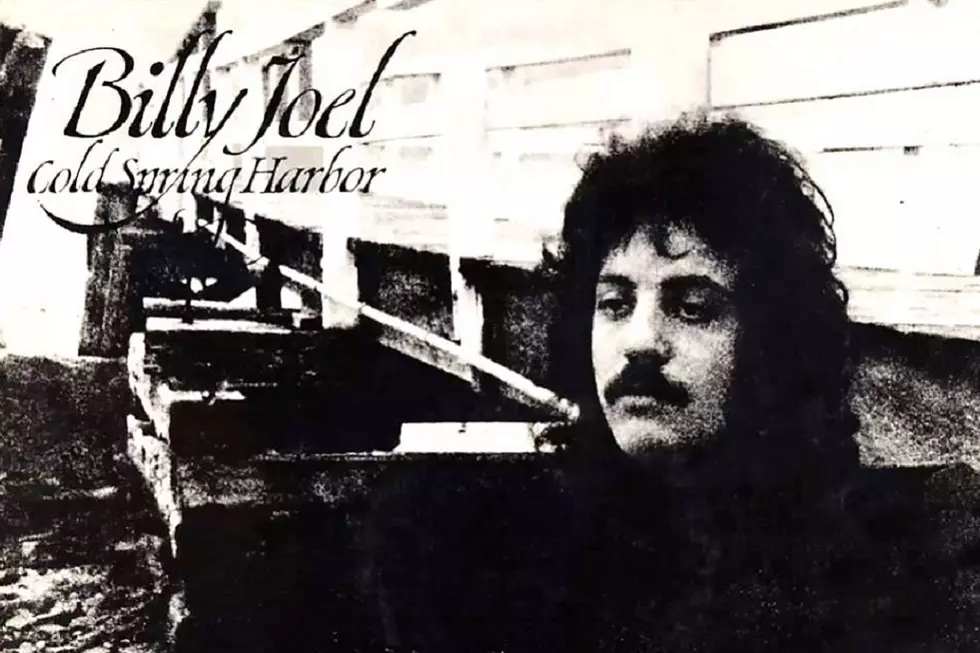 Why Billy Joel Hated His First Album, 'Cold Spring Harbor'
Columbia
By 1971, Billy Joel had endured some rough years. The piano player had been part of a few failed bands – one of which ended, in part, because he stole the drummer's wife, whom Joel would later wed. He was depressed, tried to commit suicide and checked into a psychiatric hospital.
Once he got out of the hospital, and was feeling better, Joel decided to make another attempt at being a professional musician. After all, he was only in his early 20s. Joel decided that instead of being in a band or becoming a solo performer, he would try his hand at writing songs for other musicians.
"The advice I got from people in the music business was, 'Well, if you want people to hear your songs, make an album'," Joel said in 2011. "And then you go out on the road and you do shows, and you promote your album. I thought, 'This is a strange way to be a songwriter'."
But Joel moved ahead, signing with Artie Ripp's Family Productions (in what would prove to be a historically bad deal, in many ways). In the summer of 1971, Joel recorded his debut solo album with Ripp at the producer's chair. Featuring 10 original songs, the record was titled Cold Spring Harbor after a town near Joel's native Long Island, N.Y.
The album sessions, in which Joel was backed by a band and some symphonic orchestration, went smoothly. Joel laid down tracks that showcased his skills in writing piano ballads ("She's Got a Way") and uptempo pop ("Everybody Loves You Now") while working classical influences into modern music ("Nocturne"). Cold Spring Harbor could have been a solid debut.
But it wasn't – mostly because of a technical flaw that occurred when the album was being mastered. The studio tapes were transferred to vinyl at a higher speed, which made both the music and Joel's voice sound higher-pitched than normal. According to Joel, the finished version of Cold Spring Harbor made him sound like the Chipmunks when it was released on Nov. 1, 1971.
"So, I'm gonna have this big party, right, and all my friends come over and this is my first album and we're gonna have this listening party," Joel recalled in 1996. "And my friends are listening going … 'Why do you sound like a girl?' And I was, like, furious. I took the thing and I threw it like a Frisbee."
Listen to the Original Version of 'She's Got a Way'
Whether due to the error, or Family Productions' weak distribution, the album failed to make an impact on the charts, on fans or on potential clients to sing Joel's songs. Despite the flop, and still under contract, Joel went on a U.S. tour to promote his material, with the idea that others would hear the songs and choose to record them.
"It started becoming a 'Billy Joel' thing – the recording artist or the singer, rather than Billy Joel the songwriter," he said in 2013. "This was the era of the singer-songwriter, and there I was, right in the thick of it, and got perceived as that, which I never really thought of myself as."
With an obvious knack for performing, Joel was considered an up-and-coming star in the mold of new singer-songwriter sensations such as James Taylor, Cat Stevens and Elton John. A live recording of a new song, "Captain Jack," became an underground hit in Philadelphia and Joel earned interest from Columbia Records, which would sign him in 1972. Joel moved to Los Angeles, worked in a piano bar for six months and wrote "Piano Man" about the experience.
When he became a big star in the mid-'70s, copies of the out-of-print Cold Spring Harbor turned into collector's items. As a nod to his debut, the singer included concert versions of "She's Got a Way" and "Everybody Loves You Now" on his 1981 live album, Songs From the Attic. A decade after it was first recorded, "She's Got a Way" became a Top 40 hit in the U.S.
Following that success, Ripp spearheaded a remix project for Cold Spring Harbor, in an effort to correct the original release's speed issues. With the help of engineers, he adjusted the pitch to try to make Joel's voice sound as it normal would. Although Joel wasn't involved, some of the LP's tracks were edited and other musicians were hired to overdub new performances. Joel's debut album was reissued by Columbia in 1983, and has been readily available ever since.
Despite the remixing and alterations made to Cold Spring Harbor, Billy Joel continues to have a hard time listening to his first solo LP. "I know they remastered it, but I still sound like a Chipmunk to me," he said. "You don't have to pay a lot of attention to this one. … It's the embryonic Billy Joel, I suppose."
See Billy Joel Among the Top 100 Albums of the '70s