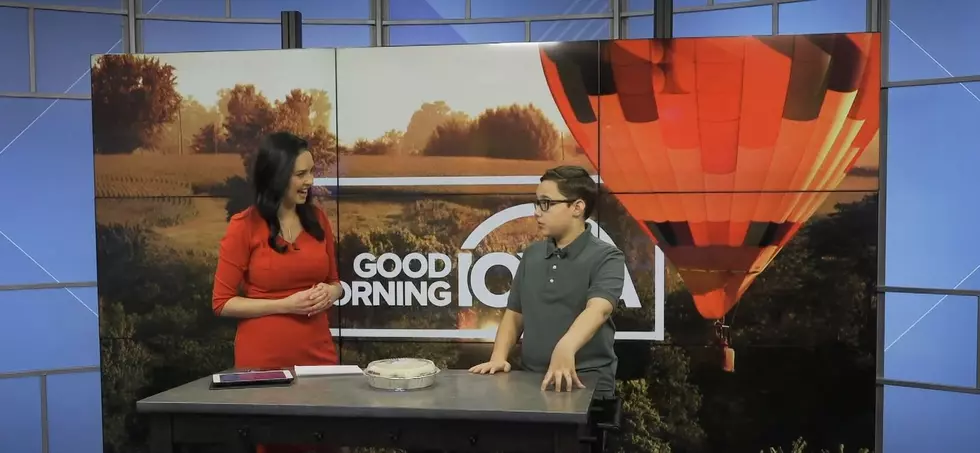 Iowa Teenager Competing on Food Network Baking Series
Photo Credit: We Are Iowa Local 5 News, YouTube
Last month, we saw a Dubuque chef represent the area on the TODAY show. Now, to start 2023, a young Iowa native is taking his talents to a long-running Food Network series for its 11th season.
13-year-old Clive, IA native Nash Roe is a contestant on Food Network's popular Kids Baking Championship, per The Des Moines Register. The ten-week contest revolves around a dozen young bakers competing in a series of challenges. The show is hosted by former sitcom star Valerie Bertinelli, and this season has participants who are already making a splash in their hometowns.
Nash Roe is definitely taking Clive by storm. Roe is the owner and operator of Nash's Confections, an internet-based bakery where visitors can order confections made by Roe and his mother, Estee.
With the help of mom's social media following, Roe was able to start and grow Nash's Confections during the pandemic. He has fulfilled close to 900 orders in the past two and a half years, and puts in an upwards of full-time hours in his family's kitchen.
Roe got his start helping his grandma at her Keosauqua-based bakery Kodie's Kreations. You could say that planted the seed for the deliciousness that followed. This eighth grader's origins story is a unique one. Just read the brief blurb on his website:
Back in 2020, over Mother's Day weekend my sister got a concussion, so I baked them treats to give to them, and that's how my business started. Since then, I have been featured in dsm Magazine twice, won at the Iowa State Fair 2022 with my Pecan Pie Cheesecake, Mimosa Monday, a contestant on Food Networks Kids Baking Championship S11 "Biz Kids" and so much more. Read the full stories below!
Nash's Confections' menu boasts the "Cinna-Roe," large cinnamon rolls frosted in homemade cream cheese frosting. Other items on the menu are Bavarian pretzel bites, and a pecan pie cheesecake (Iowa State Fair award-winning too!).
But it was the Cinna-Roe he baked on the first episode of the new season of Kids Baking Championship. The episode aired on December 26th, and his trademarked delicacy did well enough to propel him forward to the next episode. And then the next one! Nash is poised to go further on the show. For a 13-year-old, he already has a following and a knack for baking!
Kids Baking Championship airs Mondays at 7pm on Food Network. A grand prize of $25,000 is awarded to the winner. Check out Nash's Confections on Instagram too!
KEEP READING: 3-ingredient recipes you can make right now
LOOK: 40 Discontinued & Special Edition Kellogg's Cereals