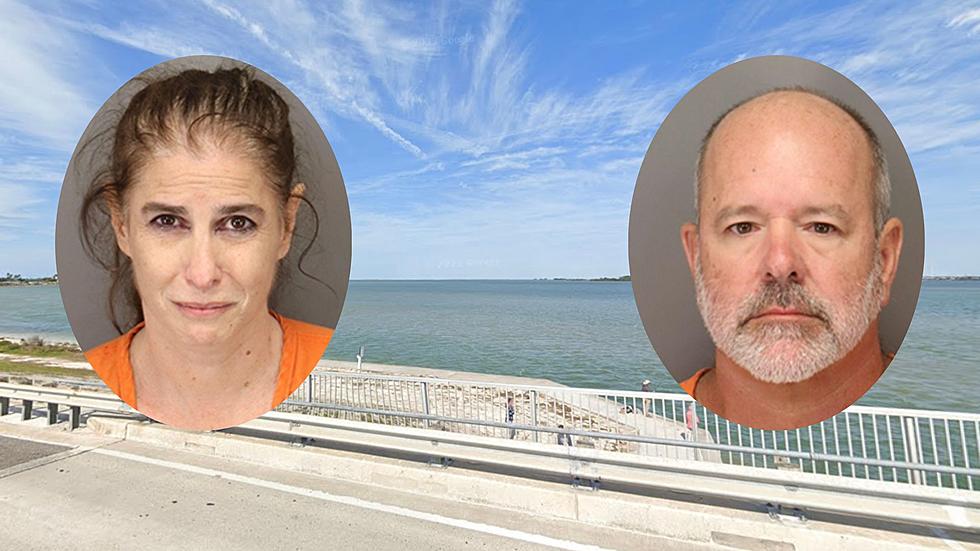 Florida Couple Busted For "Fully Nude" Relations In Causeway
Google Maps / Pinellas County Sheriff
After being caught having "fully nude" relations on a Florida causeway in front of children and other witnesses, the woman involved told officers it "was always a dream of mine" to be in such a public situation.
Officers received multiple 911 calls around 9pm Friday, sheriff's deputies were dispatched to a causeway in Dunedin, a city along the Gulf Coast, and came across a couple who were  "having fully nude sexual intercourse in the presence of the victims," including a pair of juveniles.
On the side of the causeway, police got 55-year-old Sara Fazekas and 60-year-old Robert Clarke, "fully nude on top of one another." At the time officers approached, Clarke was on his back with his genitalia "fully exposed."
A witness's report taken by a deputy described the couple as "crack to sack, going to town."
While being taken into custody by the officers, Fazekas said it was "always a dream of mine," to have relations in the causeway. Completely surrounded by water, the causeway has views of St. Joseph Sound.
Along with the exposure of sexual organs count, Fazekas was hit with a felony narcotics charge after cops found Clonazepam pills inside an Altoids container. She was freed from custody Saturday after posting a $2150 bond.
Her partner, Clarke, showed "zero remorse that multiple juveniles had witnessed this act," according to police. He also reportedly told cops "the children should be at home and not on the causeway."
Clarke was charged with lewd and lascivious exhibition, a felony. He's being held in the county jail in lieu of $50,000 bond and has been ordered by a judge to have no contact with children.
Clarke is a registered sex offender who pleaded guilty in 2009 to a federal child pornography charge. At the time of his arrest, Clarke was a civilian Department of Defense employee stationed in Japan.
A search of his work computer turned up some illicit images, which he told officials he used for "self-gratification."
After copping to the felony count, court records show, Clarke contended that the child porn images "were to him a fantasy world" and that he "would never cross the line to hurt any child."
Clarke was sentenced to 78 months in prison and ordered to serve a life term of probation following his release from custody.
QUIZ: Can you identify 50 famous companies by their logos?
How well do you know the logos of 50 of the world's most famous companies? Keep scrolling to see if you can guess which icon belongs to which brand.