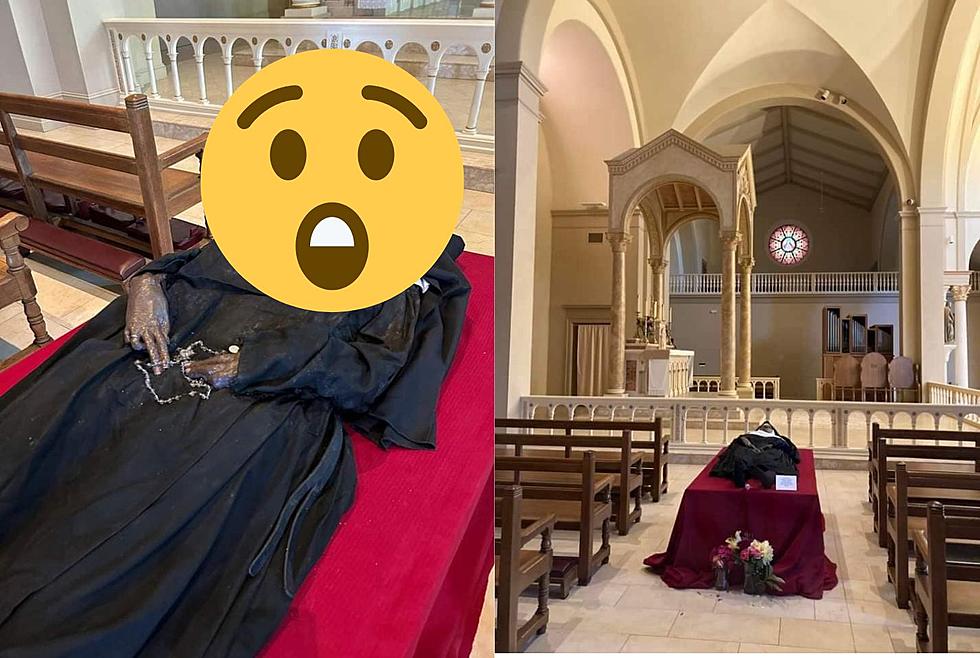 Nun's Body Dug Up 4 Years After Death Shows No Signs Of Decay
Bobby Chigozie (facebook)
The town of Gower in rural Missouri has unexpectedly become a place of pilgrimage following the discovery that the body of Sister Wilhelmina Lancaster showed no signs of decomposition four years after her burial.
Body Of A Deseased Nun
Hundreds of people have made the trip to see the miraculously well-preserved body of the founder of the Benedictine Sisters of Mary, Queen of the Apostles. Lancaster passed away at the age of 95 in May 2019 and was buried without embalming in a simple wood coffin. Despite being warned to expect only bones, Benedictine nuns were amazed to find the body intact when they exhumed it to move it to a new location beneath the chapel altar.
Mother Abbess Cecilia Snell was shocked when she peered through a gap in the coffin and saw a perfectly preserved foot, still wearing its sock. She couldn't believe what she was seeing, but upon closer inspection with a flashlight, she confirmed her initial observation and was joined in her amazement by the other nuns present.
When they opened the coffin fully, they were astonished to see Wilhelmina Lancaster's body with hardly any signs of decay. The nuns even took turns touching her feet, which were damp but still present.
How Could This Be?
Due to some early dirt falling into the coffin and pushing down on her facial features, a wax mask was placed over her right eye, but all her other facial features remained intact. The nun speaking to Newsweek anonymously revealed that Lancaster's eyelashes, hair, eyebrows, nose, and lips were all there, and her mouth seemed like it was about to break into a smile.
According to the Catholic News Agency, Lancaster's body, which the nuns approximated to weigh around 90 pounds, was lifted by them. Once the nuns had washed off the mold and mildew from her body, they found that her habit, crown, and bouquet flowers, all seemed unblemished. Snell noted that they felt like the Lord was intervening in the situation.
While the Roman Catholic Church has recorded several hundred cases of incorruptible bodies throughout history, it's important to note that having an unspoiled body isn't necessarily indicative of sainthood. Despite this, many devout Catholics have traveled to Gower from far away to view Sister Wilhelmina's body.
Visitors Reactions
Mary Lou Enna, a pilgrim from Kansas City who visited Gower, was in awe of the unexplainable events that she witnessed. She, along with her son and daughter-in-law, felt an overwhelming sense of emotion upon viewing the remains of Sister Wilhelmina Lancaster. As Bishop James Johnston of the Diocese of Kansas City-St. Joseph acknowledged the curiosity and concern surrounding Sister Lancaster's remains, he also emphasized the need for a thorough investigation to maintain their integrity.
Sister Wilhelmina, who hailed from St. Louis, experienced a mystical encounter with Jesus during her first Communion at the age of nine. At the tender age of 13, she decided to devote her life to God and eventually became a nun after finishing high school.
Throughout her years of service, Sister Wilhelmina held strong to her beliefs, particularly in preserving the traditional Latin mass and habit, which she made herself using a plastic bleach bottle. Her devout faith has inspired many, leaving a lasting impact on those who have heard of her story.
Her Practice Saved Her Life
Her improvised habit possibly saved her life when she was stabbed by a student while working as a teacher in Baltimore.
Her biography stated that Lancaster's high-necked collar, known as the wimple, deflected the attacker's knife blow.
Lancaster's body will remain on display at the chapel in Gower until May 29, after which it will be placed in a glass case for protection.
Read More Here: New York Post
Former QC Weather Guy Opens Super Unique AirBNB in an Old Church in Galena
Ex QC weather guy Terry Swails an his wife Carolynne have started an AirBnB. This 1894 chapel was fully renovated and holds 10 guests with 3 bedrooms, 3 beds, and 3 baths in Galena, Il.