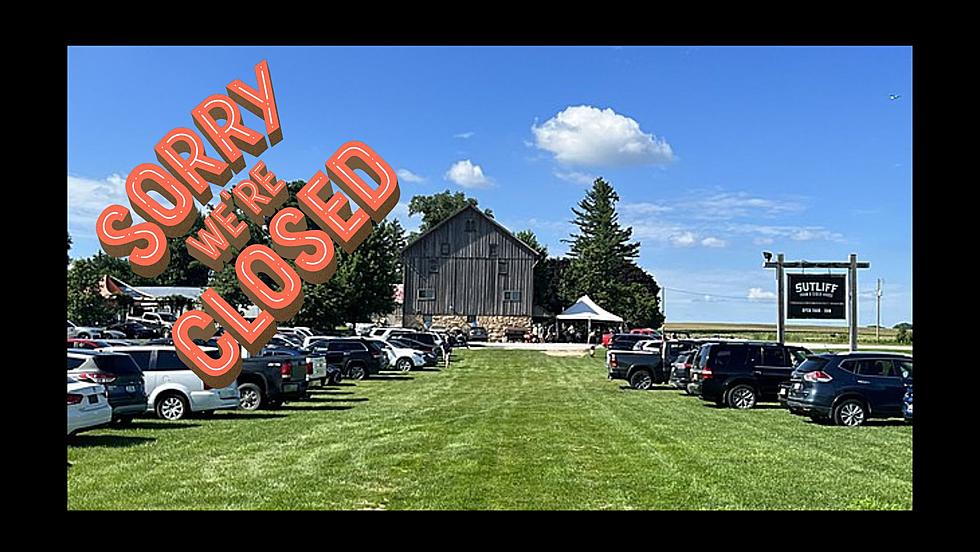 Another Iowa "Hidden Gem" Closes, Hopefully Not for Good…
Credit: Tom Drake / Canva
I'm super bummed to say the least; just last summer I and the family were out exploring and stopped by one of my favorite places for good drinks, great people, and awesome tunes. Unfortunately, Sutliff Farm and Cider House will not be opening this year, and here's why...
Basically, operations will now be moved to Wilson's Orchard & Farm, another great location I've visited, just south of Solon on Highway 1. The current property is being turned into a private residence. Sutliff Farm and Cider House was always fun and you can check out that fun below.
You arrived in a large grass covered field that provided plenty of parking, especially on weekends when there was live music.
They really could pack in the people; despite the busy nature of Sutliff Farm and Cider House, service was always fast, efficient, and friendly!
There was seating areas both inside and outside. Music could be heard clearly no matter where you decided to sit.
There were loads of arts, crafts, drinks, and more that you could take home!
When it was time to eat and drink there were fresh apple cider donuts, loaded nachos and fries, sparkling apple cider for the kids, a strawberry cider for the wife, and a mixture of beer and original cider for me that was super good; mixed with Exile Brewing's go to pilsner "Ruthie."
Confession, we did start with dessert... but soon all the food came! The loaded nachos and fries featured, pulled pork, house-made cheese, green onions, and tomatoes.
Just outside of the main dining area, outdoor seating and another small drink station were always set up to serve ice cold drinks.
Live music that day was provided by Pinicon Drift. They did an awesome job and played loads of our favorite tunes.
People even used to ride horses into the area to enjoy the fun. My kids were always excited to pet them.
Just behind the cidery, this gazebo provides some nice shade and a place for kids to let out a little energy. And so ends another awesome Iowa, "Hidden Gem," but trust me, everyone around the area knows about Sutliff Farm and Cider House!
Going forward, their hard ciders will still be available at bars, restaurants, and retail accounts throughout Eastern Iowa. The Sutliff Farm & Ciderhouse programming, including the Sunday Funday live music series will be moved to Wilson's Orchard & Farm which is just south of Solon on Highway 1. They look forward to seeing you all there, and hopefully, someday, back at the farm located at 382 Sutliff Road.
There are loads of local breweries and distleries to explore in Iowa and the surrounding areas here are a few...
A Look Inside Blaum Bros. Distillery in Galena
A look at Blaum Bros. Distillery's bar, distilling process, cocktails and more!
A Look Inside Knee-High Distilling Co., Muscatine's First Craft Distillery
Knee-High Distilling Co. announced it would become Muscatine's first craft distillery
back in August of 2022
. Almost 9 months after the business was founded, Knee-High products are now hitting the shelves at grocery stores and liquor stores in Iowa.
Bowl, Eat, and More at Round Two in Peosta, IA
An afternoon of fun at Peosta's newest entertainment center!