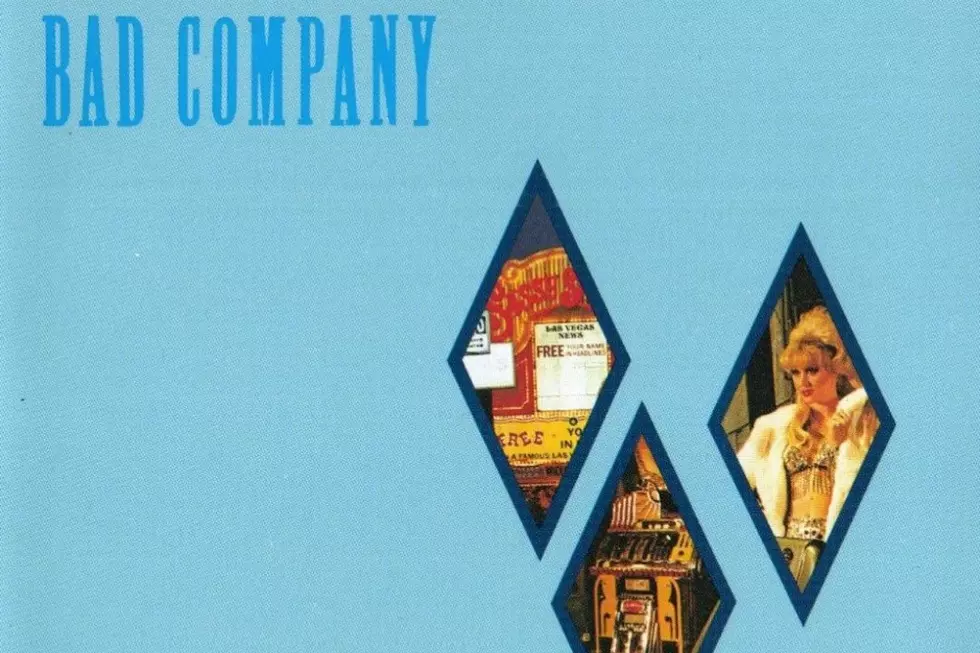 Why Bad Company Disintegrated After Releasing 'Rough Diamonds'
Swan Song
Sessions for Rough Diamonds, which arrived in August 1982 as the band's sixth studio effort, at one point devolved into violence. The album was ultimately ranked as Bad Company's lowest-charting U.K. release to that point, while the single "Electricland" stalled at a paltry No. 74 on the Billboard charts.
"I think we were running out of ideas, running out of steam and just about to run out on each other," Simon Kirke summarized in a 1986 talk with the Sun-Sentinel.
Bad Company had taken time away, following 1979's double-platinum Desolation Angels, but returned to familiar issues both interpersonal and drug related. The original lineup of Boz Burrell, Kirke, Mick Ralphs and Paul Rodgers would never record another album together.
"We were at a low-energy point," Rodgers told Team Rock in 2014. "I didn't think Mick was writing the songs that we needed to have. To be honest, I didn't feel the guys were pulling their weight. It was party-ville all the time."
They'd released three consecutive platinum albums between 1974-76, then followed that up a year later with another gold-selling hit. The '80s dawned, however, with a very bad vibe. Signed to Led Zeppelin's Swan Song Records, Bad Company was directly impacted by the unexpected death of John Bonham. The label fell apart, and their shared manager Peter Grant virtually disappeared in the months that followed.
"Swan Song went into incubation," Simon Kirke told Gary James in 1998, "because most of the money at Swan Song was tied up in Zeppelin. Peter Grant had a drug problem, and was unable to carry out his managerial duties. Bad Company was pretty well burned out from all the years of touring. So, it was like the proverbial domino principle. Everything started falling away."
They tried taking a break, hoping that would help. "We just sort of went underground," Kirke, who'd worked with Rodgers since the late '60s when they co-founded Free, told the Sun-Sentinel. "Paul expressed the desire not to tour for about a year in 1980, and during that time we all got involved in solo projects."
As Bad Company lost creative and commercial momentum between 1978-82, they managed only two albums. By the time Rough Diamonds arrived, Bad Company "were pretty much spent as a band," Kirke told Team Rock. "We were tired; we were cranky with each other. Paul and Boz were not getting on." Along the way, a newly sober Rodgers also became a father, and straightened out his private life. That only deepened the growing rifts.
"They'd all group together and go: 'Don't let Paul see you doing [drugs],'" Rodgers told Team Rock. "I'm like: 'Guys, I know what you're doing; relax, you know? But let's just get it together. It's your choice. I'm not gonna stand on a soapbox and tell everybody they can't do it; I'm just not doing it myself, that's all. I'm not interested, it doesn't take me anywhere.' And, yeah, you do feel kind of ostracized."
Listen to Bad Company Perform 'Kick Down'
Bad Company holed up at Ridge Farm Studio in Surrey, England, where they'd previously recorded tracks for Desolation Angels – but also not far from Rodgers' family, which continued to draw away his attention. His bandmates would remain at the studio, while the increasingly embittered singer headed home.
Then something happened that's "usually the kiss of death for any British band," Kirke said: Burrell and Rodgers got into a fist fight. He and Ralphs eventually separated them, but the damage was done. "After Rough Diamonds, we were all tired from the endless touring and recording – really from 1968 to that point," Kirke told the Arizona Republic in 2016. "It had been a long haul. We just needed a break."
As sales album stalled, Rodgers abruptly quit. "There came a point when I felt the band and its commitments had completely overtaken my life," he later said. "I needed to get my feet on solid ground and spend some time watching my children grow. No one else had children at the time, so they could not comprehend what I was living or feeling."
This turn of events was something Ralphs said he had long dreaded, yet somehow felt was inevitable, as well. "All the time we were having the success I kept thinking, 'Well, this is great but it ain't gonna last,'" he confided to Team Rock. Kirke took a longer view, in a 1991 interview with a Montana newspaper: "We decided not to work together really because we'd been together for nearly nine years," he said. "Through this, there were strained relationships – and we'd already made a bundle of money."
And that, it seemed, was that. "We all needed to stop," Ralphs told the band's official site. "Bad Company had become bigger than us all, and to continue would have destroyed someone or something. From a business standpoint, it was the wrong thing to do, but Paul's instinct was absolutely right."
With all of that being said, Bad Company's 1986 reformation was quite a surprise – in particular for Paul Rodgers, who was not part of this second era. Busy initially with the Firm, a band that also featured Jimmy Page, he stood by as they ultimately continued from 1986-98 without him – first with singer Brian Howe, and then later with Robert Hart.
The original lineup didn't get back together again until 1999, following a series of business meetings sparked by Peter Grant's death. Unfortunately, they only recorded four more new songs, all of them attached to The Original Bad Company Anthology. "A lot of water had flowed under the bridge and the record company did want to put this out, the box set," Rodgers told KNAC in 2007. "And it seemed like a good idea, and we wanted to do some new things."
Boz Burrell succumbed to a fatal heart attack, however, at age 60 in September 2006. Mick Ralphs later stopped appearing with Bad Company as well, after suffering a stroke in November 2016. Rodgers and Kirke – the latter of whom now openly admits that replacing Bad Company's lead singer was a mistake – continued mounting occasional tours together.
 
See Bad Company Among Rock's 100 Most Underrated Albums