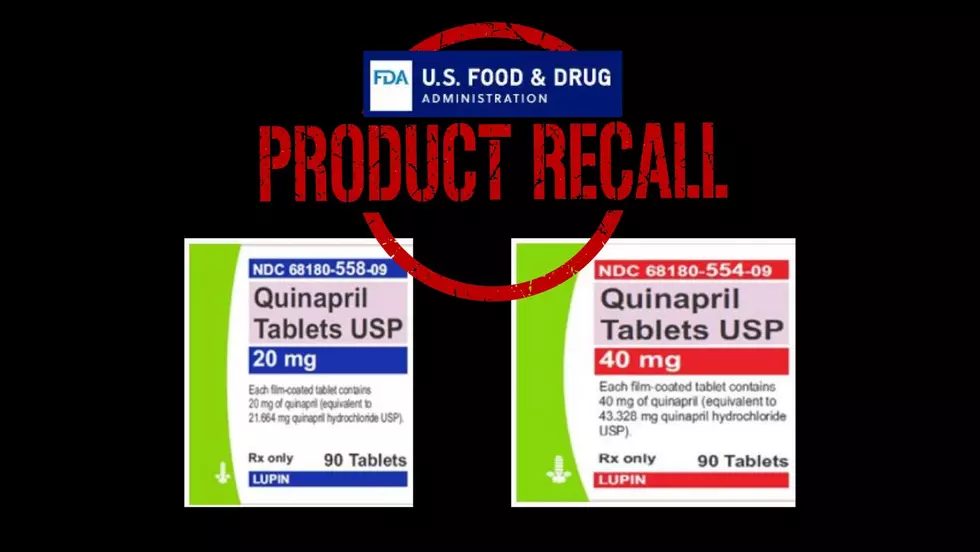 Blood Pressure Tablets Recalled; Possible Increased Cancer Risk
Credit: US FDA / Canva
According to a released statement from the US Food and Drug Administration; the blood pressure medication Quinapril was voluntarily recalled on Wednesday, December 21st, due to concerns over the medication increasing cancer risk.
Lupin Pharmaceuticals Inc. is voluntarily recalling four lots of Quinapril Tablets due to the presence of a nitrosamine impurity above the Acceptable Daily Intake level. Quinapril is sold in 20 mg and 40 mg tablets and while nitrosamine is commonly found in a variety of cured meats, veggies, and dairy products, it does increase the risk of cancer if people are exposed to them for long periods and at over "acceptable levels." So far, Lupin has not received reports of illnesses related to this issue.
Quinapril tablet USP is an angiotensin-converting enzyme (ACE) inhibitor indicated for the treatment of hypertension, to lower blood pressure. Lowering blood pressure reduces the risk of fatal and nonfatal cardiovascular events, primarily strokes and myocardial infarctions. Quinapril Tablets USP 20mg, and 40mg is packaged in 90 count bottles and was distributed nationwide in the US to wholesalers, drug chains, mail order pharmacies and supermarkets. Lupin stopped production of Quinapril in September and has been working alongside distributors to organize the return of recalled lots. The bottles were distributed from March 2021 to September 2022 with expiration dates ranging from December 2022 to March 2024.
The recalled lots are included in the table below:
"Lupin Pharmaceuticals, Inc. is the US based wholly-owned subsidiary of Lupin Limited and is the 3rd largest pharmaceutical company in the US based on total prescriptions. All Lupin-owned entities combine to make up the 8th largest generic pharmaceutical company in the world by revenue size."
Two blood pressure medicines produced by Aurobindo Pharma USA were recalled in October for similar concerns. The FDA States, patients taking Quinapril Tablets USP 20mg or 40mg are advised to continue taking their medication and contact their pharmacist, physician, or medical provider for advice regarding an alternative treatment.
Answers to 25 common COVID-19 vaccine questions
Vaccinations for COVID-19 began being administered in the U.S. on Dec. 14, 2020. The quick rollout came a little more than a year after the virus was first identified in November 2019. The impressive speed with which vaccines were developed has also left a lot of people with a lot of questions. The questions range from the practical—how will I get vaccinated?—to the scientific—how do these vaccines even work?
Keep reading to discover answers to 25 common COVID-19 vaccine questions.