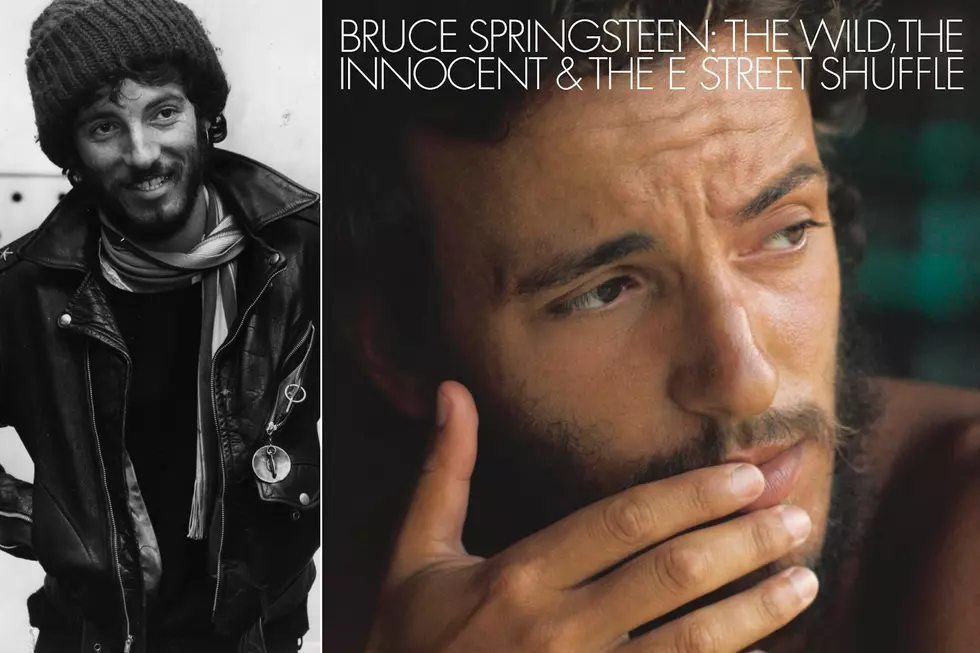 Revisiting Bruce Springsteen's 'Wild, the Innocent and the E Street Shuffle'
Monty Fresco, Getty Images / Columbia
Bruce Springsteen's second album didn't sell particularly well when it came out, but The Wild, the Innocent and the E Street Shuffle has since become a favorite among his fans.
"It was an interesting record," Springsteen said before a one-off full-album performance of it at Madison Square Garden in 2009. "Half the songs are kind of set in New Jersey and around our little street corner ... and the other half are sort of my romantic fantasies of New York City."
That split personality means that the The Wild, the Innocent and the E Street Shuffle arrived on Sept. 11, 1973 without the musical focus of Darkness on the Edge of Town or Nebraska. But that's also a large part of its appeal.
How Was 'The Wild, the Innocent and the E Street Shuffle' Different?
In seven songs, Springsteen touches on rock, soul, folk, funk, jazz (with swing and Gershwinesque piano interludes) and fairground music. Think of it as if Van Morrison relocated to the boardwalks of the Jersey Shore.
It's also where Springsteen's songwriting grew in leaps and bounds. The attention to lyrical detail hinted at on his debut, Greetings From Asbury Park, N.J., released earlier that year, would be out in greater force – from the boardwalk fortune tellers and petty thugs to a street musician and a trash collector.
Listen to Bruce Springsteen's '4th of July, Asbury Park'
The opening one-two punch of "The E Street Shuffle" and "4th of July, Asbury Park (Sandy)" is a perfect example of this cinematic approach. If the former is a typical scene in a movie where the dance at the high-school gym takes place, the latter is where the hero walks out and tells his girlfriend he needs to leave town to find something better.
The raucous, jazzy "Kitty's Back" – complete with a full horn section, call-and-response vocals and extended solos by Springsteen and keyboardist David Sancious – is next, followed by the musical 180-degree turn of "Wild Billy's Circus Story," which closes out the first side. A surreal portrait of a traveling carnival, the song features Springsteen accompanying himself on acoustic guitar as an accordion, tuba, mandolin and percussion fly in and out of the mix.
Side Two features a three-song suite book-ended by two of the New York songs. With their depiction of young romance set amid a gritty urban backdrop, "Incident on 57th Street" and "New York City Serenade" can be seen as precursor to Born to Run's "Jungleland." In between is the epic "Rosalita (Come Out Tonight)," which would close out the main set of nearly every Springsteen and the E Street Band show until 1988, practically taking on a life of its own in the process.
How Did Things Change After 'The Wild, the Innocent and the E Street Shuffle'
Musically, Springsteen would never be so eclectic again following The Wild, the Innocent and the E Street Shuffle. The main reason for this is that this incarnation of the E Street Band didn't last much longer. A few months after the album's release, drummer Vini "Mad Dog" Lopez was fired after a fight with manager Mike Appel's brother. He was replaced by Ernest "Boom" Carter.
After recording the song "Born to Run" in the summer of 1974, Carter and Sancious left to form a jazz fusion group called Tone, which released four albums on Epic and Arista. The duo was replaced by "Mighty" Max Weinberg and "Professor" Roy Bittan. The new lineup helped facilitate Springsteen's move to a more straightforward rock approach on subsequent albums.
Bruce Springsteen Albums Ranked
Because he spent so many of his formative years painstakingly crafting his albums, we don't often think of Bruce Springsteen as a prolific artist. But he's averaged an album nearly every other year throughout his career.