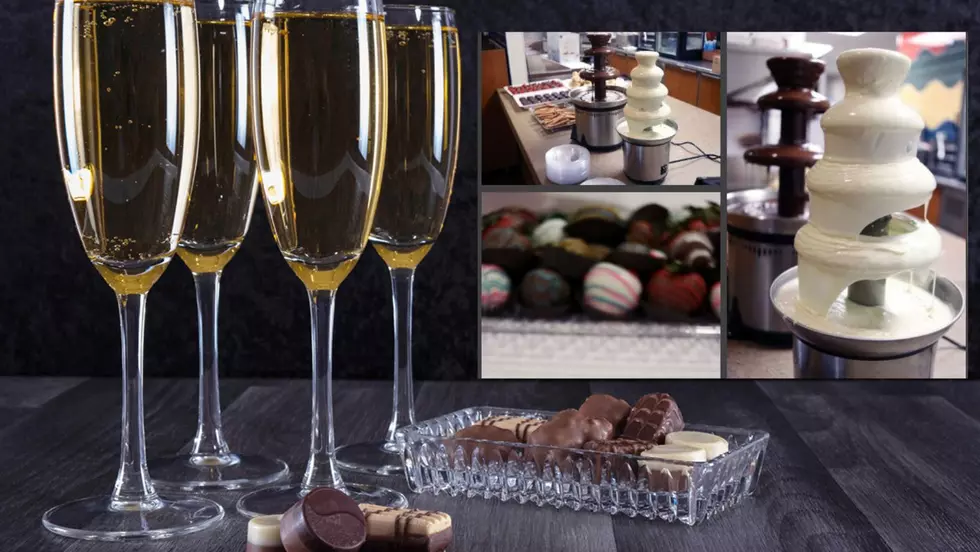 Champagne & Chocolates… And Sting Rays!
Credit: National Mississippi River Museum
Yes, you read that right. Champagne and Chocolates returns to the National Mississippi River Museum and Aquarium to provide a night of elegant relaxation and shopping fun for adults; all amongst the amazing animals and displays that only Dubuque's River Museum can provide. Sip some bubbly while you browse the many unique speailty and gift items perfect for filling out your families stockings!
Start your holiday season and get a jump on that holiday shopping at Champagne & Chocolates this Thursday, November 10th from 6 to 9pm. Visitors to this special event will enjoy two free glasses of champagne, an assortment of desserts, a cash bar, and loads of store discounts.
This event will also feature live music from Ralph Kluseman. A tru Beatles fan forever, Ralph covers an incredible number of their hits as well as tunes from Neil Young, America, Paul Simon, John Denver, Garth Brooks, Neil Diamond, John Lennon, Paul McCartney and many more.
This is your chance to find the perfect gift uniquely suited to everyone on your holiday shopping list. Their store will be fully stocked with a wide variety of clothing, jewelry, home décor, holiday decorations, children's toys, local specialty items, and lots more.
During the event you will enjoy special discounts including;
25% off local wines
30% off regularly priced merchandise
40% off holiday items
Check out these pictures from the 2019 Event
Tickets are just $10 for members and $15 for non-members to attend this one-of-a-kind event. Space is limited so make sure to purchase your tickets in advance here. Guests must be 21 years or older to attend Champagne & Chocolates at the National Mississippi River Museum and Aquarium. Sponsors for this years Champagne and Chocolates event include; Mike Finnin Ford, Envision Tees, The Whoo Chocolate Co., and Family Beer & Liquor.
LOOK: 50 famous memes and what they mean
With the infinite number of memes scattered across the internet, it's hard to keep track. Just when you've grasped the meaning of one hilarious meme, it has already become old news and replaced by something equally as enigmatic. Online forums like Tumblr, Twitter, 4chan, and Reddit are responsible for a majority of meme infections, and with the constant posting and sharing, finding the source of an original meme is easier said than done. Stacker hunted through internet resources, pop culture publications, and databases like
Know Your Meme
to find 50 different memes and what they mean. While the almost self-replicating nature of these vague symbols can get exhausting, memes in their essence can also bring people closer together—as long as they have internet access.
Hiking Trails and Nature near Dubuque, Iowa
Nature and hiking areas around the Dubuque, IA area.