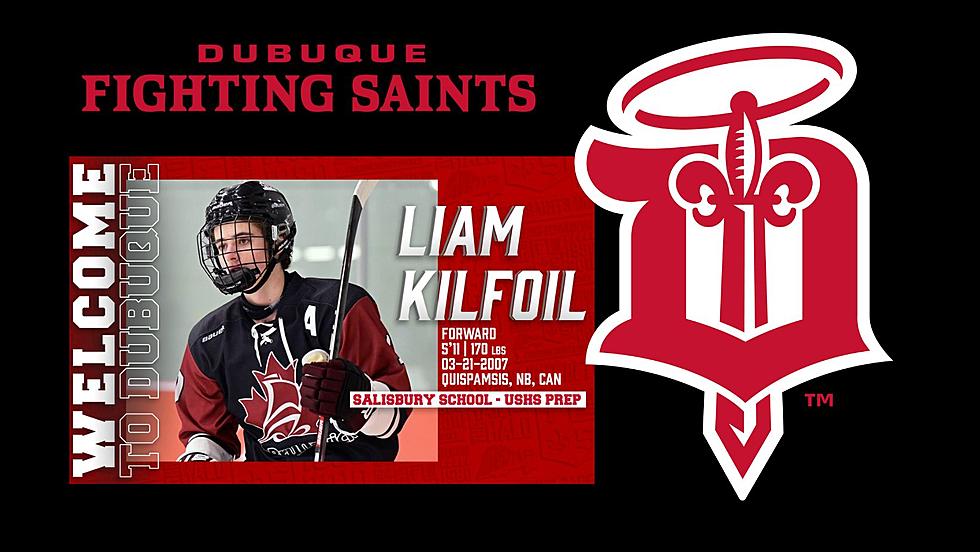 Dubuque Fighting Saints Sign Forward Liam Kilfoil; Surrender 1st Round 2023 USHL Pick
Credit: Dubuque Fighting Saints
According to a press release from the organization, the Dubuque Fighting Saints are proud to announce the signing of forward Liam Kilfoil to a tender agreement ahead of the 2023 USHL Draft.
Kilfoil is a 5'11" 170-pound forward from Quispamsis, New Brunswick, Canada, and has played parts of this season with the Buffalo Regals 16U AAA program and for Salisbury School, a United States high school prep team. In 25 games for Buffalo, Kilfoil recorded 16 goals and 20 assists for 36 points. In an additional 26 games for Salisbury, he added six goals and nine assists in 26 games.
"It's always been my goal to get a tender in the USHL. We started talking maybe mid-way into the Salisbury season. They (Dubuque) expressed interest in maybe doing a tender. Since then, I've been connected with Kalle [Larsson] and we went through the process of how it would work out. We talked about Dubuque and the role I would have on the team. I had Dubuque as the top option after seeing the history of the organization."

-Liam Kilfoil, 2023/24 Dubuque Fighting Saints Center
As a result of signing Kilfoil to a tender agreement, the Fighting Saints will surrender their first-round pick in the 2023 USHL Phase 1 Draft. Kilfoil is the first player tendered by the Fighting Saints since 2015. Kilfoil also recently competed for Team New Brunswick in the Canada Winter Games where he recorded four goals and four assists in six contests.
"We are thrilled that Liam Kilfoil has decided to continue his development in Dubuque. We feel strongly that he fits our profile of what it means to be a Fighting Saint. Our scouting staff have tracked Liam closely since his U14 season, and we have watched him multiple times in various settings with and against both players his age and older competition. What stands out about Liam is his hockey sense and versatility. He has excellent offensive abilities, but what we feel separates him from other players in his age group is his maturity as a player. He is responsible all over the ice and makes great reads both with and without the puck."
-Kalle Larsson, Fighting Saints President of Hockey Operations and General Manager
Kilfoil describes himself as a 200 ft player with a high hockey IQ and an ability to bring production and high-end skill to the offensive side of the game as well. He will join the Fighting Saints for the 2023-24 season.
Along with the hockey side of things, academics also played a large role for Kilfoil in choosing the Dubuque Fighting Saints and the USHL.
"I wanted to play hockey at the junior level at 16 years old and keep my NCAA eligibility alive. That was big for me and my family. You never know what will happen down the road with hockey, so it's always good to have that backup option."

-Liam Kilfoil, 2023/24 Dubuque Fighting Saints Center
Before coming to the United States, Kilfoil played AAA hockey for the Port City Sharks. Last season was his first year in the United States playing for Mount St. Charles Academy AAA.
"I ended up having a really good year [at Mount St. Charles] and got a lot of exposure down there. I ended up having a really good year there last year and growing relationships in the U.S. Then Salisbury was an older program and head coach Andrew Will and all of the assistants there have been great to me this year."

-Liam Kilfoil, 2023/24 Dubuque Fighting Saints Center
High praise has been given to Kilfoil and we look forward to seeing him as a Dubuque Fighting Saint next year! For more details and to catch all the Saints Hockey action tune in to Eagle 102.3 or visit Dubuque Fighting Saints - Official Athletics Website.
CHECK IT OUT: 100 sports records and the stories behind them
Hiking Trails and Nature near Dubuque, Iowa
Nature and hiking areas around the Dubuque, IA area.