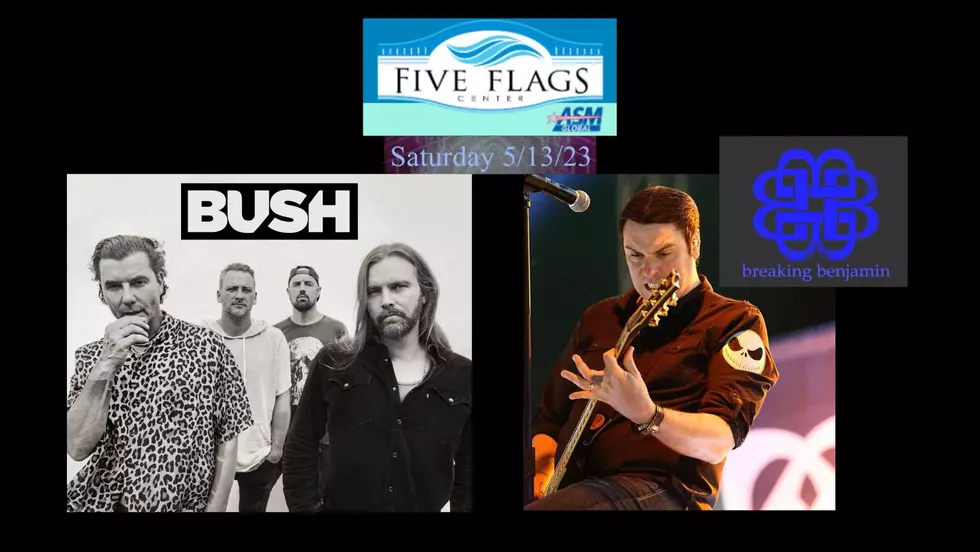 Five Flags Brings Rock To Dubuque: Breaking Benjamin, Bush, & Another Day Dawns
Credit: Breaking Benjamin / BUSH
Another day, another killer rock concert announcement from the Five Flags Center! Saturday, May 13th brings the noise to Dubuque when Breaking Benjamin, Bush, and Another Day Dawns hit the stage.
I've seen Breaking Benjamin 4 times (so far) and each time they manage to put together an amazing show. Benjamin Burnley and company continue to put in the work. In the United States alone, the band has sold more than 19 million units and yielded three RIAA-certified platinum records, two gold records, and several certified singles, including three multi-platinum, three platinum, and six gold. The band has also produced one number one record on the Billboard 200 with Dark Before Dawn in 2015.
It all started for the band with the single Polyamorous in 2001.
Years of writing and recording has provided hit after hit, including well respected tracks like,  So Cold
Sooner or Later, and the Halo 2 soundtrack star Blow Me Away.
Hits from the late 2000's  only added to their legacy of crunchy guitar riffs and killer vocals. Tracks like Give Me a Sign, Dear Agony, Lights Out, and I Will Not Bow, became rock anthems for an entire generation of angsty rockers.
And did I mention that Bush was also going to be there! This show juts gets better and better! Classic hits like Glycerine,
Chemicals Between Us, Everything Zen, Come Down,
and Machinehead will take center stage in Dubuque.
The newer stuff, like Flowers on a Grave, continue the Bush tradition and beauty of Gavin Rossdale's vocals intermixed with eerie distortion.
And, this might not be one you know well, but you won't forget them after seeing them just once in Another Day Dawns. Formed in 2010 these rockers bring a show worth coming back for. Enjoy tracks like Psycho,
Look At You,
and the rock anthem Taste of Heaven.
This is one killer show to plan on attending in Dubuque! Looking for tickets? They go on sale this Friday, February 17th, at 10am through Ticketmaster or at the Five Flags Box Office. It's Breaking Benjamin with BUSH and special guests Another Day Dawns! Performing live for one night only on May 13th at the Five Flags Center!
Top 30 American Classic Rock Bands of the '90s