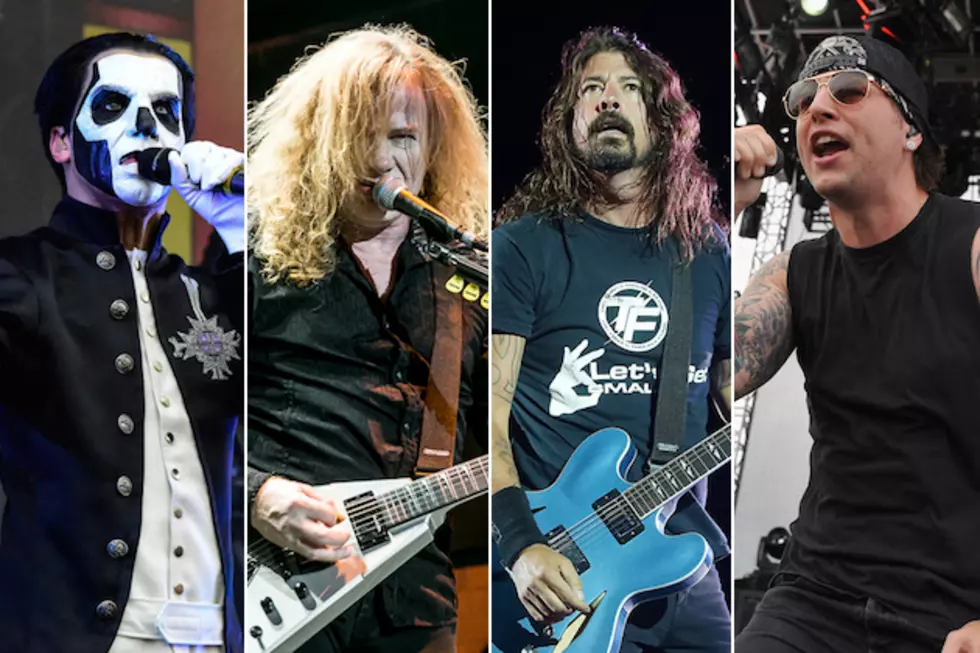 Ghost, Megadeth, Foo Fighters, Avenged Sevenfold + More Included in 'Rock Band VR' Set List
Evil Robb Photography / Kathy Flynn, WickedGoddessPhotography.com / Chris Hyde, Getty Images / Theo Wargo, Getty Images
The popular Rock Band video game series has been allowing fans to group together to play some of their favorite rock and metal classics for over 10 years. Now set to enter the world of virtual reality, a chunk of the video game's 60 song set list has been revealed, including cuts from Ghost, Megadeth, Foo Fighters, Avenged Sevenfold and more!
Rock Band VR promises full immersion, allowing fans to escape to the world of rock 'n' roll stardom, playing Ghost's Grammy-winning "Cirice," Megadeth's classic "Hangar 18," Foo Fighters all-timer "Everlong," Avenged Sevenfold fan-favorite "Beast and the Harlot," the fret-flying fury of DragonForce's "Through the Fire and Flames" as well as classic rock staples like "Walk This Way" from Aerosmith, Bon Jovi's "Livin' on a Prayer," Van Halen's thumping "Panama" and still more (set list below).
The game's website also notes to be on the lookout for some of these songs to appear as downloadable content on Rock Band 4 in the near future. Rock Band VR will be out March 23. For more information, head to the video game's website.
Avenged Sevenfold are video game veterans, have appeared numerous times in the Call of Duty series over the years. Their latest involvement came in 2015, contributing the "Jade Helm" score in Call of Duty III: Black Ops.
Rock Band VR Partial Set List
Aerosmith, "Walk This Way"
Against the Current, "Running With the Wild Things"
Alice In Chains, "Man in the Box"
Arctic Horror, "Black Seas"
AudioDamn!, "Lights Out"
Avenged Sevenfold, "Beast and the Harlot"
Basement, "Promise Everything"
The Black Keys, "Gold on the Ceiling"
Bon Jovi, "Livin' on a Prayer"
DragonForce, "Through the Fire and Flames"
Foo Fighters, "Everlong"
Ghost, "Cirice"
Joan Jett and the Blackhearts, "Bad Reputation"
The Killers, "When You Were Young"
Megadeth, "Hangar 18"
Oasis, "Champagne Supernova"
OneRepublic, "Counting Stars"
Paramore, "Ain't It Fun"
The Shelters, "Rebel Heart"
Spirit Kid, "To My Romeo"
Van Halen, "Panama"
10 Rock + Metal Musicians in Video Games
Top 100 Hard Rock + Metal Albums of the 21st Century