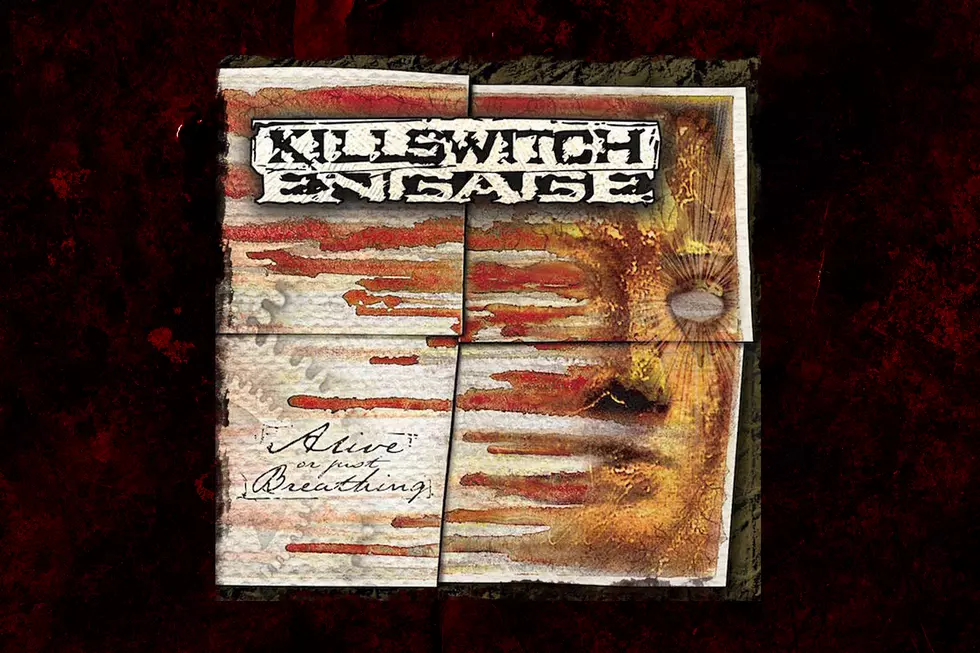 21 Years Ago: Killswitch Engage Reinvent Metalcore With 'Alive or Just Breathing'
Roadrunner Records
Years before the 1999 formation of Killswitch Engage, numerous Swedish bands had already mixed melodic death metal with a blend of harsh and tuneful vocals. But it took the release of Killswitch's second album, 2002's Alive or Just Breathing -- which came out May 21, 2002 -- for the heavy metal mainstream to get turned on to the musical hybrid that would eventually be called metalcore.
At the time, the band members -- vocalist Jesse Leach, multi-instrumentalist Adam Dutkiewicz, guitarists Joel Stroetzel and Pete Cortese and bassist Mike D'Antonio – were struggling members of a Western Massachusetts music scene that also included Shadows Fall, Unearth and All That Remains. While all of these groups eventually gained abundant media attention and varying degrees of success, it was Killswitch Engage that rose to the top of the heap and became the most influential U.S. metalcore band. It might never have happened without the energy, intensity and musical diversity that propelled Alive or Just Breathing, which was named after a line from the song "Just Barely Breathing."
Killswitch Engage recorded the album between October 2001 and February 2002 and Dutkiewicz, who was always the band's leader, produced the album at his go-to locale, Zing Studios, in Westfield, Mass. He, D'Antonio and Stroetzel wrote all the songs except "Fixations on the Darkness," which was penned by ex-guitarist Pete Cortese.
Killswitch Engage, "Self Revolution"
While it only took four months for Killswitch Engage to harness the youthful energy and motivation to track the record -- which includes such fan favorites as "Self Revolution," "My Last Serenade" and "the Element of One" -- the sessions were fraught was complications. Dutkiewicz started out the writing sessions as the band's drummer, but shortly into the process Cortese quit the band to spend more time with his family. Determined not to lose momentum, Dutkiewicz took over as Killswitch's second guitarist and played most of the drums on the album before the band brought in Tom Gomes for additional percussion.
Further slowing down the process, some of the band members were in school and others had jobs, so they had to plan recording sessions around their schedules. And, since it was bitter cold while they were working on the album and they didn't have top-notch gear, the guitars and bass kept going out of tune, causing multiple passages to be re-recorded numerous times and using much of the recording budget to purchase higher quality gear. These hiccups might have played a role in the band's decision to include two songs, "Temple From the Within" and "Vide Infra" from their 2000 self-titled debut. But the greatest obstacle the band had to overcome was Leach's lack of confidence as a singer.
"I was unprepared with my instrument and that caused me to be insecure," Leach told me in 2010. "I was young and inexperienced and I didn't know myself as a vocalist, but I was desperate to be a better singer because I really wanted to do in a good job in this band that had all these talented musicians. And I had all these misconceptions about my voice, but in reality I just didn't know how to control it yet. I had no technique and I didn't know how to sing properly. So I would get up there and bleed my soul through a microphone and force my voice out and my vocal chords would be smashing together and eventually I'd lose my voice."
Many of the vocal sessions were frustrating for both Leach and Dutkiewicz. The producer was patient and encouraging but after many takes the band ran out of time in the studio. So Dutkiewicz and Leach traveled to Leach's home in Rhode Island to complete the vocals. The singer felt more comfortable there than he did in the studio and was able to conjure the raw abrasion and melodicism the album needed. It isn't just those two elements that make Alive or Just Breathing such a visceral and impacting listening experience. Leach's desperation, frustration and unhappiness bleed through the mix, fueling the tracks with unadulterated emotion.
By the time they were done, Killswitch Engage had recorded 15 songs, 12 of which made the album. On a side note, All That Remains singer Phil Labonte sang background vocals on "Self Revolution" and "To the Sons of Man," and Dutkiewicz's sister Becka contributed back-up vocals on "My Last Serenade."
Killswitch Engage, "My Last Serenade"
The remaining tracks from the session -- "In the Unblind" "When the Balance is Broken" and the instrumental "Untitled and Unloved" -- were included on the 2005 re-release of Alive or Just Breathing, which also featured demos and a re-recorded version of "Fixation on the Darkness," with Howard Jones on vocals.
Killswitch had major touring plans for Alive or Just Breathing, but it soon became clear that Leach was anxious and unhappy. Not only was he insecure about performing, his lifestyle didn't match that of his bandmates.
"I was pretty straight and narrow and when we toured I did my best to stay completely sober," he said. "No beers, no nothing because I had read that alcohol is bad for your voice and it dries you out. And back then, a lot of the clubs allowed smoking, which was bad for my voice, too. So I'd be in these smoky rooms with cigarettes and I would be freaking out, which is part of the reason why I would hide out all the time and part of the reason I got into a really bad place on tour."
In addition to being paranoid about his voice and standoffish with his bandmates, Leach desperately missed his wife, who he had married right before the band went on tour. So on the second to last day of the first run to support the record, Leach abruptly quit between shows.
"I just wanted to be with my wife, and I was so tired of losing my voice and not getting along well with the guys." he said. "It all came crashing down on me. I got to the point where I couldn't deal with it anymore, so I literally disappeared. I had my brother pick me up in Seattle, where he lives. I jumped in a car with him and got a flight home and that was it. I didn't even say goodbye to those guys. I just lost it."
"When I left Killswitch I was in a real bad place," he continued. "I was ready to quit music altogether. I got rid of all my stuff and sold everything I owned, save for one guitar. I went into hiding for a month. And then I had to pay my bills so I ended up working three jobs and I became a total workaholic for a while."
Killswitch Engage, "The Element of One"
Killswitch Engage started looking for a new singer right away so they could continue to tour. They hired ex-Blood Has Been Shed singer Howard Jones, who debuted with Killswitch at the 2002 Hellfest. Jones remained with the band for a decade, performing on three studio album before he had to quit the band due to problems with Diabetes. He is now fronting the group Devil You Know, which released their second record They Bleed Red in 2015.
When Jones quit Killswitch Engage in 2011, Leach (who had formed the side project Times of Grace with Dutkiewicz in 2007) filled in as vocalist on the road and rejoined Killswitch Engage in 2012. He has since appeared on 2013's Disarm the Descent and 2016's Incarnate. But it's the turbulent Alive or Just Breathing that marked his first great, and quite possibly his best appearance with the band.
Loudwire contributor Jon Wiederhorn is the author of Raising Hell: Backstage Tales From the Lives of Metal Legends, co-author of Louder Than Hell: The Definitive Oral History of Metal, as well as the co-author of Scott Ian's autobiography, I'm the Man: The Story of That Guy From Anthrax, and Al Jourgensen's autobiography, Ministry: The Lost Gospels According to Al Jourgensen and the Agnostic Front book My Riot! Grit, Guts and Glory.
Killswitch Engage Albums Ranked
Killswitch Engage's Jesse Leach Plays 'Wikipedia: Fact or Fiction?'