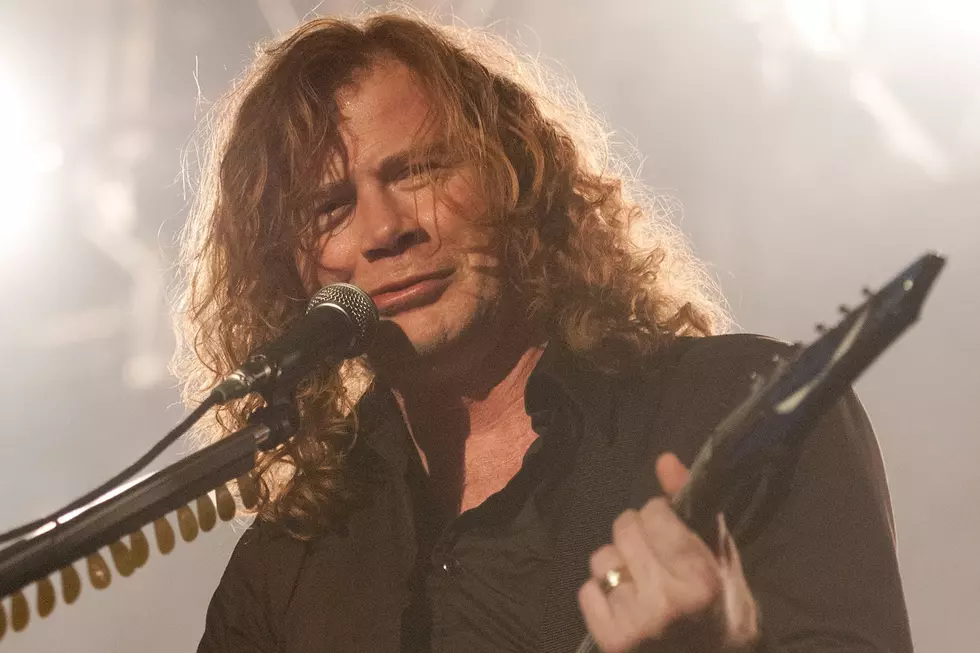 Dave Mustaine 'So Happy' to Hear From James Hetfield After Cancer Diagnosis
Daniel Boczarski, Getty Images
"A lot [of support] came from people that I knew but I didn't know cared," Mustaine told Rolling Stone. "Most notably, I got a text message back from my old brother, James Hetfield, and I was so, so happy to hear from him. Contrary to what anybody says, and contrary to any of the act that we put on, I love James and I know that James loves me and cares about me. You can see that when the moment of truth is here and I'm telling the world that I've got a life-threatening disease. Who comes to stand next to me? James."
Mustaine, who was diagnosed with throat cancer in May, has a long history with Hetfield. The two guitarists were bandmates in the early iteration of Metallica, and Mustaine wrote or co-wrote several songs on their early demo tapes. Even though he was fired from the group in 1983 (and replaced by Kirk Hammett), several of those early compositions appeared on the thrash-metal act's first two albums, 1983's Kill 'Em All and 1984's Ride the Lightning.
The guitarist wound up forming the massively influential Megadeth, widely regarded as one of Metallica's chief rivals. Though Mustaine wound up reuniting with his former band onstage as part of its 30th anniversary run in San Francisco, the two parties haven't always seen eye-to-eye. In 2017, Mustaine noted that plans for an expanded reissue of their No Life Till Leather demo tape fell through after a dispute over songwriting credits.
"James contacted me two years ago," Mustaine tweeted. "We were going to officially release the No Life Till Leather demo as a record, with 27 tracks, pics, the whole enchilada, and the talks broke down because Lars wanted credit on two songs I wrote every note and word to. I have the texts. I passed."
In September, Mustaine issued a statement saying he'd nearly finished his final round of cancer treatment, with doctors remaining "very positive" about his progress. In January, he and Megadeth will launch a European tour, and the band reportedly plans on releasing a few new tracks before that point.
Elsewhere in the Rolling Stone interview, Mustaine noted he also received encouraging correspondence from other hard rock and metal icons.
"I got a text message from Ozzy, and one from Paul Stanley," he said. "It was great to get one from Ozzy; I didn't expect it from Paul Stanley. That was super bitchin' because in the beginning, when Kiss first came out, I was just a kid and I loved them. I'm really grateful for everybody. Even the people who have a hard time with my behavior and my big mouth, I'm just so grateful for them showing care for me. Like they say, at the end of the day, all we've got is each other here in this crazy metal community."
Top 50 Metal Albums of All Time