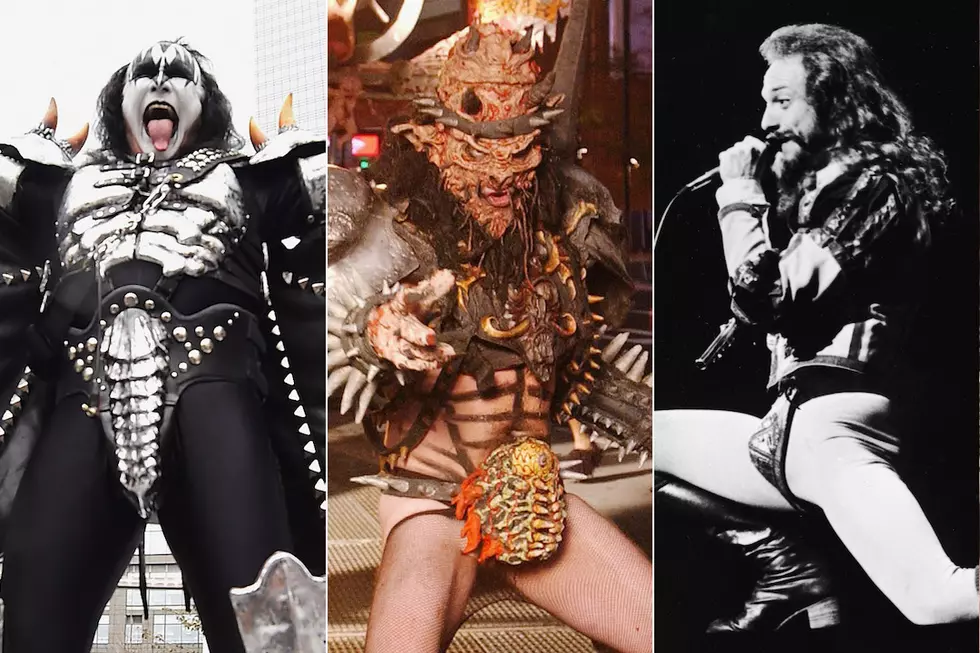 11 Most Epic Codpieces in Rock + Metal
Michael Loccisano / Brad Barket / Hulton Archive, Getty Images
Way before Wu-Tang said "Protect Ya Neck," the rock and metal world said "Protect Ya D-ck." Long ago, musicians' twigs and giggleberries were under constant assault by ravenous fans, especially live in concert. The danger of an onstage circumcision or ruptured testicle was, in fact, so great, that medieval-style codpieces were employed to shield the true source of a rock star's power… the ding-dong. Thus, we take a historical look inside... excuse us... AT the 11 Most Epic Codpieces in Rock + Metal.
---
W.A.S.P.'s Blackie Lawless
God bless W.A.S.P. frontman Blackie Lawless for turning his weapon into an actual weapon. For the cover of W.A.S.P.'s opus, "Animal (F—k Like A Beast)," along with many other promo shots, Blackie strapped on his classic tiger-striped, circular saw codpiece adorned with the words "I F—k Like a Beast." Thankfully, the circular saw wasn't operational, or else Lawless would have ended up with his banana split.
---
All aboard the "Night Train!," Axl Rose's crotch screeched with hospitality. Just gaze upon this spectacle for a minute or two… white cowboy boots, white tights and a shiny red codpiece with a strap meddling its way into Axl's crack. We're sure many ladies accepted Axl's spread-eagle invitation back in the day and it's fitting that Rose's shirt simply reads "Yes" in French.
---
Glam act Pretty Boy Floyd found modest success in the late '80s, but their greatest accomplishment is standing by this heinous photo for decades! "We will never, ever regret this photograph," the band stated in retrospection. What's there to be embarrassed about, anyway? The two dudes on the left are just standing butt-to-butt with a silver demon face and a horseshoe crab over their jewels. And how about that pretty dude in the red? Gotta hold that piece in place so he can keep the goodness all for himself… for now.
---
Our beloved Oderus Urungus donned many codpieces over the years, including the two-foot-long Cuttlefish of Cthulhu. However, GWAR's late front-thing was a little more modest when posing in New York City, showing off his cycloptic crotch creature with far too many teeth to guarantee safe entry or exit… though we suppose one tooth is still too many. Legend only knows the power that dwelt within the waistline of Oderus Urungus, so rejoice in appreciation that proper protection was installed.
---
Hey! Eyes off the mustache for a second! We're strictly here for codpieces. Gorgoroth founder Infernus doesn't have the most elaborate codpiece on this list, but loin-spikes aren't exactly the most practical fashion statement while playing guitar. Still, one much remain evil, so a studded ball-barrier is your next best option.
---
Gene! You know shellfish isn't kosher! Be a good boy and get that crustacean off your tallywacker. But seriously, that's a pretty impressive pud-plate. Fireworks, explosives… not even the Phantom of the Park could get through that thing! Though we're a little worried about electricity considering Ace Frehley's legendary mishap. With a codpiece of that magnitude, KISS' God of Thunder is asking to be struck by lightning.
---
In proper Manson fashion, this codpiece doubles as a vagina. You may remember Marilyn Manson's full-body lady suit from the 1998 MTV VMAs. While performing "The Dope Show" to a live TV audience, Manson stripped down from his lavish robe to expose a getup equipped with a plastic butt, boobs and vajayjay. It became an immortal MTV moment and Manson's antics still haven't been topped almost 20 years later.
---
The godfather of shock rock looks like he picked this codpiece straight off the rack at Dick's. For the cover of Alice Cooper's Trashes the World VHS tape, the rock icon nabbed a run-of-the-mill athletic cup and turned it into leather-bound glory. Massive studs and chains adorn the protective piece, while holes in the cup ensure that Alice Cooper's Phallus Cooper can breathe during those long nights onstage.
---
Dethklok's William Murderface
Dethklok's immortal bassist William Murderface actually murdered a man's face with his codpiece. Made from pure metal, Murderface's codpiece is capable not only of protecting his plonker, but of penetrating brain and bone! In an 11-man fight to the death were each hopeful survivor can only use their wang as a weapon, Murderface would almost certainly exit as the last man standing.
---
Cameo frontman Larry Blackmon is the king of the codpiece. No single musician in history has been more flagrant or unapologetic for his use of the chodal contraption. What the hell kind of turtle wax does he use, anyway? You could go blind looking directly into that thing. Blackmon's red codpiece has become such a symbol (or mascot?) of Cameo that it even got its own album cover for The Hits Collection. See for yourself!
---
Jethro Tull's Ian Anderson
Strike a pose, Ian Anderson! We can all agree that the Jethro Tull frontman's face is slightly out of focus, right? But what's 100 percent clear? That's right, it's the codpiece. This photographer wanted codpiece, codpiece, codpiece when snapping this epic image, as if the heavens opened to shine a bright light onto Anderson's ballock blockade. Of course, after the 1989 Grammys debacle with Metallica, Anderson was wise to keep his skin flute guarded.
---
Best Metal Albums of 2017 (So Far)