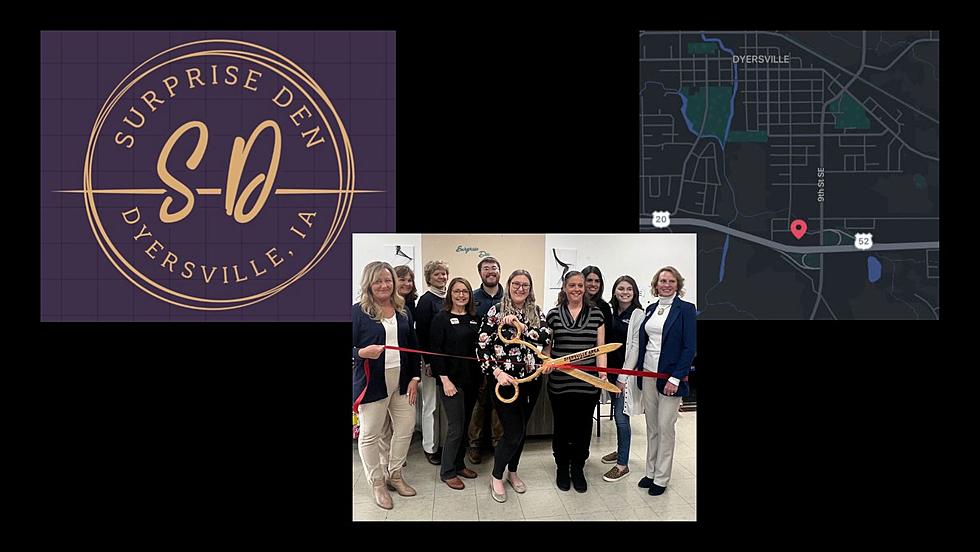 Mother & Daughter Open New Discount Store in Dyersville
Credit: Surprise Den / Google Maps
According to a story form the Telegraph Herald, a mother and daughter duo has opened a new discount store in Dyersville, Iowa.
It's always fun to see new shops and businesses arrive to established communities, and now Surprise Den is officially one! Surprise Den opened on March 12th. It's located at 635 16th Street SE, next to the Mexican restaurant Rio Blanco, right off of the Highway 20 Exit 294 into Dyersville. The store front was previously the business Natural Grains.
Owners Shelly Hess and her Daughter, Mikaylah Veglahn confirm that their store currently purchases items stores don't want anymore and put out those new and discounted items every day. All products are high-quality, but customers are also offered full refunds if they are not satisfied. The store currently sells a wide variety of items, including electronics, kitchenware, baby items, furniture, toys, and pet items. The store offers complimentary hot drinks as well as a kid's section with toys and treats where children can play while their parents shop.
"It's been a really exciting time. My mom inspired me with her passion for entrepreneurship and helped me open the store. This is our first venture.

-Mikaylah Veglahn, Owner Surprise Den
The Surprise Den also focuses on giving back to the community. Currently, there is a little food pantry set up in the corner of the store for people to drop off and pick up items at. In addition, each Monday the store donates 5% of all profits to a different organization.
"My mom loves talking to people. She always wanted to have a business her whole life, and now that I'm older, I said, 'Well, why can't we do it?' We fell in love with the concept of a retail store and toured different places in Iowa to pick and choose what we liked from their business. We wanted to focus on specials, and giving back."

-Mikaylah Veglahn, Owner Surprise Den
Surprise Den in Dyersville is open 9am to 5pm Mondays, 9am to 7pm Tuesdays, 1 to 5pm Wednesdays, 9am to 5pm Thursdays, 1 to 6pm Fridays, 10am to 5pm Saturdays, and 10am to 4pm Sundays. The store also can be found on Facebook.
LOOK: Here are 25 ways you could start saving money today
These money-saving tips—from finding discounts to simple changes to your daily habits—can come in handy whether you have a specific savings goal, want to stash away cash for retirement, or just want to pinch pennies. It's never too late to be more financially savvy. Read on to learn more about how you can start saving now. [
From:
25 ways you could be saving money today
]
50 Famous Brands That No Longer Exist