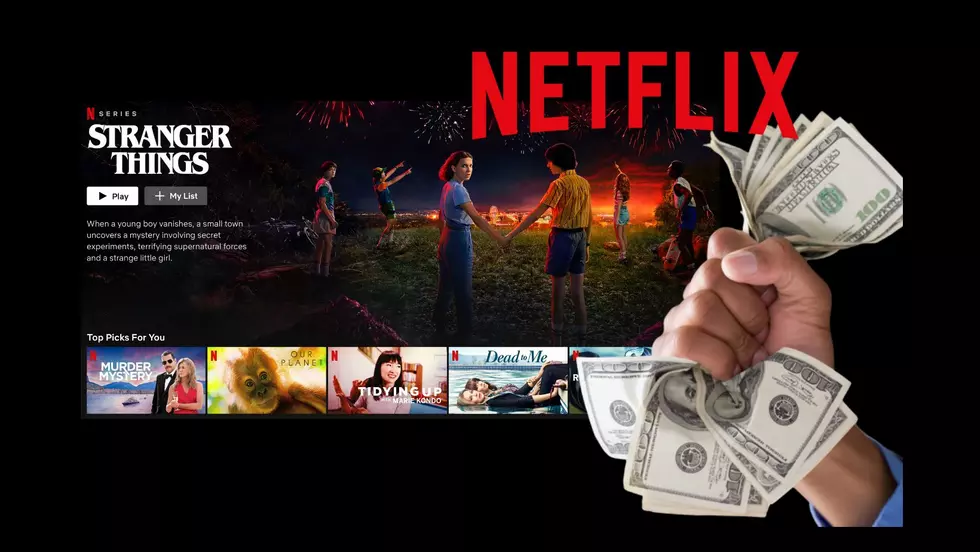 Netflix Announces "Profile Transfers," AKA They Want To Get PAID!
Credit: Netflix
My household is a streaming one.
We pay for internet and use devices like our Xbox, Switch, Rokus, Streaming Aps, and Smart TVs to consume entertainment, sports, and gaming. Over the years prices have risen dramatically for one specific service; Netflix.
When I first subscribed to Netflix, it was a no-brainer. I didn't want to pay for cable and most of things I wanted to watch were available online.  So, we paid for the high-speed internet, skipped the cable, and got a Netflix subscription for just 5.99.
Yes 5.99
And that really wasn't all that long ago, maybe 6-7 years. Currently, I'm on the standard HD plan; it allows only 2 devices at the same time in full HD for... 15.49 a month. So, my plan has tripled in price from when I first signed-up. They offer 2 other plans; one with only one screen and SD quality for $9.99 and the other is premium service with 4 screens at a time in Ultra 4K or UHD for $19.99. They are even opting for a plan that will cost $5.99, but guess what? It has advertising (insert shocked gasp here*). Ads will be 15 to 30 seconds in length and will play before and during any shows/films.
For now it's still cheaper to stream; but only if you stick to one streaming service, but... for how long will it stay affordable?
Well unfortunately Netflix announced a new feature yesterday (10/17) called Profile Transfer. The feature allows users to move their "personalized recommendations, viewing history, My List, saved games, and other settings" to a new account.
The Netflix press release states:
"People move. Families grow. Relationships end. But throughout these life changes, your Netflix experience should stay the same. Today, we're launching Profile Transfer, a feature that lets people using your account transfer a profile — keeping the personalized recommendations, viewing history, My List, saved games, and other settings — when they start their own membership."
Let's read that again... "when they start their own membership"
We knew it was coming. Here's another way that Netflix can try to ban/prevent password sharing. And it's because Netflix says they have a high-user base not equivalent to the amount of proceeds they are receiving. A share-holders report from April shows that Netflix believes they have 222 million "paying households," but estimates the service is shared with over 100 million "additional households." 30 million are in the US and Canada. That indicates there is a large amount of people who aren't paying Netflix directly for the ability to stream.
Password crackdowns have long seemed like they would eventually happen; it doesn't mean we want to pay more for the service because of it. Most of the company's financial issues come down to the fact that Netflix has now become a content creator as opposed to just a streaming platform.
Beyond Netflix's challenges with account sharing, the new feature points to the growing importance of profiles and personal identity across streaming and digital services. Netflix was the first streaming service to launch individual profiles for family members almost a decade ago that tracked what you liked to watch and your own personal settings. Most streaming services have followed that same system on their platforms.
While Netflix remains at the forefront of streaming, only the future will tell what other changes will be coming to your favorite streaming services...
SPOOKY!
Find your Halloween Favorites below and stream them today!
25 Scaredy Cat-Approved Halloween Movies