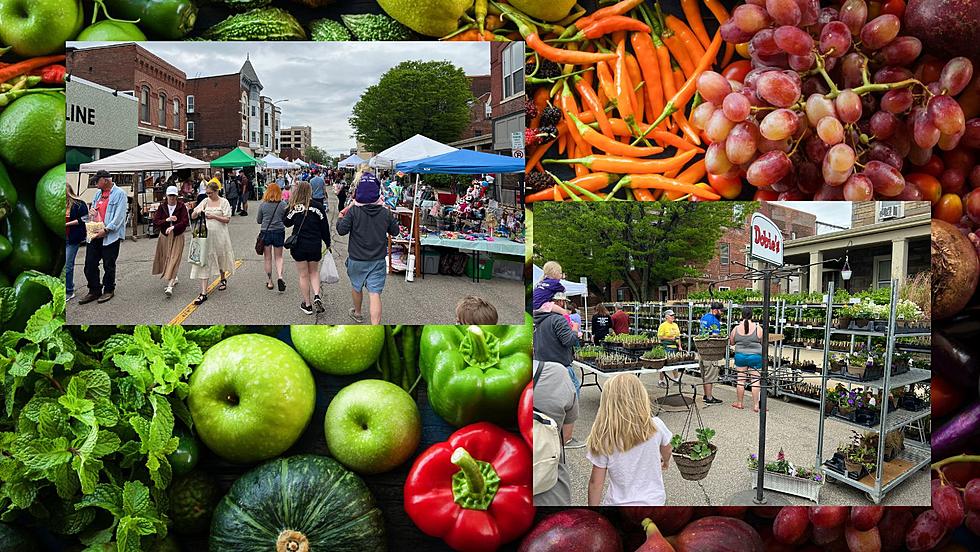 Photos: Dubuque Farmers' Market in Full Swing on Saturdays
Credit: Tom Ehlers
Dubuque is a beautiful city to walk through. The newly iconic murals, the delightful smells from area restaurants, and the friendly smiles of local residents. Dubuque screams get out and get involved, and now with warmer weather here, you can do just that on Saturdays at the local farmers' market.
The Dubuque Farmers' Market has been located in the Upper Main District around City Hall since 1858. The market itself, however, has been running since the 1840s! The market stretches over three city blocks on Iowa Street and extends up and down 11th, 12th, and 13th street. The Dubuque Farmers' Market operates on Saturdays through the end of October, for a total of 27 weeks, Rain or Shine!
​Hours of Operation:
Now Through September 7am until Noon
October 8am until noon
Today the Dubuque Farmers Market features more than 125 vendors, representing over 10,000 acres in surrounding counties. The wide variety of offerings include: certified organic and naturally and conventionally grown fruits and vegetables, grass-fed beef, pastured pork, eggs from free-range chickens, fresh baked goods, confections, homemade pasta and sauces, cheeses, honey, herbs, wines, fresh flowers, arts, crafts, and more. Chef and cooking demonstrations, seasonal produce events, along with music and educational activities, continue to make the Dubuque Farmers Market a popular Saturday morning destination.
The city of Dubuque makes it even easier to find what your looking for with an electronic map which is available here.
Residents can also get involved with the food recovery program which helps by sending purchased foods to the Dubuque Food Pantry. Each week, volunteers collect unsold produce from market vendors who are willing to donate. The produce is then weighed and distributed to community members who are eligible to receive assistance from the food pantry.
So essentially, you can get out and explore AND make a difference to not only local hard-working farmers and crafters, but the community as a whole. Check out everything you're missing at the Dubuque Farmers Market below...
Photos: Dubuque Farmers Market 2023
Take a trip through the Dubuque's Farmers Market
More adventures await you in Dubuque...
The Dubuque Arboretum & Botanical Gardens
A stroll through the Dubuque Arboretum & Botanical Gardens in Early Spring
Hiking Trails and Nature near Dubuque, Iowa
Nature and hiking areas around the Dubuque, IA area.