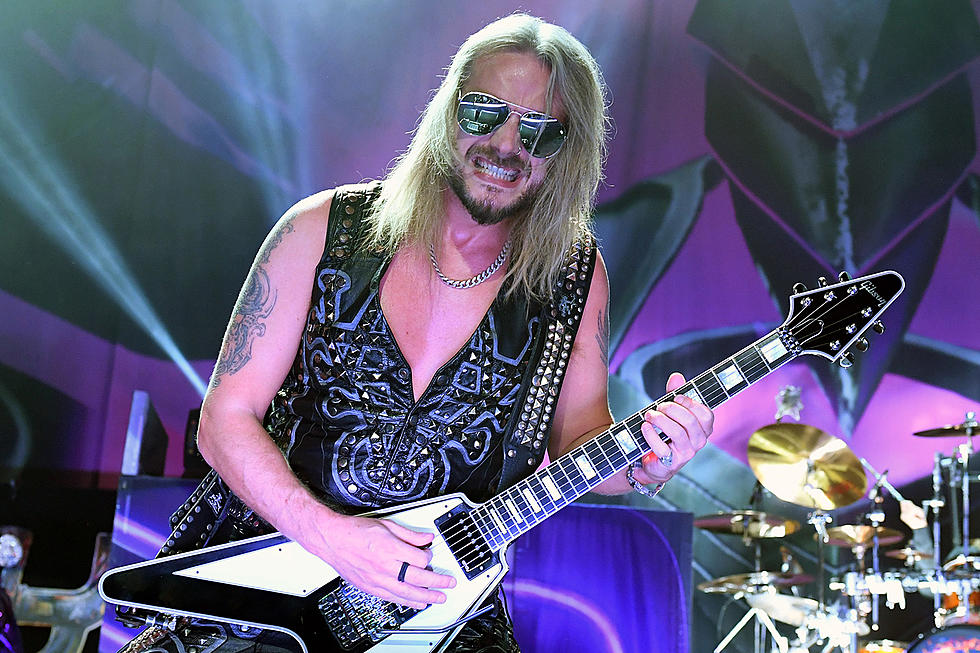 Richie Faulkner Excited for 'Emotional' Judas Priest Stage Return
Ethan Miller, Getty Images
Judas Priest guitarist Richie Faulkner, who suffered a ruptured aorta while performing on stage last September, announced he is on track to rejoin the band when they return to touring.
"And we're back!!," Faulkner proclaimed via Facebook. "Priest rehearsals 2022!! Feels so good to be back after so much has happened. Having these U.S. dates has really given me something to aim for as part of my recovery process, and the guitar, as always, has been my medicine throughout."
Judas Priest were playing "Painkiller" during their set at the Louder Than Life Festival in Louisville, Ky. on Sept. 26 when Faulkner's "aorta ruptured and started to spill blood into my chest cavity." The guitarist was immediately rushed to the hospital after the show, where doctors performed more than ten hours of surgery to repair the damage. The rock giants postponed the remainder of their 50 Heavy Metal Years tour to allow Faulkner to recover.
The rescheduled trek kicks off March 4 in Peoria, Ill. "It's gonna be emotional to see all those faces out there once again next week and I'm really looking forward to seeing you all," Faulkner admitted.
Earlier in the year, the band briefly toyed with a lineup shuffle. In January, Judas Priest announced that they'd tour as a quartet for the first time since 1974, with guitarist and producer Andy Sneap sitting out the trek. Sneap expressed his disappointment with the decision, while fans and former members decried the choice, noting the band's famed dual-guitar attack. Priest later announced that they would revert to the quintet setup, with Sneap returning to the lineup alongside singer Rob Halford, Faulkner, bassist Ian Hill and drummer Scott Travis.
The Best Song From Every Judas Priest Album
Eighteen tracks that prove the British veterans never abandoned their core principles.