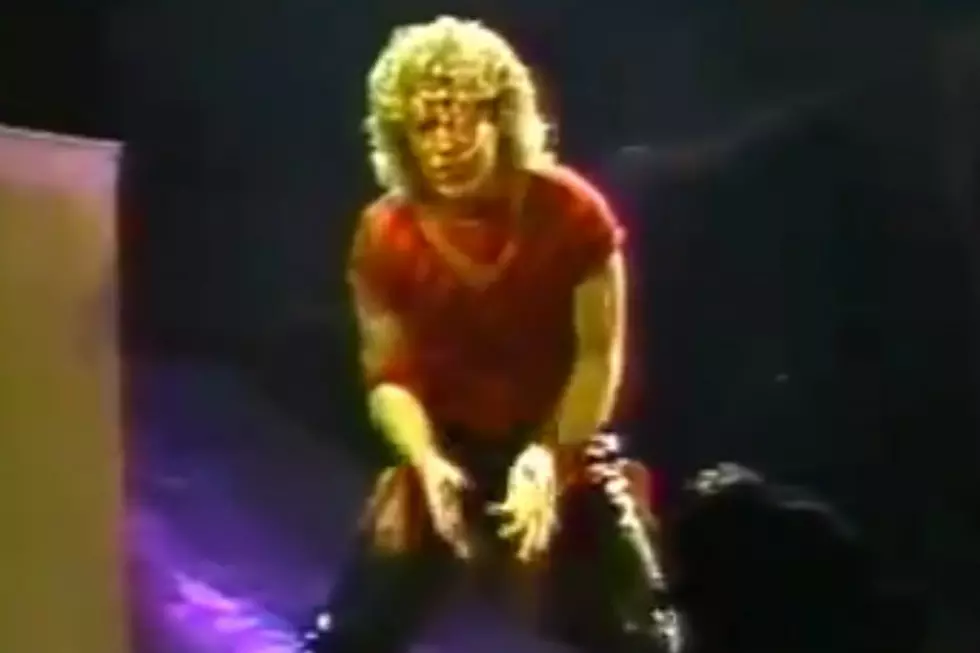 How Sammy Hagar's 1983 MTV Concert Pointed to Bigger Things
MTV
The crown jewel of many Sammy Hagar fans' video collections is a bootleg from the packed Checkerdome in St. Louis, Mo. Recorded on March 13, 1983, the concert was broadcast live over radio stations all across the country, and also shown on MTV.
At the time, Hagar was hot on the heels of "Your Love is Driving Me Crazy," his biggest-ever solo single, but still not quite a household name. The California-raised singer and guitarist chose St. Louis as the site for this important broadcast because its citizens welcomed him as a headline attraction faster than any other city – and this was a chance to make many new fans.
"St. Louis is one place that I really get up for," Hagar explained to the Riverfront Times in 2003. "I feel an obligation. Sometimes it doesn't matter where I am: 'I've got a show tonight' They have to write on my monitors where I am. When I'm in St. Louis, I know I'm in St. Louis. I redesign my set list for St. Louis"
The 17,000 "crazy you know whats" in attendance quickly proved that he made the right choice, showering the stage with banners, t-shirts, toilet paper and even purses while cheering on Hagar's every move. Sammy does far more than his fair share to get them riled up, kicking off the proceedings with a frantic four-song barrage while jogging about three miles back and forth across his Trans Am-adorned stage.
"I invented the headset mic the tour before this, so that I didn't have to stand in front of my microphone and play guitar and sing," Hagar recalled in a 2022 social media post. "It allowed me to run around all over the place and God knows I did. If you come to a concert in 2023 don't expect this guy to be doing all that running around."

He doesn't let up throughout the rest of the 90-minute show, which also features strong performances of classics such as "Heavy Metal" and "I'll Fall in Love Again," as well as a trip into theatrical rock with "The Rise of the Animal" and a nice reclamation of "I've Done Everything for You," a Hagar song Rick Springfield took to the top of the charts in 1981.
Watch Sammy Hagar Perform at St. Louis' Checkerdome in 1983
Hagar wraps up the show with an extended version of his former band Montrose's classic "Bad Motor Scooter" before climbing into the lighting rig for a set-ending "There's Only One Way to Rock." The encore finds Hagar paying two tributes: to the Who with a dynamic 'Baba O' Riley' and to our war veterans with "Remember the Heroes."
Two additional songs aired only on the radio broadcast – "Fast Times at Ridgemont High" and "This Planet's on Fire (Burn in Hell)." Apart from a performance of "Baby's on Fire" that appeared in the bonus section of Hagar's 2003 DVD Long Road to Cabo, this concert has never been made legally available.
The following year, "I Can't Drive 55" sent Hagar to the very top levels of rock stardom, and soon after he was recruited to replace David Lee Roth in Van Halen. Later, he split his time between a solo career and the supergroup Chickenfoot.
Think You Know Sammy Hagar?