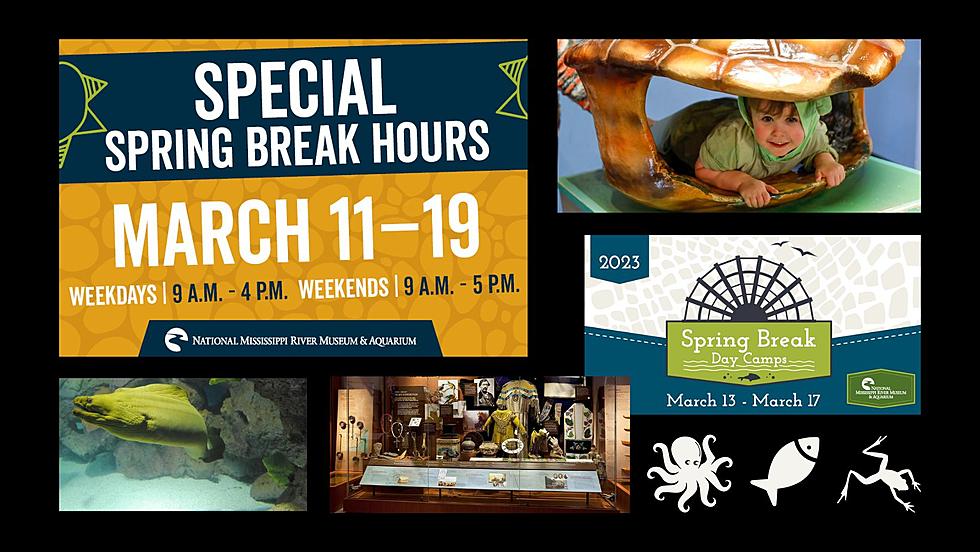 Spring Break Has Arrived at the National Mississippi River Museum & Aquarium
Credit: National Mississippi River Museum
The National Mississippi River Museum and aquarium is gearing up for spring break fun and you can get involved; whether you attend a Spring Break Day Camp or swing by their Facebook page for some in museum fun and take part in their scavenger hunt!
Each day will include a different featured image from various locations on campus. 
Paddlewheel Selfie
Noodling a Catfish
Kelp Forest Bubble
In the Turtle Shell
On the Logsdon Barge
Outside standing in the catfish
Measuring your Wingspan
At the Grill taking a Snack/Lunch break
In the beaver den
During your visit, take pictures at these designated spots and drop them in the comments on the River Museum's Facebook page for a chance to win! On March 20th, they will draw for a 4 pack of tickets to the River Museum!
And Spring break is a great time to join one, or all, of the many Spring Break Day Camps at the River Museum. Check them out below!
Curious About Coral; March 13th 9:00 AM - 4:00 PM Campers are invited to explore the saltwater habitat of coral reefs, discover the creatures that call them home, and learn how our aquarists stationed in Dubuque are protecting Florida's corals.
April Showers Bring May Flowers; March 14th 9:00 AM - 4:00 PM Discover what creates rain and why precipitation is so important to us. Unearth how flowers are made and why bees like them so much. We'll learn about pollinators and make seed bombs to grow your own.
What Did You Say?; March 15th 9:00 AM - 4:00 PM Did you know that trees communicate with one another? Campers will discover how wildlife and other things in nature communicate to help protect their species. We'll use our communication skills playing games and making mini-forests.
Throwback Thursday: Spring Survival; March 16th 9:00 AM - 4:00 PM Experience how people lived in a log cabin and learn pioneer games. Enjoy the process of making and tasting butter and discover other food they may have eaten and planted.
Every Day is Earth Day; March 17th 9:00 AM - 4:00 PM Learn how to apply conservation in our daily routines. We'll determine what plants or animals are invasive species and create projects made from recycled materials.
And if you think they forgot the adults, think again! This members only event allows you to enjoy the Museum X Gallery Walk & Talk and Water/Ways After Hours on March 23rd from 5:30 to 7pm. Join Curator of Historic Collections Kristin Glomstad-Yoon and Guest Associate Nefret Salzberg as you take a closer look at the stories and artifacts highlighted in three of the current history exhibits: Photography: Past, Present, and Future; Remembering 'The Pack'; and Do No Harm: Health, Healing, and Hazards. Hear more about the exhibit development process and how museums use material culture to better understand the past.
Following the presentation, attendees are invited to walk through the new Water/Ways exhibit on the second floor of the Mississippi River Center, which opens mid-March! Drinks, light refreshments, and a cash bar will be available, but you must RSVP by March 17th.
For more details on what's happening at the Mississippi River Museum and Aquarium in the port of Dubuque visit their website at rivermuseum.com.
LOOK: Stunning animal photos from around the world
From grazing Tibetan antelope to migrating monarch butterflies, these 50 photos of wildlife around the world capture the staggering grace of the animal kingdom. The forthcoming gallery runs sequentially from air to land to water, and focuses on birds, land mammals, aquatic life, and insects as they work in pairs or groups, or sometimes all on their own.