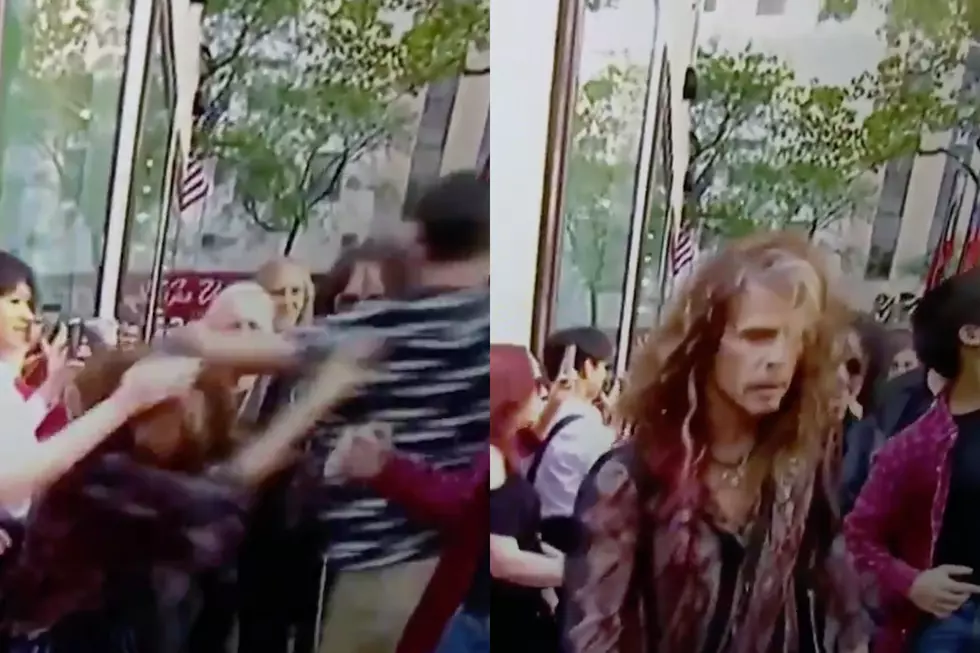 Don't Take a Selfie With Steven Tyler
Twitter: @DarthHendrick
Aerosmith singer Steven Tyler was not having an eager fan's attempt at a selfie this morning during the band's appearance on the Today Show. A Twitter video clip shows the band walking along a small lane surrounded by fans, one of which jumped out of line with phone in hand and arm wrapped around Tyler. It took the singer by surprise and he immediately ducked from the individual's embrace and pushed them away.
Tyler himself commented on the situation in a tweet, saying, "No time bro - this is LIVE TELEVISION! Come to the show if you want an intimate experience. "You can watch everything unfold in the video below.
Aerosmith used their time on Today to not only perform, but to announce their Las Vegas residency as well. The rock and roll icons will be taking over the Park Theater at the new Park MGM resort in Las Vegas for their "Aerosmith: Deuces Are Wild" event next year. It will begin Saturday, April 6, with the band taking over the theater for performances for 18 shows in total. This includes the booked performances April 6, 8, 11, 13, 16, 18, 21, 23 and 26; June 19, 22, 24, 27 and 29; and July 2, 4, 7 and 9. Further information can be found here.
Aerosmith's Original Tour Van Found