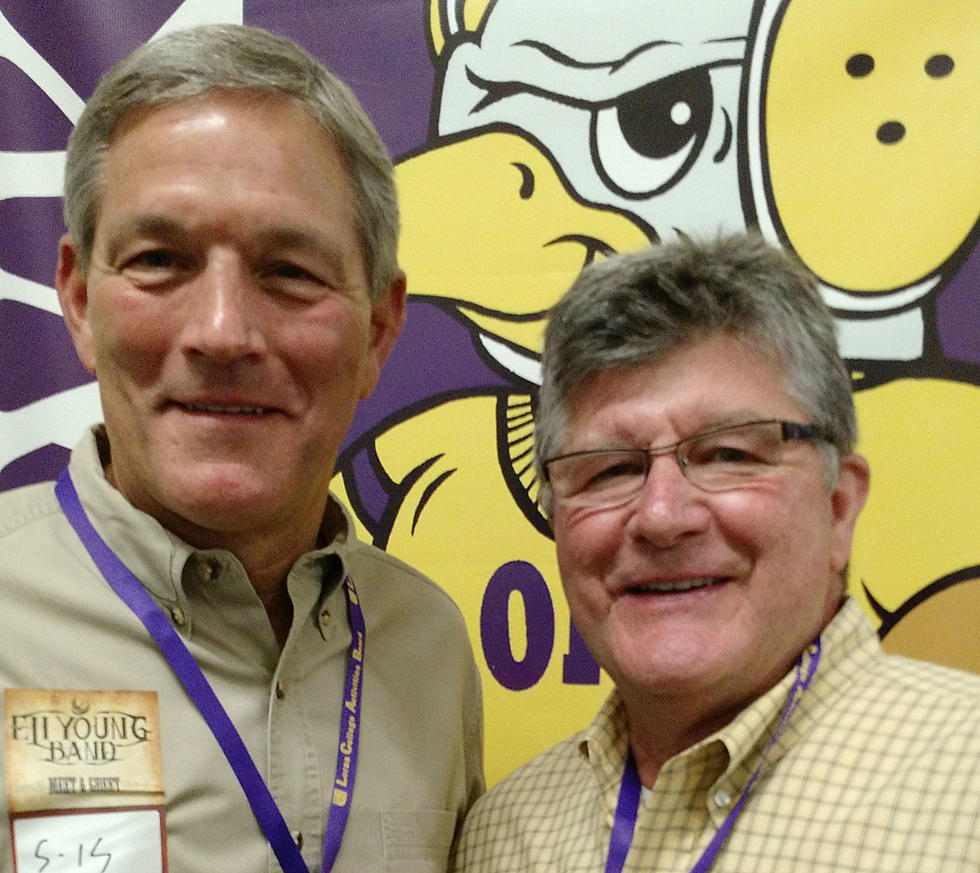 THE voice in Iowa sports; a career in broadcast and more with Gary Dolphin
Kirk Ferentz and Gary Dolphin
Over the past few years of my career in Radio, I've had a wonderful relationship with our very own "voice of the Hawkeyes," Gary Dolphin. Several years as a producer for the Dolph Report, I now, again, find myself able to work with Gary on Hawk Talk and be able to tune in to him for live broadcasts from our radio stations.
I have plenty of great stories form my time working with Gary. For instance, Gary got me tickets to a great Iowa comeback win in football! It was my daughters first time riding the now defunct Hawkeye Express Train and heading to a Big Teen football game. Our family had a blast, as my dad and my wife were also along for the fun! I've also seen so many great athletes and outstanding people continue to talk and share with Gary over the years, valuing both his time and professionalism.
If stories about past players and Gary's vast knowledge of experience in the broadcasting industry peeks your interest, I have the event for you.
Tuesday March 29th at Clarke University's Jansen Music Hall, Gary Dolphin will be the featured speaker for Clarke University's Future Young Professionals organization. He will expand upon his experiences as a sportscaster for the University of Iowa for both the men's basketball and football teams. Find out about his experience working in production for tv broadcasts of the Chicago Bears, and about his new endeavor as a co-owner of Gary Dolphin's Iron Bar in the Millwork District of Dubuque. Gary will share anecdotes in his well-known style and delivery, along with reflections on his broadcasting growth, and some of the lessons he's learned along the way. Following his hour of remarks, Gary Dolphin will take questions from the audience.
With this event, the Clarke University Future Young Professionals Club is hoping to seek a connection to students from a variety of majors to enhance their confidence, network, and prepare them to enter the workforce. Proceeds from the 5 dollars to attend this event go to Future Young Professionals programming. Find more information on this event and others at clarke.edu.
30 famous people you might not know were college athletes
Stacker
dug deep to find 30 celebrities who were previously college athletes. There are musicians, politicians, actors, writers, and reality TV stars. For some, an athletic career was a real, promising possibility that ultimately faded away due to injury or an alternate calling. Others scrapped their way onto a team and simply played for fun and the love of the sport. Read on to find out if your favorite actor, singer, or politician once sported a university jersey.