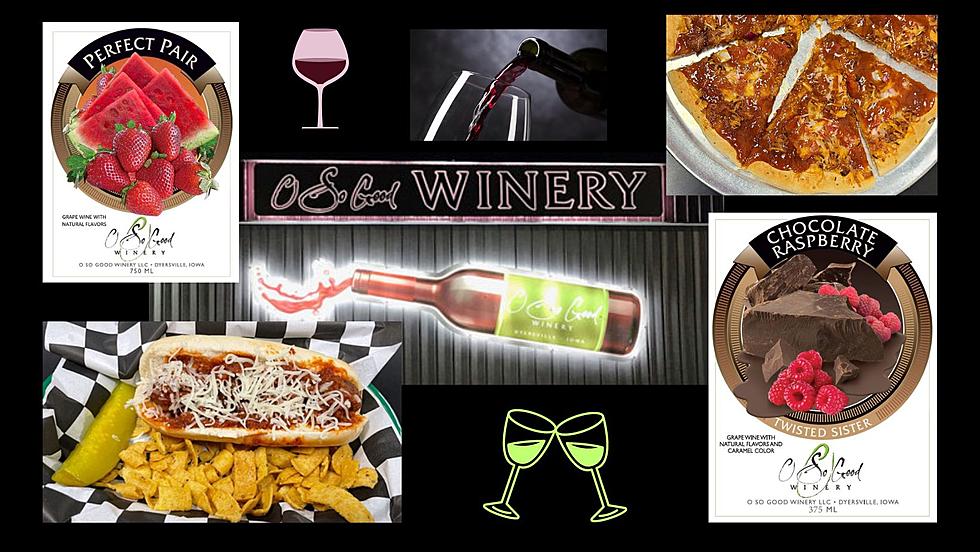 This Deal is O So Good… so is the Wine!
Credit: Oh So Good Winery
This past weekend my wife and I dropped by O So Good Winery in Dyersville and used our seize the deal gift certificate. I have always been impressed by the huge variety of outstanding wines, but the food is just as good. Check it out.
We started off our trip with a couple of wine tastings; 6 samples each from their list of around 50 wines.
I tend to be a fan of dryer style wines and over the years my wife's taste has also shifted from more fruit-forward, sweet wines to balanced blushes that are semi-sweet to dry. O So Good does not disappoint on any front.
Pinots, Cabernets, and a newer delicious red named Diablo Rojo are all there, along with loads of fruit forward wines, both sweet and semi-sweet, as well as delicious port-style dessert wines. My wife's favorite of the day is called the Roasted Vine; coffee, marshmallow, and smooth vanilla.
And the food! Yum. I went with the Pork Cuban; BBQ pulled pork, mustard, pickles, ham, and Swiss cheese wrapped in a flour tortilla and grilled. Served with chips and BBQ mustard. I highly recommend it!
Wy wife ordered the Chicken Nachos; featuring a bed of corn tortilla chips piled high with shredded chicken, queso, lettuce, tomato, and red onion with jalapeños on the side. Super good.
Even better, the staff was friendly and informative, and we saved a little bit on everything with our $25 dollar gift certificate. Now you can too; this Friday at 9am Seize the Deal has $25 gift certificates for just $12.50. Just follow the link and bookmark it so you're in right away come Friday. There are other great deals for Dubuque on the site as well.
These deals are a great opportunity to try a new business and do it for a discount. You won't be disappointed with the food, wine, or atmosphere at O So Good Winery in Dyersville.
Did I mention you can also try, and buy, O So Good Wines at the Dubuque Farmers Market...
Photos: Dubuque Farmers Market 2023
Take a trip through the Dubuque's Farmers Market
A Tour of Potosi Brewery
A brief look at Potosi Brewery in scenic southern Wisconsin.