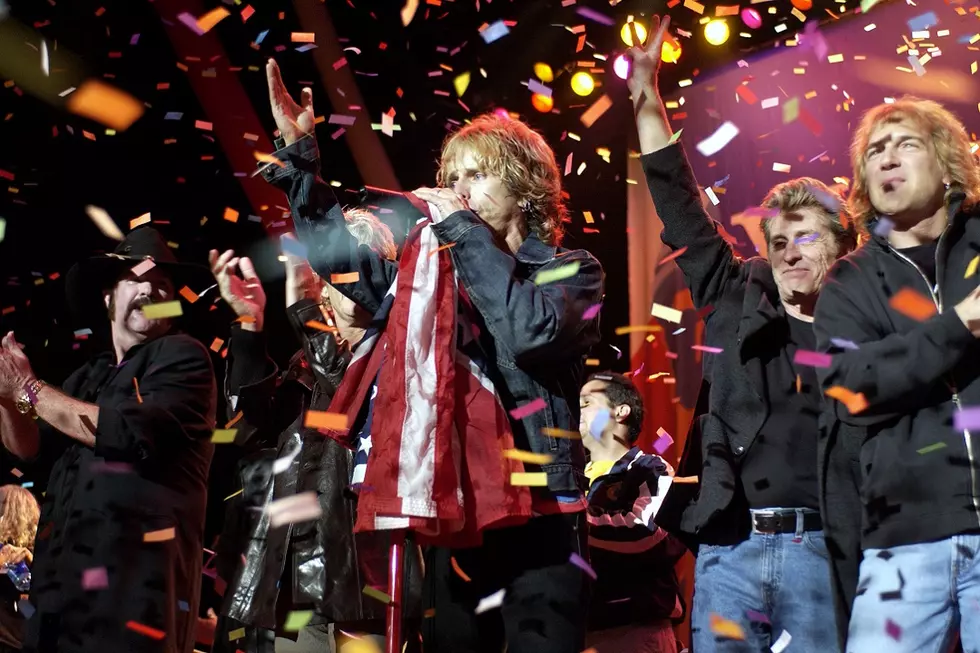 When Styx and REO Speedwagon Decided to Volunteer for America
Gabe Polacio, Getty Images
For decades, rock stars had been playing charity shows, donating money, time and music to a variety of causes. In the weeks following Sept. 11, 2001, there were a flood of events that aimed to help the victims of the terrorist attacks. America: A Tribute to Heroes was a somber, if resolute, telethon while the Concert for New York City provided entertainment for 9/11 first responders while raising funds in the process. United We Stand was a tribute concert hosted in Washington, D.C.
Those three events – each of them televised – overshadowed some of the other charity shows that were occurring. One of them, the two-day Volunteers for America, had the misfortune of being scheduled on the same days as the Concert for New York City and United We Stand. It's not as easy to grab headlines when you're up against charity shows led by a Beatle and the King of Pop.
Still, Styx guitarist Tommy Shaw and REO Speedwagon frontman Kevin Cronin were determined to do their part to assist the victims and public servants who suffered in the attacks. The two helped organize a pair of charity concerts on Oct. 20 and 21 – the first in Atlanta, the second in Dallas.
"They couldn't help but figure that there were people who attended their shows this summer who were directly affected by the attack or were firemen or police working in the area," said Charlie Brusco of TBA Entertainment, which produced the shows.
Shaw and Cronin assembled a long list of classic rockers to play the shows. Performers included Styx and REO, of course, along with Lynyrd Skynyrd, Bad Company, Journey, Peter Frampton, Kansas, Survivor, Eddie Money, Edgar Winter, Mark Farner, John Waite and Jack Blades, among others.
Due to schedule conflicts some bands only played one of the two shows, which took place at Atlanta's Hi-Fi Buys Amphitheater and Dallas's Smirnoff Music Centre. But fans at each concert got an eight-hour-plus show, hosted by Drew Carey and featuring jam sessions, acoustic sets and collaborations in addition to short sets from each act. For instance, Farner and Winter teamed up for "Free Ride" and some Grand Funk Railroad classics while Blades, Shaw and Styx played Damn Yankees' "High Enough." New York Port Authority officers told stories from 9/11 onstage and each show closed with a massive sing-along to "God Bless America."
The Volunteers for America concerts raised $775,000 for the Red Cross, victims, families, police officers and firefighters in New York City. The events also inspired Shaw and Cronin to continue their charitable work.
In 2002, Styx and REO founded Rock to the Rescue, which has continued to raise money for charitable causes, including the victims of 9/11, the Boston Marathon bombing and the 2015 Paris attacks.
 
 
See Tommy Shaw Among Rock's Funniest Guitar Faces