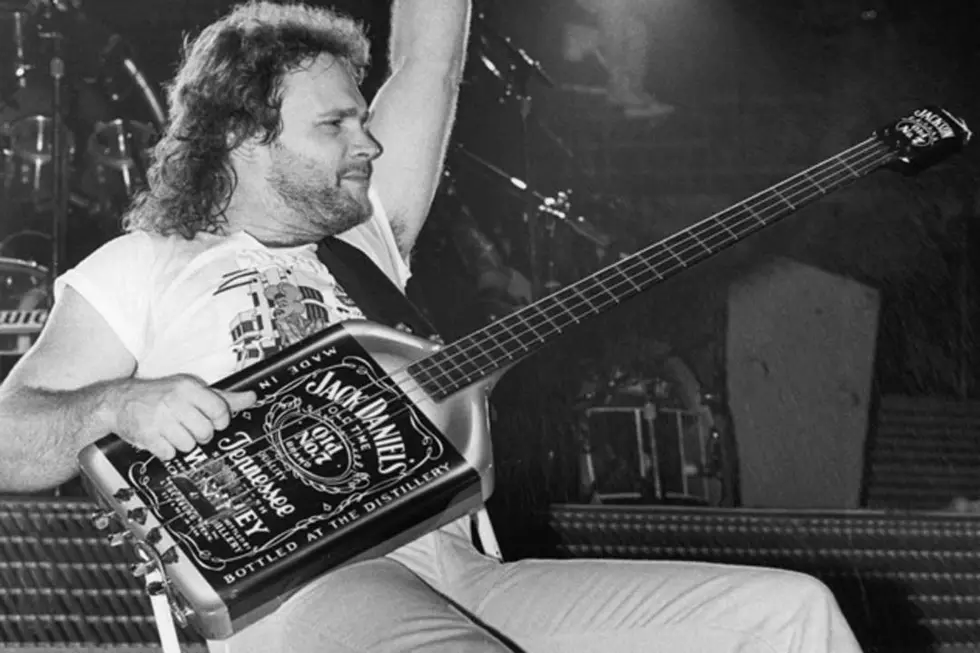 Ebet Roberts, Getty Images
Classic rock's best whiskey songs deal with both the good and bad effects of the popular distilled spirit – from the wild nights to the hazy, hungover mornings they so often spawn. As rock legends like Van Halen, AC/DC and Lynyrd Skynyrd talk about their experiences with bourbon, scotch or just a plain old whiskey, you'll be sure to get new perspectives on the highs, lows, comfort, bonding, arguments and pain caused by drinking whiskey in the songs below. First round's on us!
10

From: 'A Quick One' (1966)

Who bassist John Entwistle wrote this song about a man seemingly going insane as he converses with an imaginary companion who turns up whenever he drinks: "Whiskey man's my friend / He's with me nearly all the time / He always joins me when I drink / And we get on just fine."

9

"One Bourbon, One Scotch, One Beer"

George Thorogood

From: 'George Thorogood and the Destroyers (1977)

George Thorogood's legendary whiskey song tells the story of a man who just lost his job, his girl and his apartment. He heads to the nearest bar to forget the day with some good friends named Jimmy, Johnny and Jack. Someone grab the bartender and tell him to come on down here, this tale of woe makes us want to grab the chair next to this poor sap and start matching him shot for shot.

8

"Deacon Blues"

Steely Dan

From: 'Aja' (1977)

"I'll learn to work the saxophone / I'll play just what I feel / Drink scotch whiskey all night long / And die behind the wheel" This Steely Dan whiskey song tells of the trials and tribulations of winning and losing in life, using college football for illustration. It seems our protagonist's favorite team, the Wake Forest Demon Deacons, rarely win, which naturally leads him to drink more than his fair share of (presumably expensive) scotch.

7

"Whiskey Rock-A-Roller"

Lynyrd Skynyrd

From: 'Nuthin' Fancy' (1975)

Lynyrd Skynyrd were fairly well known as a booze-loving band, and this song certainly does nothing to contradict that concept. The lyrics tell of a musician traveling to Memphis for a gig. He loves few things in life, except for women and whiskey. Perhaps the former drew him to the latter, we'll never know. But what we do know is that with lyrics like 'Well I'm a whiskey rock-a-roller / That's what I am / Women, whiskey and miles of travelin' / Is all I understand," his love of whiskey is pretty easy to see.

6

"Lace and Whiskey"

Alice Cooper

From: 'Lace and Whiskey' (1977)

Judging by the lyrics of the title track from 1977's Lace and Whiskey, it was clearly a difficult time in Alice Cooper's life, as the main character looks for "Mama's home remedy" to ease his pain: "So, I yell out for some kind of angel / To come down and rescue me / Be as soft as you can / Put a drink in my hand." Luckily, following the tour in support of the album, Cooper checked himself into a sanitarium in New York for alcoholism.

5

From: 'Rio Grande Mud' (1972)

ZZ Top have never been known to hide their life-long love affairs with women and booze, and it's a little bit unclear which of the two is being discussed here. The lyrics are possibly about a guy who gave his heart to the wrong woman, although it's equally possible our hero is just nursing one hell of a hangover: "I should have known better than to fool with a whiskey'n mama."

4

"Alabama Song (Whiskey Bar)"

The Doors

From: 'The Doors' (1967)

The jaunty "oom-pah-pah" music of this whiskey song – an old German opera song the Doors covered on their debut album – belies the apparently life-and-death stakes involved: "For if we don't find / The next whiskey bar / I tell you must die." Ironically, and tragically, it's hard to argue against the notion that singer Jim Morrison's love of whiskey (and wine, and whatever else was being offered) helped contribute to his untimely demise.

3

"Whiskey in the Jar"

Thin Lizzy

From: 1972 Single

A traditional Irish song made famous by Thin Lizzy, "Whiskey in the Jar" was covered by Metallica nearly three decades later as part of a 1999 covers collection titled Garage, Inc. We filed this under Thin Lizzy because they covered it first; we'll leave it to you to debate which is the better version.

2

"Take Your Whiskey Home"

Van Halen

From: 'Women and Children First' (1980)

David Lee Roth's girlfriend seems to be just about fed up with his boozing ways on this whiskey song from Van Halen's third album. "She wants the good life, yeah and all the best," he complains over Eddie Van Halen's hiccuping acoustic guitar intro. "But I like that bottle, better than the rest / And she says, 'I think that you're headed for a whole lotta trouble." Well, that might partially explain why Roth remained single for so long.

1

"Have a Drink on Me"

AC/DC

From: 'Back in Black' (1980)

If you were expecting anyone else but the legendary AC/DC to reside atop our whiskey songs list, it might be time for you to step away from the bottle. Although then-new singer Brian Johnson doesn't seem too particular – gin, brandy and cheap wine also passed his lips on this big night out – whiskey is the first booze he mentions, and we can't ignore the economic, blue-collar poetry of the line "My glass is getting shorter / On whiskey, ice and water."