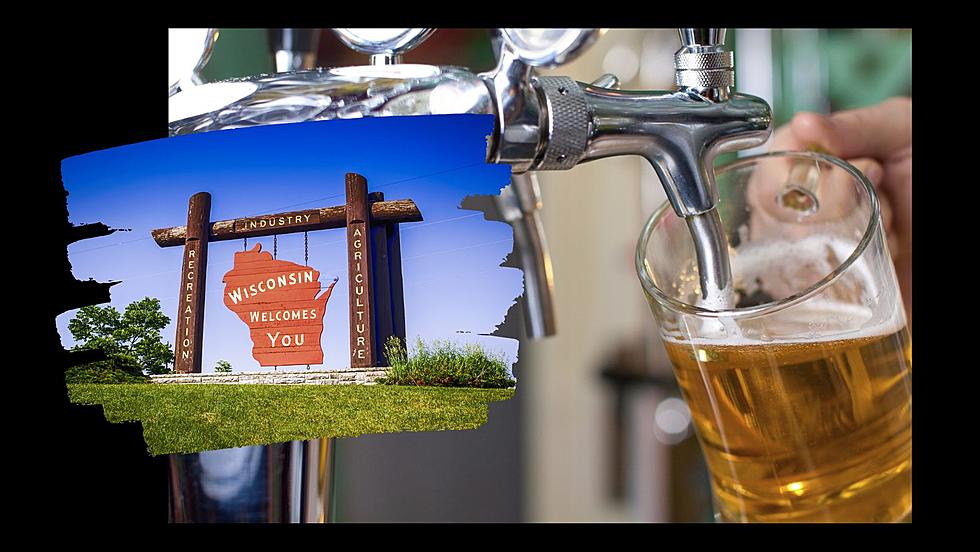 Wisconsin is Hoping to Update Its Alcohol Laws – Here's What It Means For You
Credit: Getty Images
Wisconsin is currently contemplating changes to the state's alcohol licensing structure in hopes to see that section of the state's industry modernized.
Currently, Wisconsin operates under a three-tiered system that includes brewers and distillers, distributors and wholesalers, and retail sellers. As of now, each one of these sections must operate separately or independently of each other.
The goal of this new legislation hopes to clarify and expand those tiers to facilitate a growing craft beer industry.
According to the bill, these are the new changes being introduced:
Creates the Division of Alcohol Beverages (division) attached to the Department of Revenue and transfers DOR's alcohol beverage regulation and enforcement functions to the division.

Makes changes relating to the retail sales authority of brewers, wineries, manufacturers, and rectifiers, as well as changes relating to other authorized activities of brewers, wineries, manufacturers, and rectifiers.

Expands or modifies the authority of brewers, wineries, manufacturers, and rectifiers to provide free taste samples on retail premises.

Increases the limits on the amount of fermented malt beverages (beer) a brewpub may manufacture and self-distribute.

Makes changes relating to restrictions on holding certain common interests applicable to manufacturers, rectifiers, wineries, brewers, brewpubs, wholesalers, and retailers.

Specifies requirements for certain production arrangements between alcohol beverage producers.

Creates permits issued to, and imposes requirements and restrictions on, fulfillment houses and common carriers.

Makes changes relating to the state's jurisdiction over out-of-state persons holding Wisconsin alcohol beverage permits and persons who unlawfully ship alcohol beverages into another state.

Modifies provisions relating to the consumption of alcohol beverages in a public place and creates a no-sale event venue permit issued by the division to property owners authorizing the permittee to rent real property for use as an event venue at which beer and wine are consumed, on no more than six days per year, if certain requirements are met. The bill also creates a liquor license quota exception for qualifying persons who opt to obtain a retail license instead of a no-sale event venue permit.

Allows "Class C" retail licenses to be issued to establishments other than restaurants.

Modifies the applicable penalty when a beer retailer purchases beer from a source other than a wholesaler.

Broadens membership eligibility and operational authority of cooperative wholesalers and allows new cooperative wholesalers to be formed for a limited period.

Eliminates the limit on the number of manufacturers', rectifiers', or liquor wholesalers' permits one person may hold and allows a beer wholesaler to transfer its wholesaler's permit to a different location within the state.

Increases the amount of the safe ride program surcharge and requires municipalities to provide information to retailers about the safe ride program.

Makes changes relating to the occupational tax liability of producers of alcohol beverages.

Changes the definition of "fermented malt beverages."

Establishes a $500 fee for permits issued by the division if no fee is currently charged for the permit.

Creates an operator's permit issued by the division that is similar to an operator's license (commonly referred to as a bartender's license) issued by a municipality.

Allows a municipality to transfer a retail liquor license that is subject to the quota system to another municipality in the same county.

Creates a closing hour exception for certain retailers in southeast Wisconsin during a 2024 national political convention.

Modifies a licensing exception applicable to beer provided on brewery premises.

Allows a retail license to be issued for an axe throwing facility and allows an underage person, without a parent or guardian, to be on these licensed premises.

Specifies that, subject to certain conditions, a "Class B" retailer may prepare and store mixed drinks up to 48 hours prior to sale to consumers.
So, when looking at these areas of the bill I have one question…
WILL I FINALLY BE ABLE TO BUY SPOTTED COW IN IOWA!? Signs point to, who knows? Especially since that seems to be a problem on Iowa's end...
But, New Glarus seems to be outspoken in a positive way about the direction this new legislation is going, and so far, that bodes well for surrounding brewers, distillers, and wineries and those that enjoy Wisconsin-made libations. The state hearing is today. Unfortunately, previous attempts have failed to overhaul the state's alcohol licensing laws. This new bill is expected to be voted on in the coming weeks. So stay tuned…
Check out these other local brewers and distillers...
A Tour of Potosi Brewery
A brief look at Potosi Brewery in scenic southern Wisconsin.
Photos: 7 Hills Brewing Company in Dubuque
Photos: 7 Hills Brewing Company in Dubuque
Iowa Breweries: Top Reviews of Our Great Beer Makers from Non Iowans
There's some great breweries in Eastern Iowa, and statewide. Here are some of the strongest reviews of Iowa breweries from Yelp users.