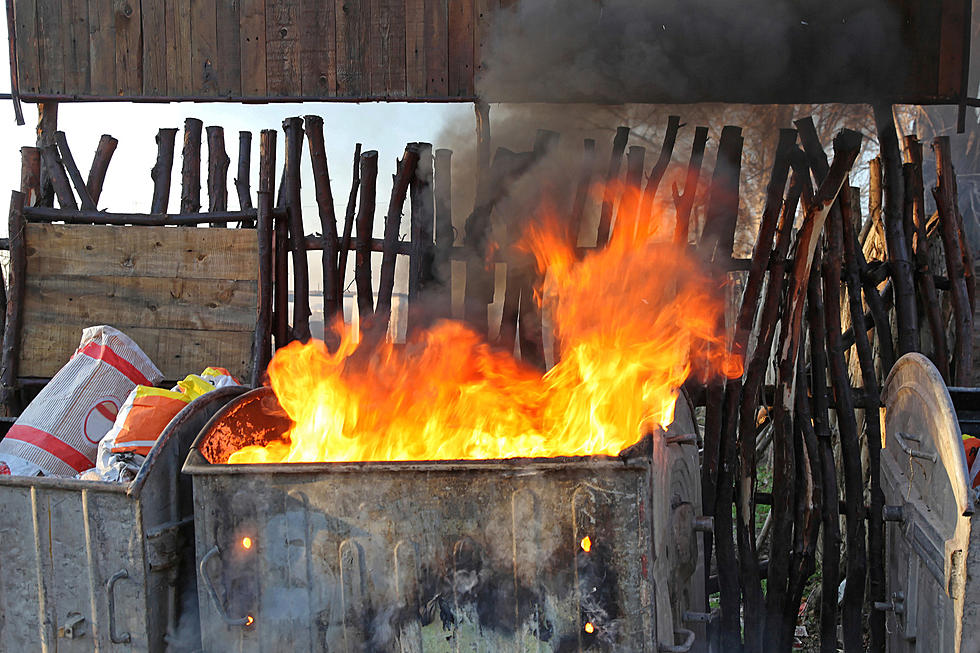 Battery Fires Are Becoming An Unfortunate New Normal; Wisconsin DNR
Credit: Baloncici
How many times have we thrown out "dead" batteries? Well did you know doing just that could lead to some serious fires, especially when you consider where you trashed them...
According to a press release from the Wisconsin Department of Natural Resources there can be some serious public dangers of throwing away rechargeable batteries, electronics, and other materials that could cause a fire in trash or recycling bins.
According to the report, in the last month alone, there have been large, damaging fires at multiple Wisconsin recycling facilities. While it can be hard to pinpoint the cause of each fire, many batteries, specifically powerful lithium-ion batteries, can cause fires when not disposed of properly. These batteries hold a considerable charge even when they no longer provide enough energy to power the device they are held in. When they become damaged, sparks can be released or the simple process of overheating can cause flammable materials next to the battery to burst in to flames.
"It only takes one lithium-ion battery to cause a huge fire and put workers and fire crews at risk. Recycling facilities that handle cans, bottles and paper are not designed to handle batteries and electronics. Paper, cardboard and other material can easily catch fire with a spark from a damaged battery or rechargeable device. With so many devices in our homes powered by so many different shapes and types of batteries, we know it can be confusing. We want to help everyone understand how to identify their batteries and where you can recycle batteries and electronics."

-Sarah Murray, DNR E-Cycle Wisconsin coordinator
Fires not dealt with quickly can spread and injure workers or firefighters, cause major damage to equipment, or even destroy an entire facility. In addition, any improperly recycled batteries could lead to forest fires in parks and recreation areas.
Recently, fires have caused severe damage at recycling and solid waste facilities in Columbia County and in Milwaukee. Top of mind, the recent Canadian Wildfires have caused air-quality issues across the nation and sometimes large fires can be the result of negligence, not nature.
In 2020, the El Dorado Fire burned 22,744 acres or just over 35 miles in San Bernardino and Riverside counties of California. It was ignited by a smoke bomb at a gender reveal party. A fire fighter died and the couple hosting the party were charged with involuntary manslaughter. This same negligence can be found when dealing with rechargeable devices and batteries.
"When you put electronics or rechargeable batteries in your recycling or trash container, you're putting workers and facilities at risk. Taking batteries and electronics to a drop-off site may be an extra step, but it's really important."

-Greg Kaminski, Columbia County solid waste director

 
Some batteries are safe to put in the trash, but it's important to understand your batteries and how to store and dispose of them.
The Wisconsin DNR encourages everyone to follow these tips:
Be aware that some batteries and battery-powered devices can pose significant hazards if damaged or tossed in the trash. The DNR has a household battery recycling guide to help.
Take used, rechargeable batteries to local collection sites; like Call2Recycle's website or by call 1-877-2-RECYCLE with questions.
Recycle old electronics through E-Cycle Wisconsin. Many small electronics can be recycled for free or traded in for credit or cash.
Don't put electronics or rechargeable batteries in trash or recycling containers. Most electronics are banned from landfills and incinerators.
When storing batteries for recycling, tape the terminals or put each battery in an individual plastic bag, which prevents batteries from accidentally sparking if terminals touch.
Store damaged (swollen, bent, punctured or crushed) batteries or devices in sand or kitty litter.
Do not try to remove non-removable batteries from devices, as this could damage the battery and cause a fire.
This information above is specific to Wisconsin residents, however, it is valuable across state lines, and with the extreme hazards to our environment, businesses, and local workers alike, it's important to properly care and expose of your portable energized devices and batteries.
Photos: Governor Dodge State Park, Wisconsin
Photos: Early Spring In Governor Dodge State Park, Wisconsin
Wisconsin Dells: Upper Dells Tour