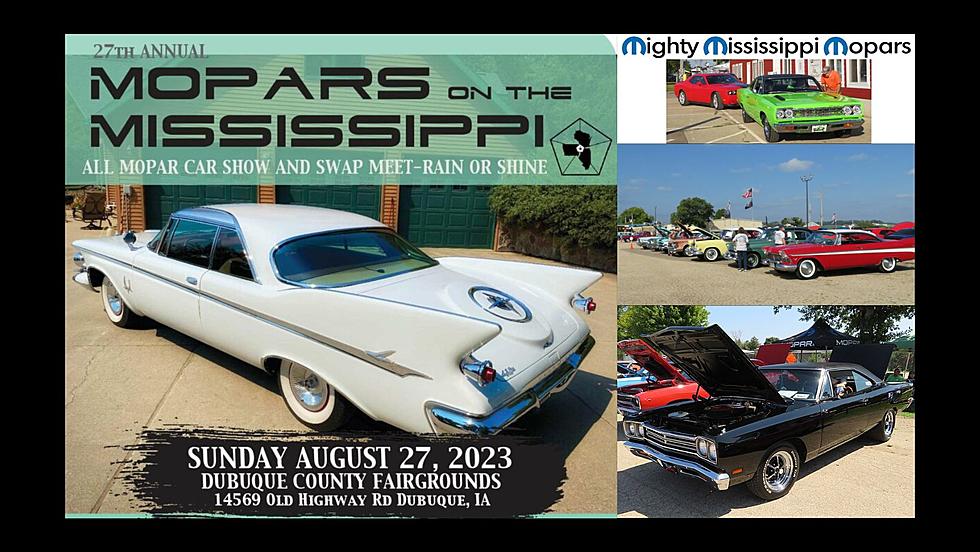 Classic Mopars Roaring into Dubuque at the End of August
Credit: Mopars on the Mississippi
Once again Dubuque hosts one of the biggest car shows of 2023 with Mopars on the Mississippi. Mighty Mississippi Mopars is hosting its car show and swap meet on Sunday, August 27th. Registration is from 8 to 11:30 am, participant judging from 11:00 am-1:00 pm. Pre-registration is also available on Saturday night, August 26th, From 5 to 8pm.
Trophy presentations are scheduled for 3:00pm. Music provided by GT Express. Enjoy the swap meet with over 50 vendors including Mega Parts. The Dubuque County Fair Association will also have food & beverages. No carry-ins or pets allowed at this event.
All cars that are pre-registered at the Dubuque County Fairgrounds on Saturday, August 26th, are invited to drive to the Q Casino for the 2nd night of Summer's Last Blast.  Special reserved parking will be provided at this event for all Mopar vehicles.  Admission is FREE.
Summer's Last Blast will feature the music of The Spazmatics, Johnny Trash, JabberBox and Mars By Morning Saturday night. Food and beverages will be available for purchase, but no other carry-ins are allowed. Gates open at 5:30pm with proceeds supporting Storybook Hill Children's Zoo, the Dubuque County Fair, and Sertoma Club!
Fees associated with Mopars of the Mississippi are as follows:
Car Show Entry: $15
Swap Space: $15
Indoor Swap: $30
Car Corral: $15
Spectators: $3, Under 16 free entry
A portion of all proceeds will be donated to a local volunteer Fire Department.
The 27th Annual Mopars on the Mississippi, all Mopar car show and swap meet will be held rain or shine. Remember this event is run by volunteers, please be considerate while attending.
Visit the local Mopar website for more information on this year's show. You can also contact Rick with the Willowa Chapter of the Chicagoland Mopar Connection at 815-594-2410, email at rkcamp@gmail.com, or visit them on Facebook. For additional swap meet information feel free to contact Ron Barton at 563-588-4525.
Love Classic Cars? Check out this years Torquefest Photos
Photos: Vintage Torque Fest 2023
Photos: Vintage Torque Fest 2023
Photos: 7 Hills Brewing Company in Dubuque
Photos: 7 Hills Brewing Company in Dubuque