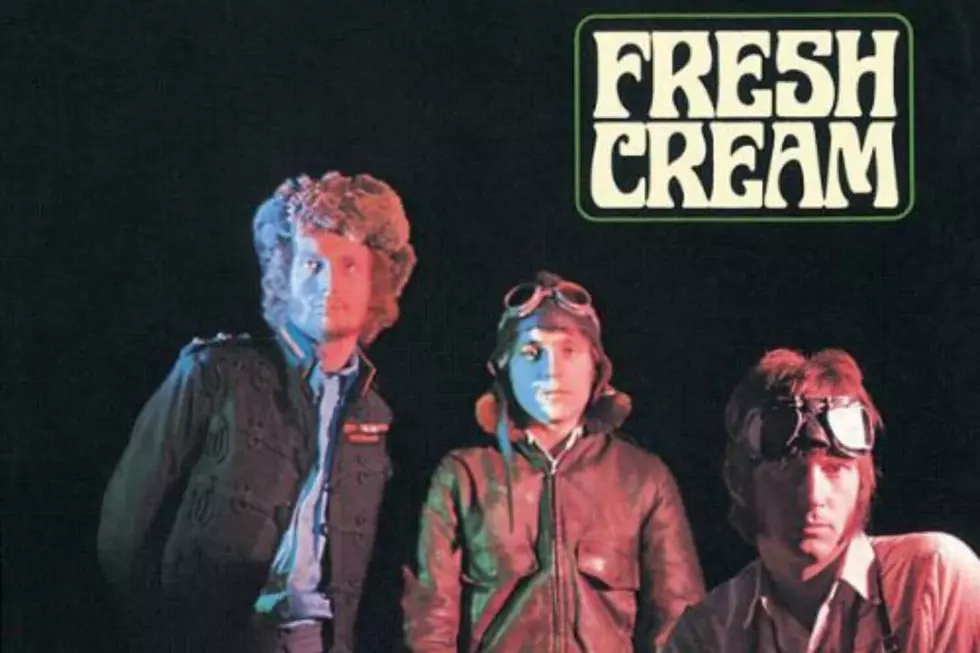 How Cream Merged Superstar Talent for the Bold 'Fresh Cream'
Polydor
There was already some history when drummer Ginger Baker, bassist Jack Bruce and guitarist Eric Clapton first got together as Cream in 1966.
Clapton, fresh from the Yardbirds, was a fan of both Baker and Bruce, who played together in the Graham Bond Organisation. Bruce also temporarily joined John Mayall's Bluesbreakers, a group Clapton was part of for one career-making album. But Baker and Bruce never got along. There are stories of sabotaged equipment, onstage fights and brandished weapons during their brief, turbulent years together.
So, when Baker asked Clapton – the hottest guitarist in the U.K. – to join his new band, Clapton said he would under one condition: He wanted Bruce as the third member. Baker eventually relented, and even though his relationship with Bruce never warmed (and was, in fact, the main reason Cream broke up just two years later), that tension was shoved aside for, and subtly fueled, the band's four albums.
The first of them, Fresh Cream, found the group still feeling their way among each other and the music they were exploring – including blues, pop and psychedelic. The album, which was released on Dec. 9, 1966, was the launching point for two more classic records to come over the next two years: 1967's Disraeli Gears and the following year's Wheels of Fire.
In some ways, that first LP contains their most pure and focused work. Half of its songs come from the American blues all three musicians loved (by the likes of Willie Dixon, Robert Johnson and Muddy Waters); the other half was originals (most penned by Bruce, with a couple by Baker). It was a collaborative effort: Bruce handled most of the lead vocals, Clapton took over for a cover of Johnson's "Four Until Late," and Baker got the closing number with his epic drum instrumental "Toad."
Listen to Cream Perform 'I'm So Glad'
And, in other ways, Fresh Cream helped spur a bigger, louder and heavier way of playing rock 'n' roll. Even with three accomplished musicians, the amount of power the band manages to generate on this album is remarkable. It's safe to assume groups like Led Zeppelin and the Who would never have traveled in a similar direction without Cream leading the way.
The album was an immediate hit in the band's native U.K., reaching the Top 10 (as did the next three LPs). When Fresh Cream was released in the U.S. a month later, the single "I Feel Free" was added, replacing the studio version of "Spoonful" that wouldn't surface in the States until 1969's Best of Cream (the 17-minute live version is a highlight of Wheels of Fire).
Almost a year later, Cream released their second album, expanding their musical palette but retaining the heavy sound they achieved with Fresh Cream. Over the next few years, as the decade ran down and trickled into a new one, the blues shifted into more volume-defined territories. Cream were gone by then, but their influence, confidently and determinedly laid out on their debut album, still loomed.
Top 100 Live Albums
Rock's Top 100 Live Albums are more than just concert souvenirs or stage documents from that awesome show you saw last summer.
See Jack Bruce Among Rock's Forgotten Supergroups