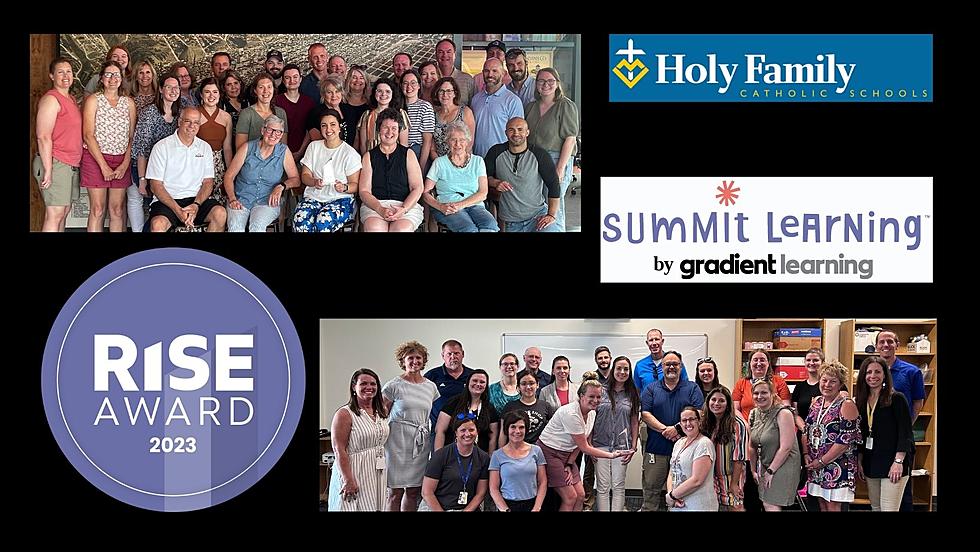 Dubuque Catholic Schools Receive National Rise Award
Credit: Rise / Holy Catholic Schools
According to a press release from Holy Family Catholic Schools in Dubuque, Gradient Learning, the nonprofit that leads the Summit Learning program, announced 2 of our local schools as 2023 recipients of the Rise Award. The Rise Award is a national recognition, which honors schools' commitment to continuously improving the quality of teaching and learning.
Wahlert Catholic High School and Mazzuchelli Catholic Middle School are recognized for building systems, structures and a culture that prepares students with the skills and knowledge to succeed not only in school but also in life.
"The school leaders and educators have built a robust program that empowers teachers to meet every individual student's specific learning needs, giving them exactly what they need to support their growth. We are thrilled to celebrate educators who've created a safe and welcoming school where students master challenging and engaging academic opportunities."

-Monica Milligan, Chief Program Officer of Gradient Learning.
Mazzuchelli Catholic Middle School first implemented Summit Learning in 2017 with a pilot group of 25 students. In 2023, all Mazzuchelli students are involved in personalized learning in the core courses. Wahlert Catholic High School began utilizing the personalized learning model in 2018. Through a gradual implementation process, the schools have shifted the mindsets of students to understand the importance of navigating their own mastery of concepts and teachers to facilitate engaging problem-based projects that help prepare students for life beyond school.
The Rise Award honors schools that practice an academic approach that provides educational experiences their students deserve and commit to ongoing coaching and professional development. Wahlert and Mazzuchelli are two of only six schools nationwide selected to receive the Rise Award of the nearly 400 Summit Learning partner schools that are eligible to be recognized. Learn more about the RISE award here.
See How School Cafeteria Meals Have Changed Over the Past 100 Years
Using government and news reports,
Stacker
has traced the history of cafeteria meals from their inception to the present day, with data from news and government reports. Read on to see how various legal acts, food trends, and budget cuts have changed what kids are getting on their trays.
The 100 Best Places to Live in the Midwest