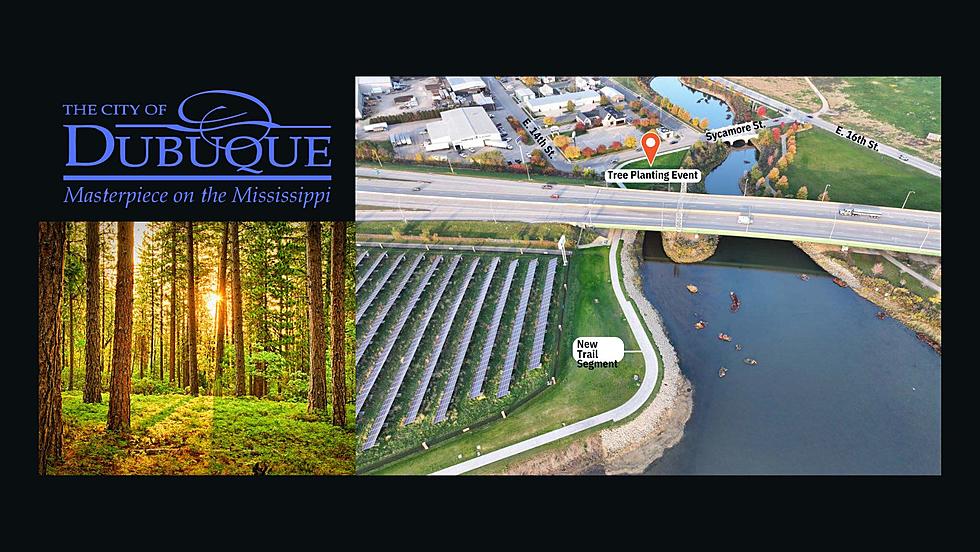 Dubuque Celebrates Completion of Phase 1 at Lower Bee Branch Creek Trail
Credit: City of Dubuque / Canva
Dubuque is gearing up to celebrate the completion of Phase 1 at the Lower Bee Branch Creek Trail project. According to a press release, the city is inviting the public to participate in a tree planting event at 10am this Saturday, October 28th. The event not only marks a significant milestone in the project but offers a unique opportunity for community involvement.
The Lower Bee Branch Creek Trail project, which kicked off in April, has been a transformational journey. Phase 1 saw the construction of a 10-foot-wide paved trail, which extends from the existing Bee Branch trail at Sycamore St., taking a scenic route under the U.S. HWY 61/151 overpass and winding along the 16th St. Detention Basin to E. 12th St., in close proximity to the Alliant Energy Downtown Dubuque Solar Garden.
What makes this project special is the access it provides to the water and recreational opportunities. Whether you're a fan of fishing or birdwatching, this new trail connection has something for everyone.
The tree planting event will take place along Sycamore St. near East 14th Street, just across from Dupaco Community Credit Union. There's on-street parking available on East 14th Street, making it convenient for participants.
This venture has been made possible through a $732,000 budget, which included substantial funding of $425,000 from the federal Transportation Alternatives Program courtesy of the Iowa Department of Transportation.
Phase 2 of the project, which will encircle the 16th St. Detention Basin, is already on the horizon, promising even more exciting developments in the future.
The Lower Bee Branch Creek Trail project is not only a testament to the city's commitment to improving its transportation and recreational infrastructure but also aligns with the broader vision laid out in the Dubuque Metropolitan Area Study (DMATS) 2045 Long Range Transportation Plan and the Imagine Dubuque Comprehensive Plan.
So, whether you're a nature enthusiast, a biking aficionado, or just someone who wants to be a part of a positive change in your community, join the festivities this Saturday to celebrate Dubuque's progress and the completion of Phase 1 of this remarkable project.
The Dubuque Arboretum & Botanical Gardens
A stroll through the Dubuque Arboretum & Botanical Gardens in Early Spring
Gallery Credit: Tom Ehlers
Hiking Trails and Nature near Dubuque, Iowa
Nature and hiking areas around the Dubuque, IA area.
Gallery Credit: Tom Ehlers