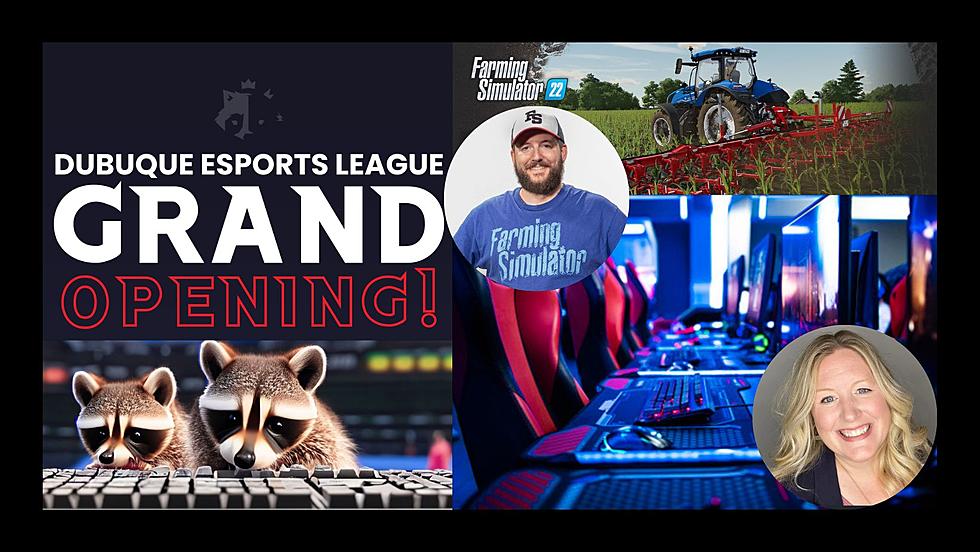 Dubuque Esports League- Grand Opening Saturday & Gaming Big
Credit: DEL / Canva
It's a BIG week for the Dubuque Esports League (DEL). Not only can you spend the day having a blast this Saturday (August 19th) at their Grand Opening Celebration, but right now at SeizeTheDeal.com you could bank 12 hours of playing time for half-price.
Get the edge on your favorite competitive playtime using their state of the art gaming PC's and score 12 hours of playtime for just $36, normally $72 for that amount of playtime. 
Dubuque Esports League is a 501(c)3 charitable organization that encourages competitive and recreational players to develop skills through hands-on, experiential learning and now you can not only do it this Saturday (8/19) at the grand opening, but you can also bank some future hours for fun with (or without) the kids!
Yup, Esports is for all ages. It all starts with programming focused on middle and high schoolers and reaching towards young adults. And Dubuque Esports League looks to provide opportunities for everyone to develop STEM-based skills, grow in their social-emotional attributes and characteristics, discover career pathways and enhance skills needed to thrive in work and life. Bonus points: you'll be making friends that have the same hobbies and ambitions.
At the grand opening this Saturday (August 19th) you can not only partake in a friendly competition of Farming Simulator 22's Bale Stacking Mode with the chance at $500 and loads of other prizes, but you can also hang out with Giants Software's Kermit Ball, the Community Coordinator for the Farming Simulator Franchise. I had a chance to chat with Kermit about the grand opening of the Dubuque Esports League and game development in general.
Kermit was a fountain of information when it comes to game development and the industry in general, and you can pick his brain in-person at the grand opening event for the Dubuque Esports League this Saturday.
Remember, entry into the competition is a free-will donation to support Dubuque's local youth esports programs, and all skill levels are welcome! Simply show up for the grand opening and get on the Farming Simulator 22 Bale Stacking Mode leaderboard during the event for your chance to win.
Meeting tweens, teens, and young adults where they are is essential and with 95% of Gen Z playing video games in some capacity, DEL knows how important it is to create that platform.
"We are so excited to invite the community to come to DEL and see what esports is about. There is a lot of interest and questions about our esports program. We've found the best way to understand competitive gaming is to come and see it in person. We are meeting young people where they are and creating a community for them to grow and make new friends."

-Susie Quinn, co-founder of Dubuque Esports League
I was able to chat with co-founder Shelby Wartick, about the Grand Opening and the Dubuque Esports League experience. Shelby elaborates on the grand opening event and the gaming "rigs" you'll get to play on at Dubuque Esports League.
This Saturday, August 19th, the Tri-State community is invited to DEL's Grand Opening event from 10am to 2pm, located at 3220 Dodge Street, Suite 109, in Dubuque. Highlights of the event include a ribbon cutting at 9:45am, tours of the facility, exploration of their esports programs, giveaways, a silent auction, Farming Simulator 22 Bale Stacking Mode Competition, and much more!
Don't forget to bank your 12 hours of gameplay at DEL with SeizeTheDeal.com to save 50% and grab 12 hours of free play on the best gaming PC's around. We'll see you at DEL's grand opening.
ALSO SEE: 30 Most Decade-Defining Memes
CHECK IT OUT: How To Unlock Your iPhone With Your Voice