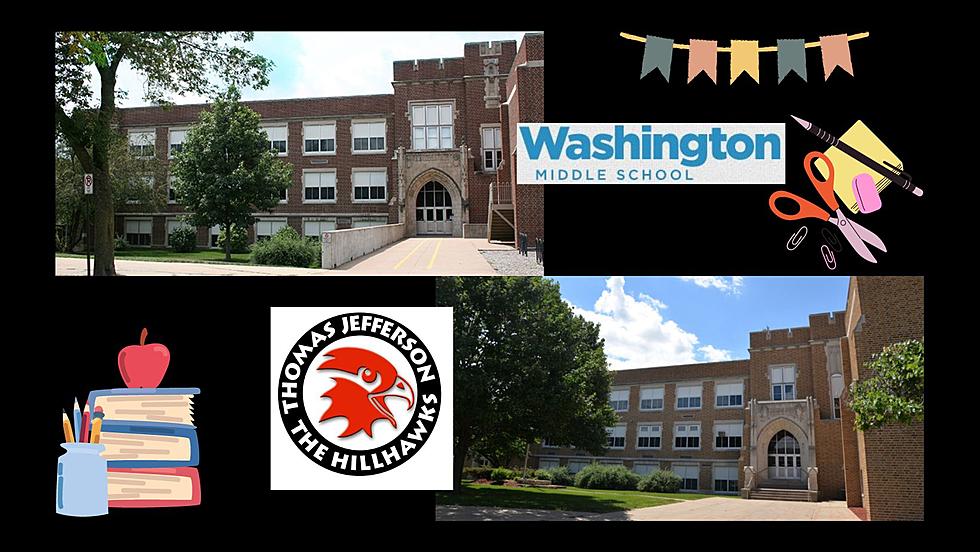 Dubuque Middle Schools Celebrate A Century Of Learning
Credit: Washington / Jefferson / Canva
In 1921, the Dubuque Community School District's Board of Education had a vision for the future. They called for the construction of two new junior high schools. Little did they know, these institutions would go on to shape generations of young minds. Construction began in 1922, and in 1923, both Jefferson and Washington Middle Schools opened their doors to eager students.
Over the past century, these schools have been the heart of education in Dubuque, serving as places of growth, learning, and community. The journey has been filled with countless success stories, dedicated educators, and the nurturing of bright young minds.
Today, Jefferson Middle School continues to serve around 460 students, while Washington Middle School educates approximately 630 students, all in grades six through eight. These institutions remain committed to providing quality education and fostering an environment where students can thrive academically and personally.
Celebrate 100 years of learning at this Grand Celebration
To commemorate this remarkable milestone, both schools will host community open houses on Sunday, October 1st, from 1 to 2:30pm. Everyone is invited to join in the festivities. The celebration promises to be a memorable event, inviting the community to partake in the rich history of these educational institutions that have been Dubuque pillars for a century.
During the open houses, attendees will have the privilege of touring the schools' various areas, getting to know the vibrant student representatives and the dedicated school staff. One of the highlights of the event will be the chance to view historical memorabilia that tell the story of the schools' evolution over the past century.
Additionally, attendees will have the opportunity to leave their mark on history by signing a commemorative item recognizing the 100th anniversary. This item will serve as a testament to the legacy of these two schools.
This centennial celebration is not just about looking back; it's a testament to the continued commitment to education and community that these schools represent. Come celebrate the past, while we look forward to the promising future these schools will continue to create for generations to come. So, mark your calendars and join in the festivities on October 1st to celebrate 100 years of educational excellence with Jefferson and Washington Middle Schools.
Dubuque's "Trunk or Treat" 2022
A look at the ghosts, ghouls, and all the fun that was "Trunk or Treat" at the Dubuque County Fairgrounds!
The Dubuque Arboretum & Botanical Gardens
A stroll through the Dubuque Arboretum & Botanical Gardens in Early Spring