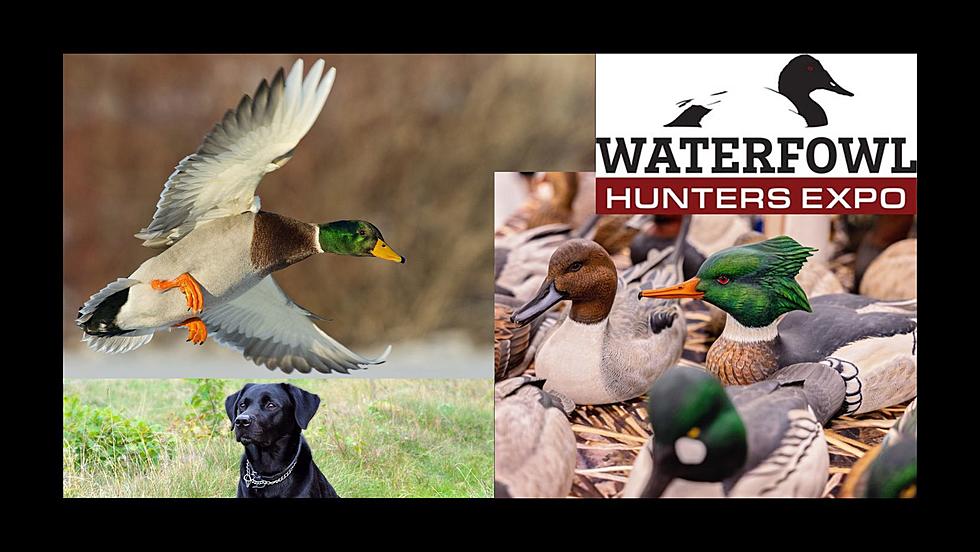 Duck Hunters of Wisconsin Unite At Annual Waterfowl Expo
Credit: Canva / Getty Images / Waterfowl Hunters Expo
The Wisconsin Department of Natural Resources (DNR) and waterfowl conservation organizations are set to co-sponsor the upcoming Waterfowl Hunters Expo (WHE) on August 26th at the Sunny View Expo Center in Oshkosh from 8am to 5pm. This event marks a significant milestone in the evolution of Wisconsin's waterfowl hunting community and its commitment to fostering a deeper connection with enthusiasts across the state and the Midwest.
The Expo is the result of an effort initiated in 2019 by a group of passionate Wisconsin waterfowl hunters. Their goal was to revitalize the Wisconsin Waterfowl Hunters Conference and create a dynamic platform capable of engaging a larger audience of waterfowl hunters. With a shared enthusiasm for preserving the region's water-fowling heritage and safeguarding its natural resources, the group aims to create awareness around the importance of wildlife conservation and habitat protection.
Originally established in 2002, the conference underwent a name change in 2020, becoming the Waterfowl Hunters Expo (WHE), a title that better encompasses the diverse range of events, activities, and contests featured in the Expo. This event serves as a hub for communication, education, and engagement between the waterfowl hunting community and the entities entrusted with managing and regulating waterfowl resources.
Today, the WHE has gained substantial traction and support, not only from individual waterfowl hunters but also from major hunting groups, conservation organizations, and government agencies within Wisconsin. The Expo is set to offer a unique and comprehensive experience tailored specifically for waterfowl hunters and enthusiasts. Attendees, regardless of age or gender, will find a plethora of seminars, contests, and activities that cater to their interests and provide opportunities for shared enjoyment.
The Waterfowl Expo is a one-of-a-kind experience featuring the 2023 Wisconsin Duck and Goose Calling Championships, a fastest-retriever contest, judging for the 2024 waterfowl stamp contest and a decoy carving contest. In addition, the Expo will include more than 120 hands-on exhibits and booths from industry experts, habitat managers and waterfowl scientists.
Waterfowl enthusiasts can learn more about a diversity of topics, such as dog training, waterfowl research, conservation and hunting history. The Expo is $10 for adults and $8 for active military/veterans and first responders. Children under 12 get in free. See below for info on free tickets to WHE on August 26th from 8am to 5pm at the Sunny View Expo Center in Oshkosh, Wisconsin.
What can you expect at this year's Waterfowl Hunters Expo?
Expo Hall Main Seminars
10:00 - 10:50 Management, Science, Law Enforcement and Citizens, Panel Discussion hosted by Taylor Finger
11:00 - 11:50 Preparing and cooking after a successful hunt Joel Kleefisch
12:00 - 12:50 Increasing Representation in Hunting and Waterfowling, Panel Discussion hosted by Connie Markham
1:00 - 1:50 Expert Goose Calling Tips and Tricks, Jeff Foiles
2:00 - 2:50 Training the Waterfowl Retriever, Josh Miller
3:00 - 3:50 Dog Training – Transferring the Foundation to the Field, Jeremy Moore
South Wing Seminar (Waterfowling)
8:00 - 8:50 2024 Turkey, Pheasant and Waterfowl Stamp Contest, Alissa Kakatsch
9:00 - 9:45 What you need to know when collecting antique decoys, Nels Swenson/Gene Davis
10:00 - 10:45 Private Wetland Management, Peter Ziegler
11:00 - 11:45 Waterfowl Identification, Brenda Kelly
12:00 - 12:45 Sandhill Crane Research, Anne Lacey/Stephanie Schmidt
1:00 - 1:45 USGS Waterbird & Wetland Research, Luke Fara
2:00 - 2:45 Waterfowl Population and Breeding Survey Results, Ben Sedinger
3:00 - 3:45 What Does 2023 Season Look Like, Taylor Finger
Outdoor Exhibitions
9:30am - 2:30pm Fastest Retriever Contest, Heather Gottschalk
10:00 - 11:00 Early Training for your Puppy, Justin Vandehey
11:00-12:00 Transferring the Foundation to the Field, Jeremy Moore
12:00-1:00 Training your own retriever, Josh Miller
11:00 - 3:00 State Duck and Goose Calling Contest, Rob Monette
2:00-3:00 Meat Calling Contest, Joel Kleefisch
10:00 - 3:00 Decoy Carving Contest, Host - Bruce Urban
States with the most registered hunters
Stacker
analyzed data from the U.S. Fish and Wildlife Service to determine which states have the most registered hunters. Read on to see how your state ranks on Stacker's list.
LOOK: Longest-living dog breeds