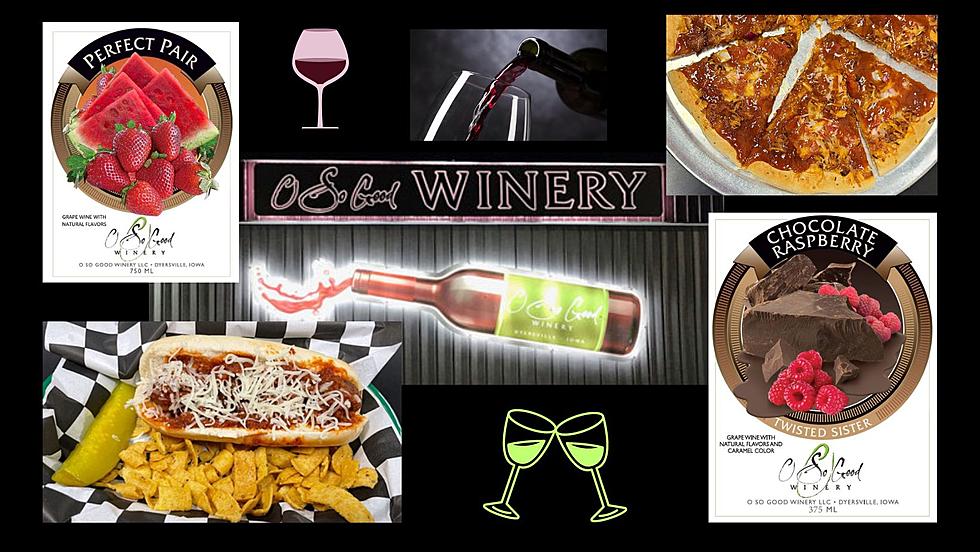 This Dyersville Winery Is 'O So Good'
Credit: Oh So Good Winery
Looking for a tasty treat to enjoy as the cold and snow disappear? If so, I've got the perfect stop for warming-up and for your warm weather preparations. Make the short trip to Dyersville and enjoy one of over 40 different kinds of wine; plus amazing food, and live music on the weekends at O So Good Winery.
Want to know more about their wines? According to their website, juices and grapes come from the outer reaches of the continental United States and around the world to ensure the highest quality of flavors you'll find anywhere. Taking flavors from California to New York and Australia to Earlville, their wines are familiar, but take you places you've never been. And with 40+ varieties to choose from they are sure to have the perfect Sweet, Dry, Blush, White, or Dessert wine you are looking for.
I'm most intrigued to try the "Roasted Vine" which is a coffee inspired wine. Notes suggest it's a "typical medium roast coffee flavor, with aromas of toffee, burnt marshmallow, and chocolate, finishing with lingering notes of vanilla." Sounds delicious.
O So Good Winery is a family-owned, local winery located in Dyersville, IA, known for the Field of Dreams. Their goal is to explore the best of the best throughout the country and bring a little bit of everything back home to the Midwest. It's global flavors, meet local flair when it comes to wine-making here!
This past weekend I was able to catch up with Karie Ostwinkle at the Jodi & KT Invite You Cabin Fever Event.
She was nice enough to invite me over to try several of their Dyersville-made wines. Check out my interview with her:
I went home with a few bottles as well; one was a strawberry-watermelon, called perfect pair. I think my wife will really appreciate it. Not overly sweet and slightly drier; its crisp and refreshing. From sweet whites and reds to blushes and dessert wines, there's truly something for everyone, but it's more than just a winery!
Unfortunately, they didn't bring along any of their delicious food with them.
O So Good is open for lunch and dinner, with mouthwatering specials like half racks of ribs, fettuccine alfredo and Chad's pizza! In fact, you can order the pizza and wine special where you get a pizza and a bottle of wine for just $27! O So Good Winery also features pork and chicken nachos, Chicago dogs, various sandwiches, fish tacos and more! And O So Good Winery is the place to be for fun events and live music! Trivial Dudes is there twice a month with trivia and music bingo! Check out O So Good online for upcoming live music; Sunday March 26th is Darrell, Jacque & Connie from 1 to 4pm. Need a place to host your next event? O So Good Winery not only has options to host but also cater your event! Visit their website for more details or call 563-599-1262 to schedule your event.
Get a taste for your new favorite Dyersville stop with this $25 gift certificate to O So Good Winery only available for a limited time at SeizeTheDeal.com for 50% OFF.
What Are the Signature Drinks From Every State?
RANKED: Here Are the 63 Smartest Dog Breeds
Does your loyal pup's breed make the list? Read on to see if you'll be bragging to the neighbors about your dog's intellectual prowess the next time you take your fur baby out for a walk. Don't worry: Even if your dog's breed doesn't land on the list, that doesn't mean he's not a good boy--some traits simply can't be measured.