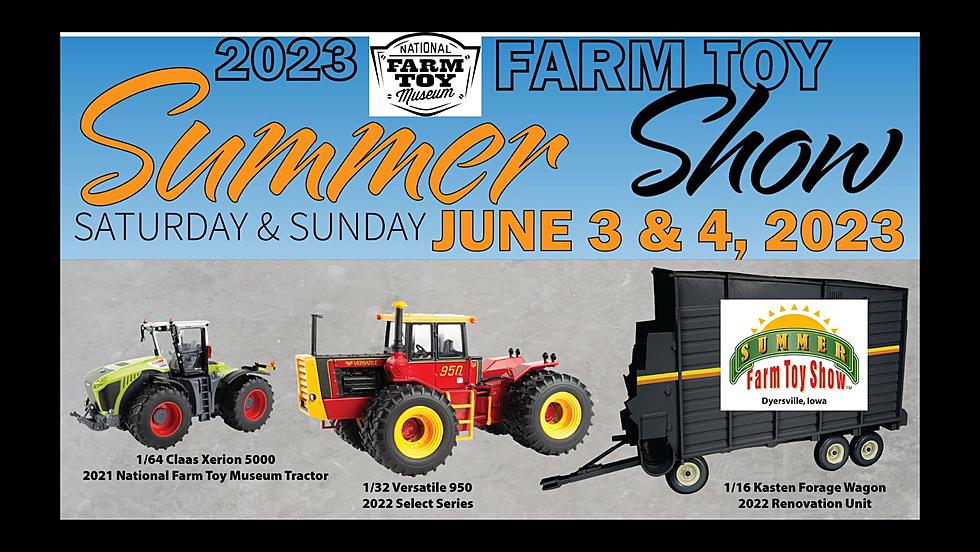 National Farm Toy Show Hits Dyersville This Weekend
Credit: National Toy Farm Museum
This Saturday and Sunday, June 3rd and 4th, the National Farm Toy Show takes over Dyersville in Dubuque County. Farm toys and family fun will be on hand for one of the largest Summer Farm Toy Shows.
This event includes a Farm Toy Display contest, where the public can vote for their favorite display on Saturday and takes place at the National Farm Toy Museum & Beckman High School. Don't miss the fun and colorful Tractor Parade on Saturday night beginning at around 5:30pm with roll out expected at 6:30pm.
Cost for the event is as follows:
Admission $7.00 Children 10 and under are free
Early Access at 8:00 am for $20.00 is good for both days
The National Farm Toy Museum is a small-scale adventure into the history of farming. It's your chance to revel in the Museum's collection of farm toys and unique exhibits covering agriculture's amazing history.
In addition, motorists are advised to expect temporary travel restrictions on Friday, June 2nd, during the annual tractor ride through Dubuque County. The annual Summer Farm Toy Show Tractor Ride will be held Friday and follows a 50-mile loop beginning and ending in Dyersville with visits to Epworth and Cascade. In Cascade, make sure to get a taste of Moski's BBQ during the stop. I highly recommend it!
According to the Dubuque County Road Department temporary restrictions are expected from 8am to 3pm on these county roadways: Dyersville East, Holy Cross, New Vienna, Gun Club, Placid, East Pleasant Grove, Roller Coaster, North Cascade, Kearney, Farley, Jamesmeier, Prier, and Olde Hawkeye roads. 
I was actually able to catch up with Amanda Schwartz, Manager and Curator of the National Farm Toy Museum about the event and its impact on local communities. check out the full interview below!
For more information about these events, contact the National Farm Toy Museum at farmtoys@dyersville.com or by calling 563-875-2727.
Photos: Dubuque Farmers Market 2023
Take a trip through the Dubuque's Farmers Market
The First Day of the 2022 Dubuque County Fair
A look at the food, rides, fun, and more on the first day of the 69th Annual Dubuque County Fair.