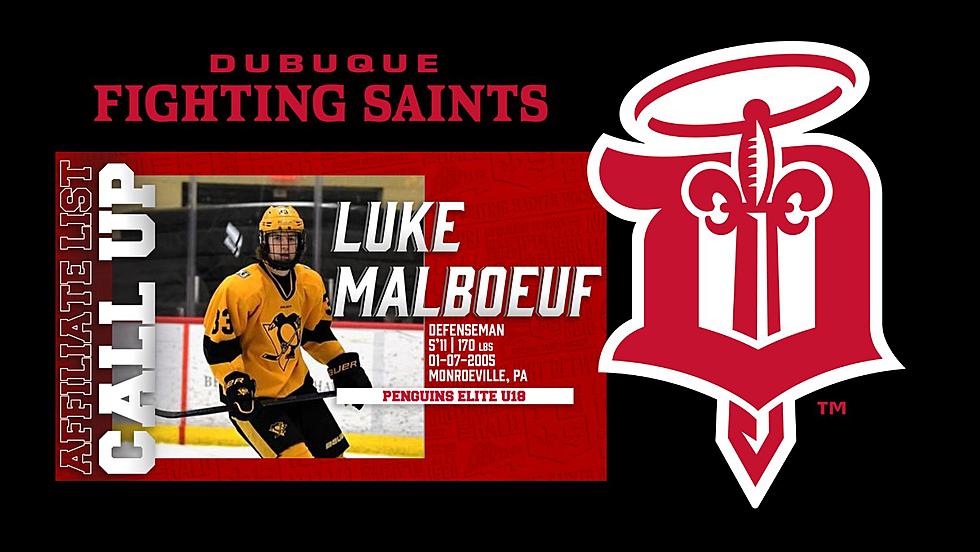 Saints Call Up Additional Defenseman in Malboeuf
Credit: Dubuque Fighting Saints
According to a release from the organization, the Dubuque Fighting Saints have called up affiliate defenseman Luke Malboeuf to the active roster for the remainder of the 2022-23 season.
Malboeuf was with the Fighting Saints during training camp to open the 2022-23 season. He appeared in three preseason games, recording a shot on goal in each contest and compiling a +2 rating. Malboeuf was then transferred to the Fighting Saints affiliate list and sent back to the Pittsburgh Penguins Elite AAA program where he competed with their 18U team. In 45 games this season, he scored posted 6-14—20 and added 14 penalty minutes.Malboeuf is a native of Monroeville, PA and stands at 5'11", weighs 170 pounds, and was born January 7th, 2005. He shoots right-handed.
Saints also recently called up defenseman Julian Brown. Brown is a native of Montclair, New Jersey and will be 17 on April 10th. He stands at 6'3, weighs 214 pounds, and shoots left-handed.
Saints walked away with a 4-3 win last night over the Muskegon Lumberjacks at Dubuque Ice Arena.
Saints outworked Muskegon 32 to 27 on shots for the night, but both teams failed to capitalize on their power play attempts; each team having 3 opportunities. Tonight starts the Saints split game match-up against the Madison Capitols. This evening the Saints travel to Middleton, Wisconsin for their game. Tune in to Eagle 102.3 for all the hockey action as Blake Theisen starts the pregame broadcast at 6:45pm; puck drops at 7:05. Then hockey action returns to Dubuque hauling the Capitols with it, as Saturday night is the Doggy Dash, sponsored by Thiesens. I even had a chance to interview one of the competitors.... Good Luck Remy!
Cheer on your Saints all season long as they continue to push for Play-off action and Home Ice advantage in the first round!
Things You Should Never Do In Iowa
10 Iowa Breakfasts And What They Say About You