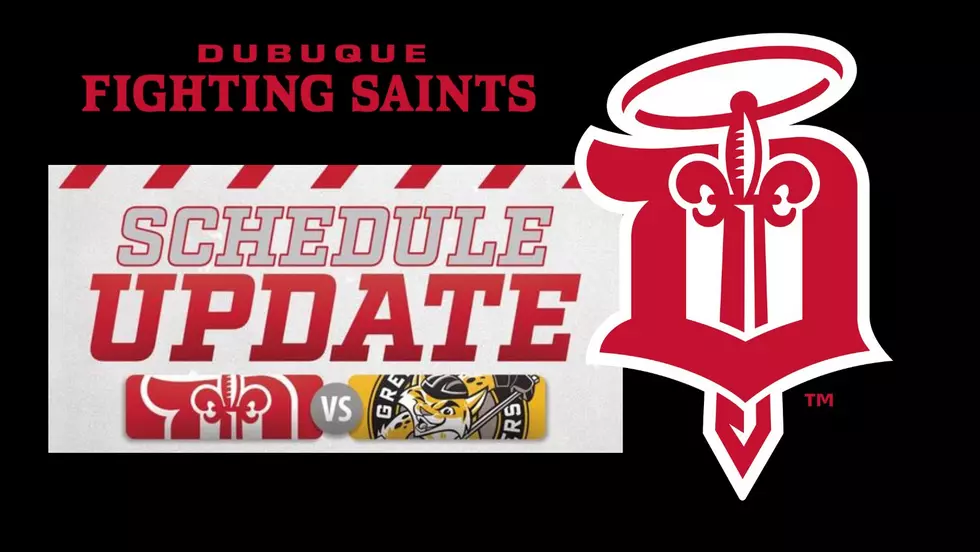 Make-Up Date Announced For Saints Vs. Gamblers
The Dubuque Fighting Saints along with the Green Bay Gamblers and USHL have finalized a make-up date for the Friday, March 31st, postponed game between the two teams.
The game will be made up on Tuesday, April 11th with puck drop slated for 7:05pm. The original date for the game was set for Friday, March 31st, but was postponed due to forecasted inclement severe weather.
The same tickets used for that night's game (Friday, March 31st) will be accepted for entrance to the make-up game on April 11th. If you are unable to attend that game but would like to know more options or have additional ticketing questions, please contact the Dubuque Fighting Saints office for more details at 563-583-6880.
On Saturday night away from home the Saints were unable to gain ground on the 4th placed Green Bay Gamblers. With a game in hand the Saints lost 0-1 in Wisconsin. Tune in April 6th, 7th, and 8th as the Saints take on the Muskegon Lumberjacks at home, followed by split away-home games against the Madison Capitols.
This Thursday's match-up against the Lumberjacks will be a celebrated Thirst-day Thursday sponsored by Gary Dolphin's Iron Bar! On Saturday, after our away game, the Madison Capitols return to Dubuque for Bernie's Doggy Dash sponsored by Theisen's Home, Farm, and Auto.
The Dubuque Fighting Saints currently sit in 5th place tied with the Cedar Rapids Roughriders on points at 60. Saints still currently have a game-in-hand on all the other teams in the USHL's Eastern Conference. And Don't forget about the coaches show tomorrow night (4/4).
This is the final episode of the regular season! Join Blake Theisen and head coach Kirk MacDonald as they discuss the push for the playoffs, as well as hearing from forward Jake Sondreal and defenseman Fisher Scott!
Iowa Facts You Likely Never Knew
Iowa has a state with a rich history and many fun facts, How many of these did you already know? Test your Iowa knowledge!
These Are the Weirdest Free Things on the Eastern Iowa Craigslist Pages
Maybe you cruise Craigslist from time to time, or maybe you haven't been on the page in about a decade. Either way, the "free" page is still alive and well. Here are some of the BEST free items you'll find right now on the Eastern Iowa Craigslist pages.