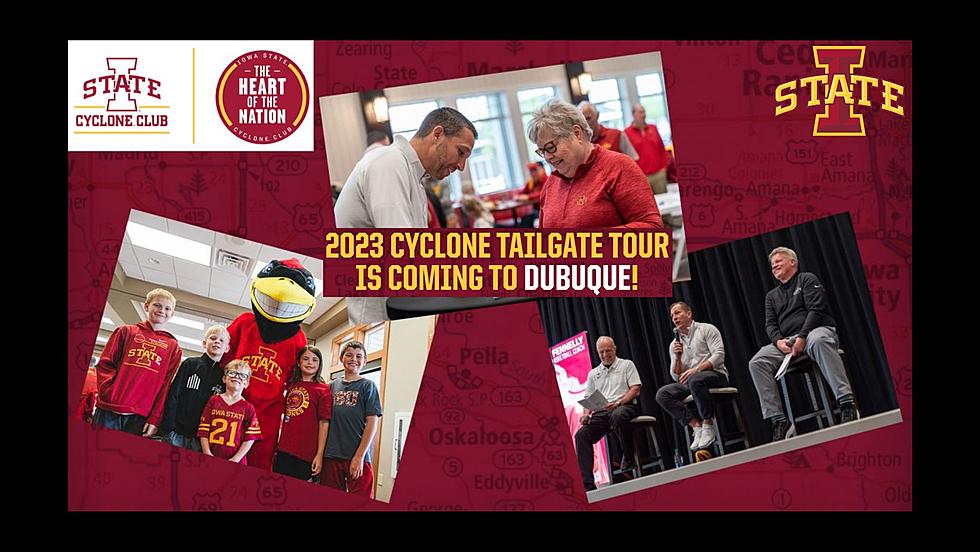 The Cyclone Tailgate Tour is Coming to Dubuque!
Credit: Iowa State University
Hey Iowa State Cyclone fans! Here's your chance to get up to speed on the upcoming college football season right here in Dubuque!
Tuesday, May 23rd from noon to 1pm at the Grand River Center's Exhibit Hall A is open for you to explore and interact with all things Cyclones. This free family-friendly event is for fans of all ages to attend. The program will begin at 12:35pm with doors opening 30 minutes prior to the events start time.
You can interact with Iowa State coaches, administrators, and other special guests, including:
Jamie Pollard, Athletic Director
John Walters, Voice of the Cyclones
Matt Campbell, Football
T.J. Otzelberger, Men's Basketball
Bill Fennelly, Women's Basketball
Kevin Dresser, Wrestling
And Cy
All kids attending this event will receive a gift courtesy of the Cyclone Club. Lunch and beverages will be available for purchase during the event.
According to the Iowa State Website, Cyclone Club Members raise their hands and stand proud as the heart of the nation. It's their loyalty that drives the ISU legacy. They are the ones who go above and beyond to help ISU student-athletes become their best. And it's their ongoing support that helps the Cyclone Nation share with the world what makes Iowa State University so very special.
Check out this past event at the Grand River Center...
2022 Dubuque Mac & Cheese Fest in Pictures!
Explore Dubuque...
The Dubuque Arboretum & Botanical Gardens
A stroll through the Dubuque Arboretum & Botanical Gardens in Early Spring