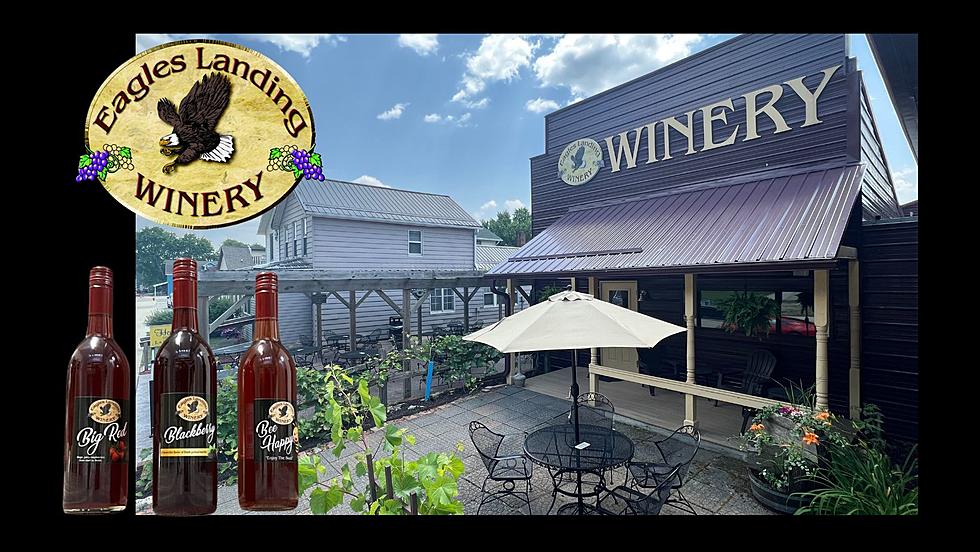 These Amazing Northeast Iowa Wines Can Be Found Statewide
Credit: Tom Ehlers / Eagle's Landing Winery
A trip up the Mississippi River was not only a chance for a few days away from the kids for me and my wife. It was a chance to explore a few amazing places we've never been to before, but always wanted to visit. Marquette, IA is a beautiful destination, and they've got the wine to match it.
Don't believe me, visit Eagle's Landing Winery for yourself and see what you're missing, or better yet you can try their wines (which are amazing) available at loads of local retailers across the states of Iowa and Wisconsin. In fact, they partner with nearly 200 stores and shops in Eastern Iowa and Western Wisconsin to bring their wine to our hometowns. And, If your liquor store doesn't carry your favorite Eagle's Landing wine, you can ask them too.
​​​Eagle's Landing Winery is a small family-owned winery, nestled in the breathtaking rolling hills of the Driftless Region, along the Mississippi River next to the Great River Road. My wife and I were stopping at the Effigy Mounds National Monument, just minutes aways, and had to add this winery to the list of places to visit, as we had tried several of their wines in the past and really liked them.
Marquette is not far from Pikes Peak State Park, Yellow River State Forest, and Wyalusing State Park in Wisconsin. And I have to say that Eagle's Landing Winery is a perfect stop for anyone coming to the area for hiking, fishing, hunting, camping, or a quaint visit to the small local towns, like McGregor, Harpers Ferry, and Prairie Du Chien.
We ended up enjoying our new favorite "Volga Lake Blush" with a homemade pizza featuring caramelized onions, sauteed mushrooms, spinach, bacon, and a creamy garlic sauce. Super delicious. I recommend stopping by Eagle's Landing Winery for any number of their award-winning wines, see for yourself what you're missing!
Photos: Eagle's Landing Winery
My adventures don't stop there! Check out these other great eats and drinks!
Photos: 7 Hills Brewing Company in Dubuque
Photos: 7 Hills Brewing Company in Dubuque
A Tour of Potosi Brewery
A brief look at Potosi Brewery in scenic southern Wisconsin.
A Look Inside Blaum Bros. Distillery in Galena
A look at Blaum Bros. Distillery's bar, distilling process, cocktails and more!