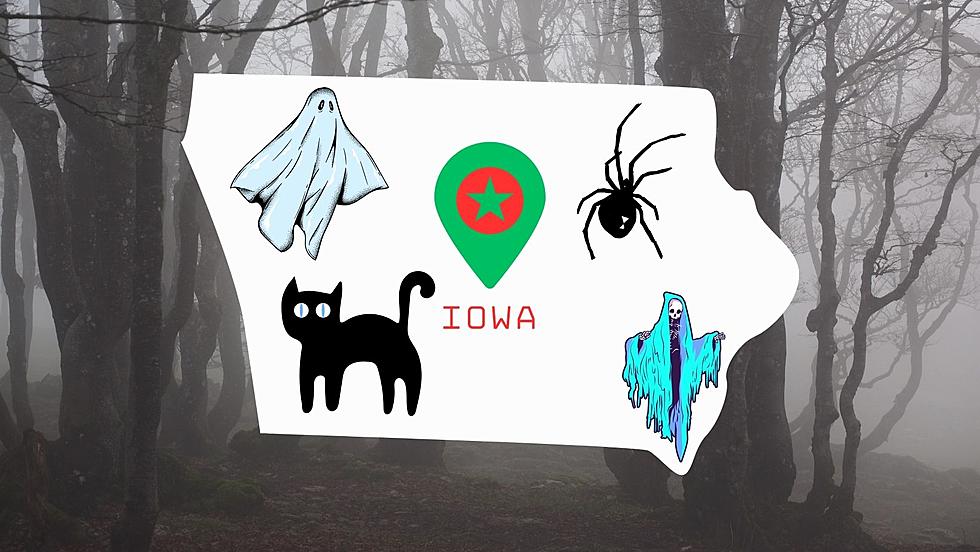 The Top 10 Iowa Cities Where You'll Most Likely See A Ghost
Credit: Canva
As October ushers in the eerie charm of ghosts, goblins, witches, and hauntings; Halloween awakens. It's the perfect time for ghost hunters or paranormal enthusiasts to delve into the world of the supernatural.
Dubuque is no stranger to haunted locations, especially since it's the oldest city in Iowa first settled in 1785. At Ghosts of America, it racked up 12 sightings and a photo from a local ghost hunter.
While Iowa may not be the first place that comes to mind when you think of ghostly encounters, our Midwestern state has its fair share of spine-tingling stories and haunted locations. Thanks to GhostsofAmerica.com, iowabets.com has compiled a list of the ten cities in Iowa where the most ghost sightings have been reported. So, if you're looking for a thrilling ghost-hunting adventure, look no further than these haunted hotspots.
Clinton: At the top of the list is Clinton, a city that has witnessed more ghostly sightings than any other in the state. The former Schick Hospital, now an office building, boasts a history that dates back to World War II when it treated wounded soldiers. It's no wonder ghost stories have persisted in this massive brick structure, which once cared for over 3,500 injured veterans.
Sioux City: Coming in second place is Sioux City, where Calvary Cemetery is the go-to spot for an eerie experience. Visitors have reported hearing high-pitched ringing in their ears and the unsettling sensation of being enveloped in cobwebs. Additionally, a gravestone carved from a tree trunk adds to the area's creepy ambiance.
Fort Dodge: With 21 sightings documented on GhostsofAmerica.com, Fort Dodge ranks third on the list. The infamous "Terror Bridge," technically known as the Banwell Bridge, is at the center of these hauntings. This unassuming 1800s-era bridge is linked to a chilling story of a mother who allegedly threw her young children onto train tracks, leading to their tragic demise.
Burlington: Burlington takes the fourth spot on our list of the most ghost-infested cities in Iowa. A drive down Stony Hollow Road might lead you to a heartbroken 19th-century woman known as Lucinda. Legend has it that if you chant her name three times, she may appear. However, if she leaves you a rose, beware, for doom may follow, with your demise the following day.
Des Moines: Iowa's capital, Des Moines, is not immune to ghostly encounters either. The Governor's Mansion, known as Terrace Hill, is believed to be haunted by the spirit of a young girl who operates the elevator. Another haunted location is the Jordan House, a crucial site on the Underground Railroad, with lingering spirits of children who met unfortunate fates.
The last five locations across the state are Muscatine, Marshalltown, Cedar Rapids, Fort Madison, and Davenport. See the full list and reported sightings at each location below.
This Halloween season, consider exploring these haunted cities in our state for a unique and spine-tingling adventure. Whether you're a seasoned ghost hunter or just curious about the supernatural, these locations offer chilling tales and the promise of ghostly encounters. Remember to respect private properties and local regulations as you adventure on your ghost-hunting journey and prepare to be both thrilled and spooked by the mysteries that await in the Hawkeye State.
Curious about specific haunted locations across the state of Iowa? Check out the top 20 below and... Happy ghost hunting!
Iowa's Top 20 Most Haunted Locations
Photos and a brief description of Iowa's Top 20 Most Haunted Locations
Gallery Credit: Tom Ehlers
Ghost In Our Iowa Basement?
As a radio station, we have a lot of people here who have seen some scary stuff. Do you see any ghosts in these photos? I can't, but I also don't know what to look for.
This Isn't The First Face Caught On Camera Here!
In September of 2020 the band "Pit Lord" came to the building to shoot a music video. They shot it in the basement and for a split second in the recording, you can make out a face of what looks to be a woman. You can see that video
here.
With a history of ghosts, it's safe to say the basement of our building is CREEPY!
Another UFO Sighting in Evansdale, Iowa - Photos
Keep scrolling and see what you think - is it a UFO or not?