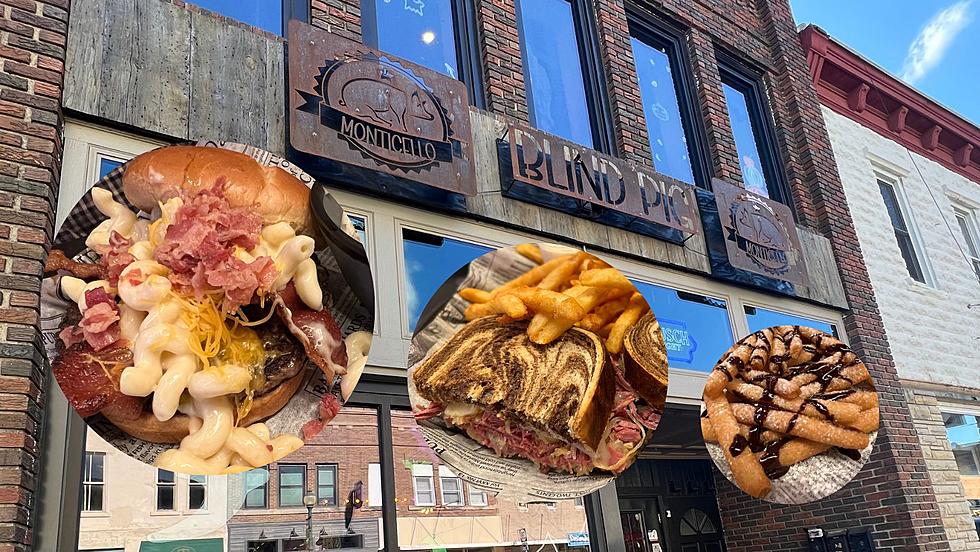 This Small-Town Iowa Restaurant is Not 'Blind' When It Comes to Flavor
Credit: Tom Ehlers
Every once in a while, you have to take the day and treat yourself. Take for instance my birthday. Not only did I take the day off, I enjoyed myself at a fairly new restaurant I have been meaning to get to in my hometown of Monticello, Iowa.
The Blind Pig is a two-story prohibition-era fashioned bar with lots of tasty cocktails, beers on tap, and delicious food! It's well worth the stop for all the delish eats and the atmosphere is fun and inviting. Check it out.
As I mentioned, I grew up in Monticello, and the new storefronts and additions that line 1st Street are a great way to enjoy new takes on all your old haunts. My wife and I were starving and the menu at the Blind Pig looked amazing.
I knew right off the bat I had to try my go-to food at any new restaurant I visited. I ordered a classic Rueben, and I was not disappointed! In-house slow-roasted corn beef brisket topped with Swiss cheese, sauerkraut, and thousand island dressing on thick-cut marbled rye.
The meal my wife chose can only be described as a monstrosity of mac and cheese goodness and a half pound of delectable beef. The Jacked Mac Burger stacks on seared Angus beef, topped with cheddar cheese, thick-cut bacon, and jacked mac & cheese served on a brioche bun.
Wifey opted for the coleslaw. It was good, but once I tasted the fries, I knew she had made a mistake. The fries are excellent. I could have eaten an entire tray of them alone and been satisfied! And I mentioned the atmosphere right...
Another great addition is their "Wall of Fame." It features signed Great Jones County Fair entertainment bills, posters, headshots, and more from celebs that have stopped by the huge fair in the small town. Local celebrities, events, and families are also celebrated here as you walk into the Blind Pig.
And what would a birthday celebration be without cake? Well, funnel cake that is!
This delicious and easy-to-eat take on a fair food favorite has my vote for a new sweet-treat fix. Needless to say, I was very impressed with the service, atmosphere, and amazing food. My only complaint: I didn't have quite enough room to eat it all. But hey, funnel cake fry leftovers are good hot or cold!
Check out these other great eats!
Photos: 7 Hills Brewing Company in Dubuque
Photos: 7 Hills Brewing Company in Dubuque
Gallery Credit: Tom Ehlers
Photos: Old Man River Brewery; McGregor, Iowa
Gallery Credit: Tom Ehlers
The 10 Highest-Rated Restaurants in Cedar Rapids
What restaurants here in the Cedar Rapids area serve the best food? Here are the top ten according to Yelp!
Gallery Credit: Courtlin
10 Banned License Plates In Iowa That Made Me LOL
Iowa residents have submitted some really random (and now rejected) ideas for personalized license plates.
Gallery Credit: Canva