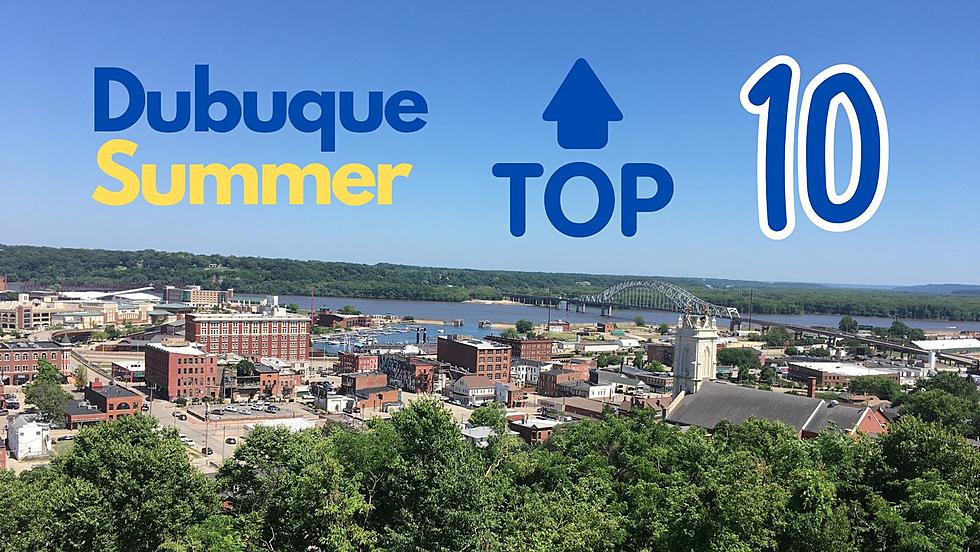 Top 10 Things To Do in Dubuque This Summer
Credit: City of Dubuque / Canva
Dubuque is the oldest and most charming city (sue me, I'm bias) along the mighty Mississippi River. Despite its fairly modest size, it offers loads of attractions and activities for visitors, and local citizens, to enjoy.
From historic sites and breathtaking views, to culinary eats and delicious drinks, Dubuque truly has something for everyone. Let's explore the ten best things to do this summer in the "Key City," or as we like to call it, the "Masterpiece on the Mississippi."
1) Explore the National Mississippi River Museum and Aquarium:
Love this place and so do my kids. Immerse yourself in the fascinating underwater and historic world at the National Mississippi River Museum & Aquarium. Easily found in the Port of Dubuque, enjoy interactive exhibits, live animal displays, and historic artifacts. It's not hard to see why this is an award-winning museum that offers a captivating experience for all ages, and exceptional conservation work. The new exhibit POPnology is a must see this summer, as well as the updated rivers to the sea attraction.
2) Ride the Fenelon Place Elevator
Historical significance with a really awesome view. Climb aboard the world's shortest, steepest scenic railway at the Fenelon Place Elevator. Ascending 189 feet, this historic funicular rewards visitors with a stunning panoramic view of the city, river, and surrounding bluffs. It's a must-visit attraction for those "Dubuque first-timers" looking to take in the splendor of Iowa's oldest town.
3) Visit the Dubuque Arboretum and Botanical Gardens
Nature enthusiasts will find beauty at every turn of the Dubuque Arboretum and Botanical Gardens. Explore the huge collection of plants, including stunning rose gardens, succulents and cacti, Japanese gardens, and a host of other seasonal displays. It's a great place to take in an easy hike and explore, or let the kids run off some energy at the playground. Don't forget to feed the fish, and there's often live music on the weekends.
4) Get modern and historic at the Dubuque Museum of Art
Immerse yourself in a diverse range of artwork, showcasing both regional and international artists. From contemporary pieces to traditional works, the museum offers a cultural experience that will leave art enthusiasts inspired and intrigued.
5) Take a stroll through Historic Cable Car Square
Dubuque's Cable Car Square not only houses the Fenlon Place Elevator, but is a delightful neighborhood filled with restored Victorian-era homes, quaint shops, delightful drinks, and some dining as well. My vote is to see Terri at Calico Bean Market, and grab a bag of goodies while you're there. Monk's Café Pub is also a unique place to grab that much needed Irish-coffee.
6) Take a gamble at the Diamond Jo or Q Casino
For those seeking entertainment and excitement, the gaming industry in Dubuque is a top-notch destination. Between the Mississippi Moon Bar or the huge Back Waters Stage Summer Concert Series you're sure to find top notch entertainment. And of course, you can test your luck at the slot machines or table games while sipping on your favorite drinks. There are also excellent dining options at both locations. Bonus here; check out the Dubuque Ice Arena to cool down in the heat. It's directly across from Q Casino.
7) Discover the hiking trails and nature
Escape the city, without going to awfully far way. Venture through the trails at Mines of Spain. The overlook at horseshoe bluff is phenomenal. And make sure to check out the Swiss Valley Nature Preserve where you can hike through picturesque trails, admire scenic overlooks, and learn about the area's animal life in the nature center. Hidden gem to explore is the Little Maquoketa River Mounds area and Proving Grounds. Make sure to check out the Sky Tours with the YMCA Ziplines in Union Park if that's more your style.
8) Cruise along the Mississippi River
Embark on a scenic riverboat cruise along the mighty Mississippi River on the American Lady, Riverboat Twilight, Viking Cruises, and several others. Take in the breathtaking views and enjoy a relaxing journey as you glide along the waterway. Do it yourself in a kayak at the Mines of Spain and see where catfish creek dumps into the big ole' river. The riverwalk is equally as beautiful for some free fun in the Port of Dubuque.
9) Explore the historic Dubuque Farmers' Market
It's a favorite and you can find delicious delights, organic treats, artsy musicians, and loads more. It's the perfect place to experience true Dubuque culture, savor delectable treats, and support the local community. Plus, all the local puppers are super cute, if you're a dog fan. Also, the donut breakfast sandwich is about the greatest thing ever....
10) Enjoy Dubuque's culinary delights
There are just too many to mention, but I have a few favorites in mind. Start off in the Historic Millwork District. Between, Brazen, 7 Hills Brewing, Back Pocket Arcade, the Comedy Club, and Gary Dolphin's Iron Bar, there is plenty to eat, drink, and see there. Dubuque boasts an absolutely stocked culinary scene, with a diverse range of dining options for everyone. Farm-to-table, fast-food, cafes, upscale and high-end restaurants, "dives" and more. Places to try include; Ichiban, Los Aztecas, Lina's Thai Bistro, Pepper Sprout, 1st & Main, Caroline's, Oolong Asian Cuisine, L.May Eatery, Bread & Vine Dubuque, Copper Kettle, and loads of other local options. This is just a small sample of the great local eats available.
Dubuque is bursting with the very biggest and brightest ideas and a wide array of attractions and activities. Stop by and see them for yourself.
Find photos of the best local hikes, the Dubuque Arboretum, Dubuque Farmers Market, 7 Hills Brewing Company, and the River Museums Popnology Exhibit below. Check them all out in detail…
Hiking Trails and Nature near Dubuque, Iowa
Nature and hiking areas around the Dubuque, IA area.
The Dubuque Arboretum & Botanical Gardens
A stroll through the Dubuque Arboretum & Botanical Gardens in Early Spring
Photos: Dubuque Farmers Market 2023
Take a trip through the Dubuque's Farmers Market
Photos: River Museum's POPnology Exhibit
Photos: River Museum's POPnology Exhibit
Photos: 7 Hills Brewing Company in Dubuque
Photos: 7 Hills Brewing Company in Dubuque