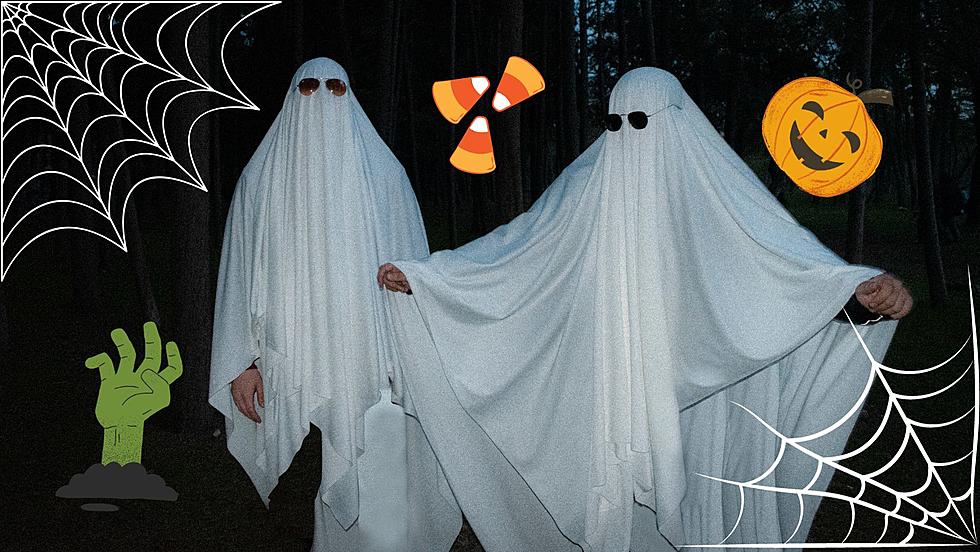 These Are The Top 20 Halloween Costumes For 2023
Credit: Canva
Ghost and Goblins. Witches and Vampires. Pop culture Icons and blasts from the past. What will you be going as this year for Halloween? My goal was always to pick a costume no one else would be wearing if I could; even better if I could get my significant other or group of friends to play along when picking out costumes or a "theme."
Well, we've done the dirty work for you (or somebody has anyway). If you're looking for the most popular Halloween Costumes ideas for 2023 CasinoRocket.com has scoured the webs to compile the most searched for costumes across the United States. So, let's get spooky with the Top 20 Halloween Costumes for 2023.
20) Tinkerbell: 26,000 monthly searches
Surprisingly enough, Peter Pan's pixie friend still ranks high with kids and adults looking to slip-in to the short green skirt and florescent wings. If you're rocking a pixie-cut, you're already halfway there.
19) Darth Vader: 26,000 monthly searches
Star Wars is still king when it comes to the dress up game. Anakin never looked so good than when he wore all black with his youngling slayer red lightsaber.
18) Black Widow: 26,000 monthly searches
This isn't the spider, or the perennial seductive man killer; it's Marvel's favorite spy (who was also a man killer to be fair). What can I say, Scarlett Johanson mad the character her own, and now everyone wants to be her... again.
17) Vampire: 26,000 monthly searches
Yes the classic is back, and you better not be trying to pull any of that nasty perversion of the prince of darkness that the Cullen family brought in. We aren't about those sparkly twilight vampires here.
16) Beetlejuice: 27,000 monthly searches
Say his name three times and he'll haunt you forever. The mischievous poltergeist is back and better than ever, made popular by the one and only Michael Keaton. By the way his name is actually spelled Betelgeuse, but the movie was named phonetically.
15) Shego: 28,000 monthly searches
Ok I had to look this one up, but apparently, we've got a new generation in-coming and Kim Possible is tracking with this characters memorable villain costume, making her a unique choice this Halloween.
14) Minions: 28,000 monthly searches
The "Despicable Me" franchise just won't go away. From the obnoxious "BANANA!" to their goofy sounds and hijinks, the minions continue to bring smiles and laughter, making their costumes a hit year after year.
13) Starfire: 30,000 monthly searches
Teen Titans is still popular with kids, but now even adults are getting in on the bright orange hair and flashy purple costume. Don't forget to talk like her to complete the ensemble.
12) Chucky: 30,000 monthly searches
The mini knife-wielding, body-transferring menace of nightmares past continues to garner attention. Whether it's the new TV series or the classic horror films, this tiny Jon Gruden look alike makes for a "killer" costume.
11) Cruella de Vil: 32,000 monthly searches
Cruel, villainous, ruthless, and fashionable. She's everything today's modern psychotic women hopes to be. Let's just keep her away from the puppies, please.
10) Kim Possible: 32,000 monthly searches
 

 

 

View this post on Instagram

 
We saw that Shego made the list (15) so why not the original and name's sake of the beloved cartoon franchise. Watch for this spy game to unfold in real life this Halloween.
9) Fairy: 35,000 monthly searches
If Instagram has any say as to what is popular, the fantasy world and cosplay has really taken off with this style of character. Make your fairy how you want! The costumes offer a whimsical and enchanting option for Halloween.
8) Witch: 37,000 monthly searches
Witches are a Halloween staple. Driven to popularity by the likes of the Sanderson Sisters, Sabrina, and even Hermoine Granger, the witch remains a Halloween tradition.
7) Alien: 37,000 monthly searches
Is this even fair!? There are so many different versions of "aliens" out there. Extraterrestrial life has always fascinated, and dressing up as an alien allows for endless creativity and imagination. Go for broke this holiday and try to spice it up with a killer Xenomorph take on the alien costume.
6) Poison Ivy: 38,000 monthly searches
It seems a few years ago it was all about Harley Quinn. Now DC's perennial baddie and fan favorite add an intriguing choice for this year's spooky season.
5) Pirate: 40,000 monthly searches
Pirates are always in. Whether it's Black Beard, Captain Jack Sparrow, or the new Pirate King Monkey D. Luffy of "One Piece" fame, you can never go wrong. And you can always make the guy with the "better" costume walk the plank.
4) The Grinch: 40,000 monthly searches
Christmas for Halloween? What is this Hobby Lobby!? I guess it did work for Tim Burton...
3) Velma: 42,000 monthly searches
Jinkies! This classic costume continues to surpass others, despite the latest TV iteration receiving record low response and reviews. The original character from Hanna-Barbera is just too popular to ruin. And they would have gotten away with it too, if it weren't for those pesky kids!
2) Wednesday Adams: 50,000 monthly searches
The Netflix sensation is topping the list for spooky fun this year. It's another tale of classic character meets modern upgrade as Jenna Ortega has played a pivotal role in this costumes resurgence.
1) Squid Game: 136,000 monthly searches
The show's unique and eerie red jumpsuits, as well as the unsettling masks, are another big winner this year and has been for the last 3.
Let's throw in an honorable mention for this year is pop-culture phenom Barbie; who so far has garnered 8,500 searches.
Other classics garnering large searches include; Batman, Freddy Krueger, Michael Myers, Harry Potter, Shrek and many others.
Halloween is spooky fun, but are you looking for JUST spooky?
Iowa's Top 20 Most Haunted Locations
Photos and a brief description of Iowa's Top 20 Most Haunted Locations
Gallery Credit: Tom Ehlers
Dubuque's "Trunk or Treat" 2022
A look at the ghosts, ghouls, and all the fun that was "Trunk or Treat" at the Dubuque County Fairgrounds!
Gallery Credit: Steve Pulaski