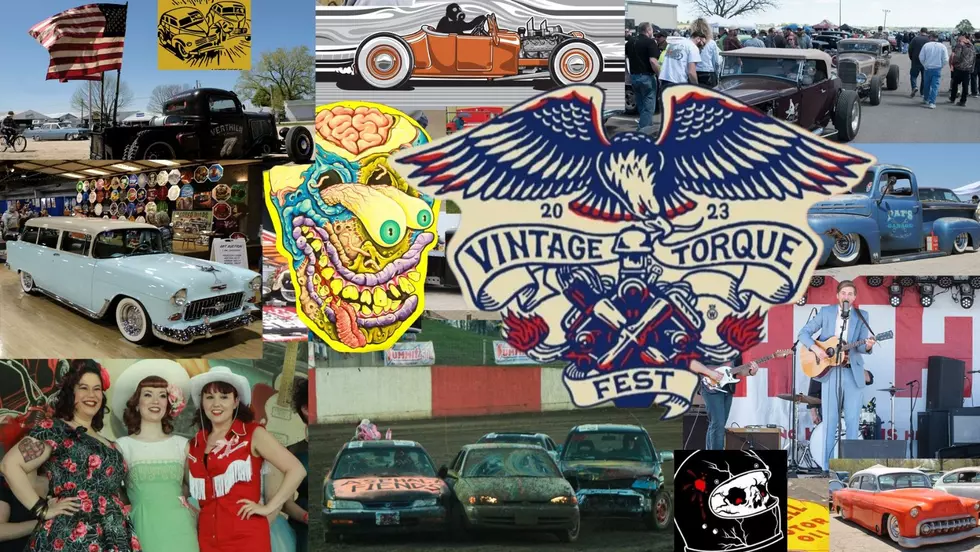 Vintage Torque Fest Returns To Dubuque this Friday and Saturday
Credit: Vintage Torque Fest
Truly one of THE coolest events is taking over the Dubuque County Fairgrounds this Friday, May 5th, and Saturday, May 6th, in Vintage Torque Fest. It's a mix of the vintage lifestyle and a huge fund raiser for families of children that are suffering heart defects.
You heard right; donations and a portion of the gate fee is used to raise money for kids with congenital heart defects. Join us for THE kick off event of the season with amazing bands, a swap meet, mini-bike races, vintage cycle exhibition, dirt drag racing, demo derby action, vendors from around the country, camping, good food, and lots of classic cars & motorcycles.
Firstly, for those attending, this event is so much more than just "classic cars" its a way to help real families in our local area with the Helping Hannah's Heart Foundation. This established non-profit 501(c)(3) helps families who are dealing with the financial burden that comes from having a child with Critical Aortic Stenosis or related Congenital Heart Defects. John, the event organizer, and his family have gone through this very thing themselves with their daughter, Hannah. They understand first-hand how quickly expenses can add up; hotels, taxis, missed work, shots, medical deductibles, food, prescriptions, doctor visits, airfare, lab work, x-rays, you name it. The hope is that this foundation can help offset the medical expenses for many families in need.
Friday kicks-off with the Backroads Country Cruise to National Motorcycle Museum in Anamosa. That takes place at 12:45 pm. All are welcome to join, organizer's only ask that those with current daily drivers bring up the rear and let the classic cars stay together up front for this cruise.
The fun doesn't end there, no it's just getting started. Friday night the Demo Derby takes over at the Dubuque County Fairgrounds. Smashing, crashing and cruising; all to raise funds for kids with heart problems. Amazing.
And that's not all Dirty Drags return this year. If you want to bring out your ride and "do it in the dirt", come on out! $1000 to Winners of Dirty Drags at Vintage Torque Fest! Summit Racing Equipment has generously donated $1000 to the Winners of the Dirt Drag Racing. There will be Spectator Drags on Friday at 5:00 pm (open to all cars) and the Dirty Drags will happen on Saturday 12:30pm.
Friday's Spectator Drag Racing is open to all years of cars. Winner of Spectator Drags will receive $200 in Summit Gift Cards and 2nd place will receive $100 in Summit Gift Cards. SATURDAY Dirty Drags are open to 1964 or older traditional hot rods and customs. Winner gets $400 in Summit gift cards + $100 CASH. 2nd place will receive $200 in Summit Gift Cards. 3rd place will receive $100 in Summit gift cards.
And then let there be FIRE; as the Flame Throwing Car Exhibition also occurs on Friday night.
There will be a classy, not trashy, pin-up girl contest to enjoy as well.
And bands... oh yes they have them. You can hear artists of all different genres here across 3 different stages;
Gyasi: if you are into T. Rex or 70's Bowie you are going to want to see this act.
The Hi-Jivers: one of the most requested entertainment acts to appear at Vintage Torque Fest.
Hannah Juanita: Recently nominated for Honky Tonk Female performer of the year at the Ameripolitan Awards and has a solid foundation of classic country that will put a tear in your been and make you get up and do a Two Step.
Timbo and the Lonesome Country: like your old school country with a lot of soul? Then you gotta check out this 2023 Ameripolitan Honky-Tonk Performer of the Year Nominee.
3 on the Tree
Surf Zombies: all original, instrumental, reverb-soaked surf rock from the middle of Iowa. Surf Zombies are staples at Vintage Torque Fest!
Biscuit Creek
The Afterdarks
Union Avenue
The Millbillies: a 5-piece string band that trades vocals like a fifth of bourbon and solos like a bull on a rope, slinging high-energy bluegrass stripped raw with Americana grit.
Jesse Ray & Carolina Catfish: the 2-piece band is a hyper-energetic rockabilly and blues band known for their signature, in-your-face Rock N Roll that's not afraid to give nods to early country and blues.
The Matchsellers: proving themselves to be one of the most creative and note-worthy Bluegrass groups to emerge from the Midwest.
Andrea and Mud: it's a dirty blonde truck driver from the '60's and the cute little waitress at the bottom of a hill; but he is the greatest picker in town and she's a firecracker that plays a saw.
Check out the full schedule of events, performances and more below:
I had the chance to sit down and talk with not only the event organizer and creator of Vintage Torque Fest, but the first family to create, use, and put together the Helping Hannah's Heart Foundation. Check out the full interview with John below...
LOOK: See Photos of the Year From the International Photography Awards
Hiking Trails and Nature near Dubuque, Iowa
Nature and hiking areas around the Dubuque, IA area.