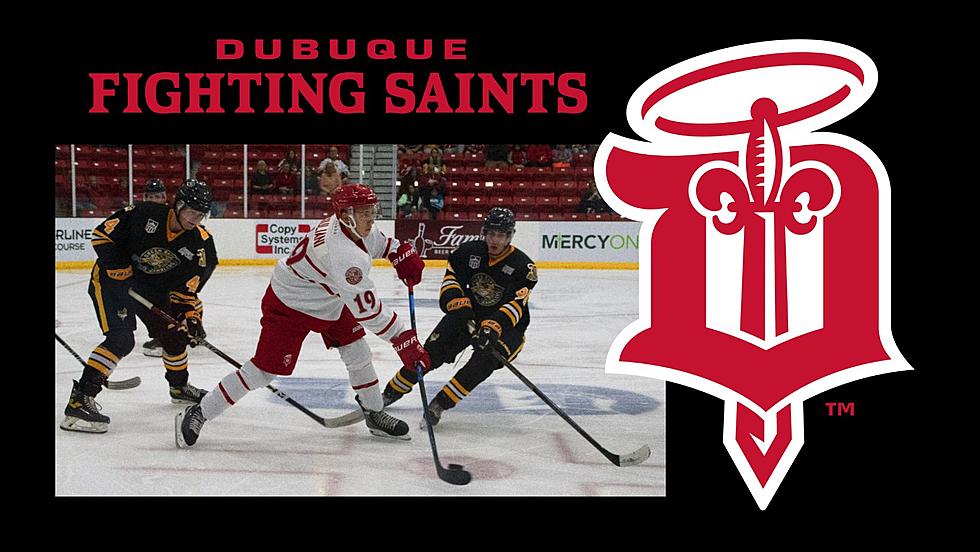 Dubuque Fighting Saints Face Off Against Green Bay Gamblers in Exciting USHL Showdown
Credit: Dubuque Fighting Saints
It's a battle at the top end of the table, as a highly anticipated weekend home-and-away series sees the Dubuque Fighting Saints (2-0-1-1, 6 pts) take on the Green Bay Gamblers (3-1-0-0, 6 pts) at the ImOn Arena tonight (Friday 10/6), and then head to Green Bay tomorrow night (Saturday 10/7). Both teams are off to impressive starts in the USHL season, making this matchup a must-watch for hockey fans. So how will the matchup shake down?
The Dubuque Fighting Saints have shown their resilience early in the season by securing points in all four of their games. Their journey began with a thrilling 6-5 overtime loss to the USA NTDP U18 team, where they displayed their offensive prowess. They quickly rebounded from that loss with an astounding 8-3 victory over Muskegon, showcasing their ability to find the back of the net after a tough "loss."
Last weekend, the Fighting Saints returned to their home state for a pair of Dupaco Cowbell Cup games. Despite a shootout loss to Waterloo, they demonstrated their determination to earn a point. The following night, they hit the road to face Cedar Rapids and secured a solid 4-1 win.
In all four games this season, the Saints have scored at least four goals, making them one of the most potent offensive teams in the USHL. With a total of 21 goals, they currently sit in third place in the league, trailing only the USA NTDP program and the Muskegon Lumberjacks.
Their power play has been exceptional, boasting a league-leading 43.8% success rate. Erik Påhlsson has been a driving force behind their power-play prowess, tallying three power-play goals. He also leads the team with four goals and eight points overall. Chase LaPinta has been the primary playmaker with six assists, four of which came on power plays. In addition, the Saints has had 12 different goal scorers through four games, including six players who have scored multiple goals.
Dubuque Vs. Dubuque?
This weekend's matchup holds a unique storyline, as two players from Dubuque will battle it out. The Fighting Saints boast Andrew King, who made his USHL debut against the USA NTDP U18 team, notching his first goal in the process. On the opposing side, the Green Bay Gamblers have their own Dubuque native, Blake Bechen, who has been turning heads with impressive performances.
Bechen recently recorded a hat trick against the U17 USA team tying for second in the league for goals with five. Friday night's game will mark the first time in Tier I junior hockey that two Dubuquers will face off against each other.
In Reidler, We Trust!
Saints' goaltender Kevin Reidler has earned recognition as the USHL Goaltender of the Week after delivering a stellar performance in their last two games. Last weekend, Reidler was called upon to man the net for both games and rose to the challenge.
Against Waterloo, Reidler faced a barrage of shots, stopping 33 of 37 attempts, earning the Saints a valuable point by forcing overtime. The following night, he secured his first career USHL win in a 4-1 victory over Cedar Rapids, making 27 saves, including some critical stops to maintain the Saints' lead. Reidler's impressive play was instrumental in leading the Fighting Saints to earn three out of four points during the weekend.
Standing at 6-6, the Swedish goaltender has showcased his ability to handle high shot volumes and make crucial saves, including two breakaway stops against Cedar Rapids.
How do the Saints Match-up Against the Gamblers?
Both teams find themselves in a five-way tie atop the Eastern Conference, making these games crucial in shaping the early-season standings.
The Green Bay Gamblers boast a formidable offensive trio, with Blake Bechen leading the charge, alongside Lev Katzin and Ben Poitras, each with seven points to their name. The addition of Julian Lutz, a second-round pick by the Arizona Coyotes in the 2022 NHL Entry Draft, adds another layer of talent to the Gamblers' roster. Lutz's international experience and skill set make him a player to watch.
On the defensive end, the Fighting Saints will face a tough challenge in the form of Green Bay's goaltender, Adam Gajan. Gajan has showcased his prowess with a remarkable .929 save percentage in three games, placing him at the top of the league among goaltenders with at least three games played. His ability to make crucial saves and keep the Gamblers competitive will be a significant factor in this matchup.
Tonight's home-and-away series between the Dubuque Fighting Saints promises to be an exhilarating clash of talent and determination against the Green Bay Gamblers. With both teams vying for the top spot in the Eastern Conference, hockey fans can expect on of two things to happen. Firstly, the game could be a high-scoring affair with both teams racking up the goals. Secondly, it could be a showdown of two goaltenders, as both teams boast exceptional goalies. Whatever happens, USHL fans win in this clash for the top of the conference. Catch all the live hockey action from Josh Starr both nights broadcast on Eagle 102.3 FM or on the stream.
Photos: 7 Hills Brewing Company in Dubuque
Photos: 7 Hills Brewing Company in Dubuque
Gallery Credit: Tom Ehlers
Photos: Northeast Iowa's Yellow River State Forest
Exploring Yellow River State Forest in Northeast Iowa.
Gallery Credit: Tom Ehlers
Photos: Governor Dodge State Park, Wisconsin
Photos: Early Spring In Governor Dodge State Park, Wisconsin
Gallery Credit: Tom Ehlers