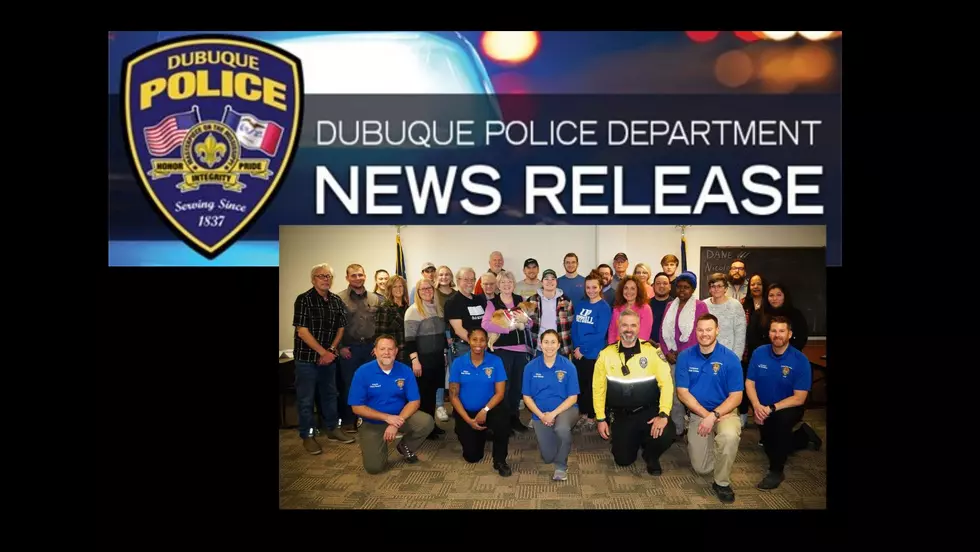 Dubuque Police Accepting Applications For Citizen's Police Academy
Credit: Dubuque Police Department
According to a press release from the Dubuque Police Department, they are currently accepting applications from Dubuque residents who wish to participate in the 26th annual Citizen's Police Academy, also known as CPA. The purpose of this program is to help build a better understanding between residents and the police that serve them, through education and by spending time together. The Citizen's Police Academy does NOT certify participants as law enforcement officers.
All sessions are taught by law enforcement professionals and other members of the Criminal Justice System. Classroom time includes presentations on arrest procedures, search and seizure, use of force, laws and policies, police procedures, domestic abuse cases, sexual abuse cases, drug enforcement, OWI's, officer safety, and prevention programs. As part of the experience, attendees will also get to participate in one 4-hour ride-along with a Dubuque Police Department Officer and report their observations to the class.
The requirements for participation are:
Must be at least 18 years of age

No felony convictions

No significant arrest history

Preference will be given to City of Dubuque residents
The Citizen's Police Academy consists of ten evening sessions that will begin on Thursday, February 9th, and run through Thursday, April 13th of 2023. Each session will be held from 6 to 9pm at the Dubuque Law Enforcement Center, located at 855 Central Avenue in Dubuque. Calss hours do not include the 4-hour ride-along with a DPD Officer. Class size is limited. Those selected should commit to attending all ten sessions unless urgent circumstances arise which would prevent the applicant from attending.
Applications to the CPA will be accepted until January 22nd. Apply online at www.cityofdubuque.org/cpa. Paper applications can also be picked up at the Dubuque Police Department.
Hiking Trails and Nature near Dubuque, Iowa
Nature and hiking areas around the Dubuque, IA area.
Businesses that Dubuque Could Use!
Businesses and attractions that would be right at home in Dubuque, Iowa.