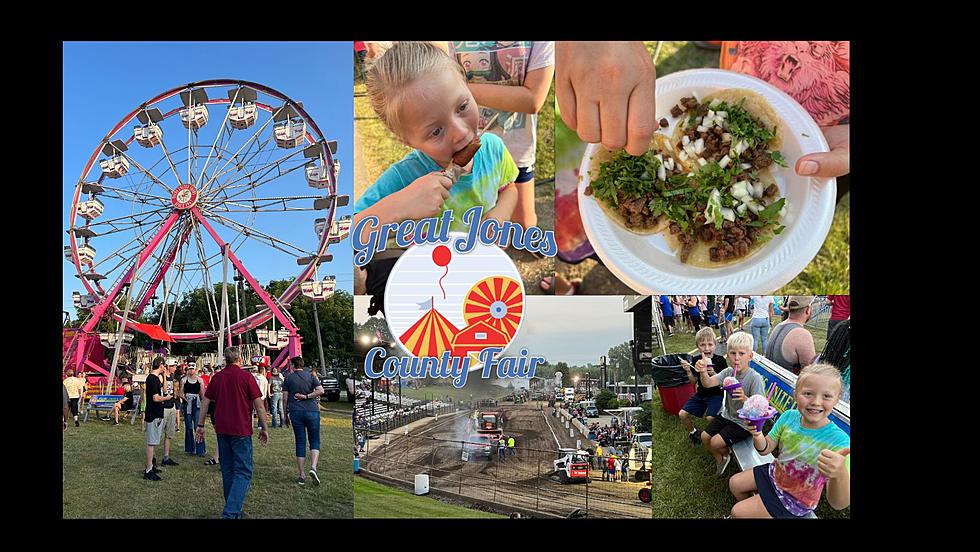 Great Jones County Fair's Sneak-a-Peek Night
Credit: Tom Ehlers / Great Jones County Fair
It's become a tradition over the years in my family that grandma buys ride bracelets for the kids and lets them go wild for an evening at the Great Jones County Fair. My grandma DJ did it for my sister and I growing up, and now my mom buys the ride bracelets for my kids and their cousin.
Needless to say, free night at the Great Jones County Fair has definitely become a night my kids love, while I've gone full circle. From enjoying the rides myself, to watching my kids enjoy the rides, and hopefully gaining memories they will never forget, with the people that care most about them.
I'm in it for the food at this point. I never miss out on a chance to enjoy the famous Mario's Gyros. My dad never goes a fair without Chuckie's hand breaded tenderloins. And my wife always wants just 2 things at the fair; a funnel cake and a strawberry smoothie. We also had the perennial corndog, and usually partake in some delicious kettle corn.
We always start our free night at the animal barns. FFA and 4-H families are bringing in the pigs, sheep, goats, cattle, and yes rabbits on the free night. So, there are always fun sights, sounds, and of course smells to take in. Our favorites this year; a tie between the goats and rabbits. My kids even got to pet a few.
If you're planning on heading into the Great Jones County Fair; take a peek below at what you're getting and know that there is even more to see than I could ever show you in pictures. Maybe this year you make it a tradition like my family has. The food makes it worth it; but the memories make it priceless.
2023 Great Jones County Fair Sneak-a-Peek Night
Photos: 2023 Great Jones County Fair Sneak-a-Peek Night
There's more to see and more to do; check out these other adventures.
Photos: Dubuque Farmers Market 2023
Take a trip through the Dubuque's Farmers Market
Photos: Vintage Torque Fest 2023
Photos: Vintage Torque Fest 2023