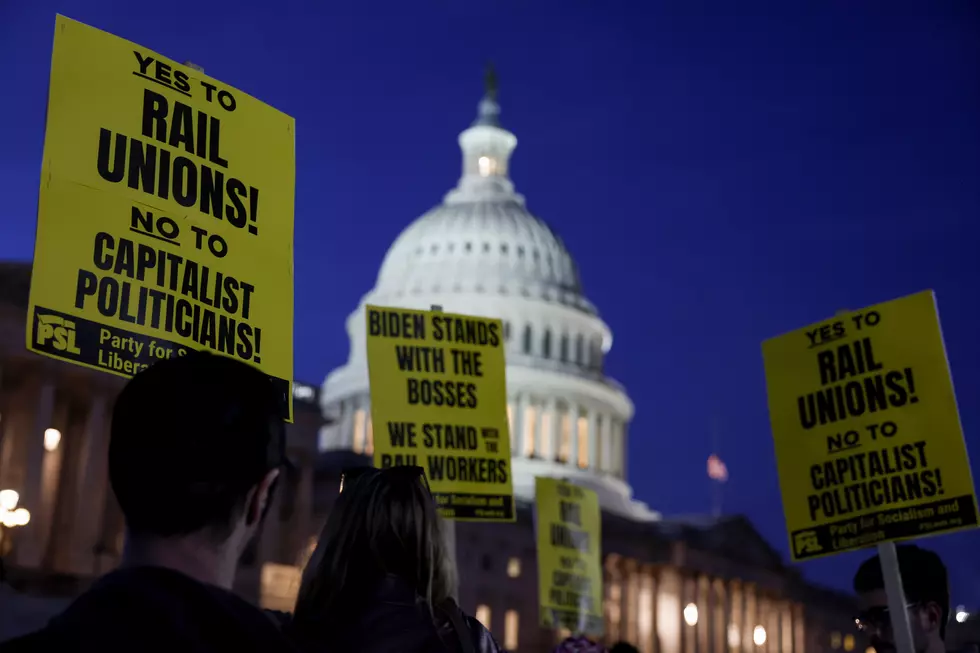 U.S. House Votes To Keep Railways Moving; Senate Up Next
WASHINGTON, DC - NOVEMBER 29: Activists in support of unionized rail workers protest outside the U.S. Capitol Building on November 29, 2022 in Washington, DC. President Joe Biden has called on Congress to pass legislation averting a railroad shutdown ahead of the December 9 coordinated strike date. (Photo by Anna Moneymaker/Getty Images)
According to a report from the Associated Press, the U.S. House of Representatives moved to head off a nationwide rail strike by passing a bill that would bind companies and workers to a proposed settlement that was reached in September but was rejected by some of the 12 unions. The measure passed by a vote of 290-137 and now heads to the Senate. If approved, it will be signed by President Biden, who has urged the Senate to act quickly.
Business groups like the U.S. Chamber of Commerce and the American Farm Bureau Federation have warned that stopping rail service could cost $2 billion per day. Should the bill pass, it would impose a compromise labor agreement brokered by the Biden administration that was ultimately voted down by four of the total 12 unions that represent more than 100,000 employees at large freight rail carriers. The unions have threatened to strike if an agreement is not reached before the December 9th deadline.
Lawmakers from both sides of the aisle have expressed reservations about overriding current negotiations. The intervention is particularly difficult for Democratic lawmakers. They traditionally align themselves with the labor unions and those same unions are now criticizing Biden's move to intervene and block a strike.
House Speaker Nancy Pelosi responded by adding a second vote on an added seven days of paid sick leave per year for rail workers under the agreement. The measure will take effect only if the Senate passes both measures; prospects for the add-on's passage are slim in the evenly divided Senate.
In the past, railroad unions have agreed to "pass" on paid sick time in favor of higher wages and stronger short-term disability benefits. The head of the Association of American Railroads trade group said Tuesday (11/29) that railroads would consider adding paid sick time in the future and did not like how it was tacked on this time around. Unions uphold that railroads can easily afford to add paid sick time at a time when there are record profits. Several of the big railroads involved have reported more than $1 billion profit for their third quarters.
The compromised agreement that was supported by the railroads and a majority of railroad unions provides for 24% raises and $5,000 in bonuses retroactive to 2020 along with an additional paid leave day. The raise would be the biggest rail workers have received in over four decades. Under the agreement, workers would have to pay a larger share of their health insurance costs, but their premiums would be capped at 15% of the total cost of the insurance plan.
Beware of These 50 Jobs That Might Vanish in the Next 50 Years